Monday September 3 was a black day for freedom of the press and the rule of law in Myanmar. A court in Yangon sentenced Reuters journalists Wa Lone, 32, and Kyaw Soe Oo, 28, to seven years in prison for allegedly violating the colonial-era Official Secrets Act as they investigated a massacre of Rohingya Muslims. Trial evidence indicates that police purposefully handed them documents to "trap" them.
The burning question facing Myanmar is whether President Win Myint will undo this injustice by pardoning Wa Lone and Kyaw Soe Oo and ordering them to be released from prison. The signs are not promising. Domestically he faces little pressure to act, as popular opinion strongly backs the military's actions against the Rohingya, and neither Win Myint nor de facto civilian leader and Nobel Peace Prize laureate Aung San Suu Kyi has spoken up in support of the journalists or press freedom.
The conviction has been condemned by the European Union, the U.K. Foreign Minister, the United Nations High Commissioner for Human Rights Michelle Bachelet, the U.S. Embassy, UN Special Rapporteurs David Kaye and Yanghee Lee, and many more. It is crucial that international pressure to release Wa Lone and Kyaw Soe Oo is maintained and intensified.
In one way, they are lucky; they were working for a large international media organization, rather than a local one, and Reuters continues to support them in an exemplary fashion. Reporters for domestic publications cannot count on the same level of support. Their case highlights the risks local reporters and nationals working for international organizations face when working on issues the military or the government want unexamined.
Local journalists are "more afraid than international journalists because we are more vulnerable—we are living in the country," said a leading member of a Myanmar press freedom group. "For us as local journalists, there is no guarantee of our work security or our safety."
Over the past two years, the civilian administration has intensified its attacks on free speech. Since Aung San Suu Kyi's party took office, a slew of repressive laws have been used to silence journalists and activists for criticizing the government or military.
Journalist Lawi Weng knows the risks well. He was arrested and detained for two months after travelling to an area controlled by an ethnic armed group to report on its activities. "I often say that journalists in Burma don't have a parent or father to look after them. We are orphans," he told me. "We don't know who will help us. We are still working despite the risks, but there is no one who can protect us."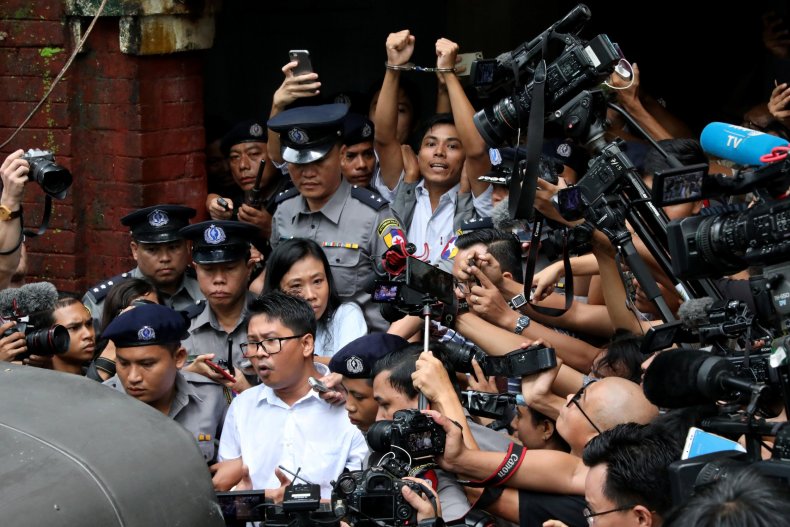 The conviction of Wa Lone and Kyaw Soe Oo despite their international employer has only heightened the fear among local journalists. The pressure for self-censorship is extraordinarily high, and the outlook for press freedom is grim.
Wa Lone and Kyaw Soe Oo were brave enough to seek the truth despite the risks, and are paying the price. They were investigating a massacre of 10 Rohingya by Myanmar security forces during the military's campaign of ethnic cleansing in northern Rakhine State, which has driven more than 720,000 Rohingya to flee to neighboring Bangladesh since August 2017. Faced with evidence produced by their reporting, the military announced in April that seven soldiers had each been sentenced to 10 years in prison.
On August 27, the UN's fact-finding mission on Myanmar issued a report on the abuses in Rakhine state, calling for top military generals to be prosecuted for genocide and crimes against humanity.
The Myanmar government has responded by denying the abuses and standing by as the military and the police arrest those who work to expose the truth. But arrests and convictions can't hide the horrors committed against the Rohingya from the world—they merely highlight the precarious state of press freedom in Myanmar.
President Win Myint, who takes orders from party leader Aung San Suu Kyi, should use his constitutional powers to pardon and free Wa Lone and Kyaw Soe Oo. Concerned governments need to call for him to do so and act to ensure that those who should be facing prosecution—those who committed atrocities such as the one Wa Lone and Kyaw Soe Oo were investigating—are held to account for their crimes.
Linda Lakhdhir is Legal Advisor of the Asia division at Human Rights Watch. Follow her on Twitter @LLakhdhir
The views expressed in this article are the author's own.​​​