Who is Deshawn Thomas? St. Louis Suspect Charged With Shooting Homeless Man
Police on Tuesday charged Deshawn Thomas with murder after another man, David Saldana, was shot dead in a St. Louis street on Monday.
St. Louis police said they detained Thomas, aged 23, outside the city's public library on Olive Street, after he ran from the scene of the crime.
The shooting, which took place shortly after 10 a.m. by the sidewalk in front of the Globe Building, was filmed by a bystander.
In the footage a man can be seen standing over Saldana, who is sitting on the edge of the road and appears to have his hands over his ears.
The man, who seems to speak briefly into his cell phone, loads a pistol then shoots Saldana once in the head, killing him.
When Thomas was later arrested he was found to posses a gun and bullet casing, according to police.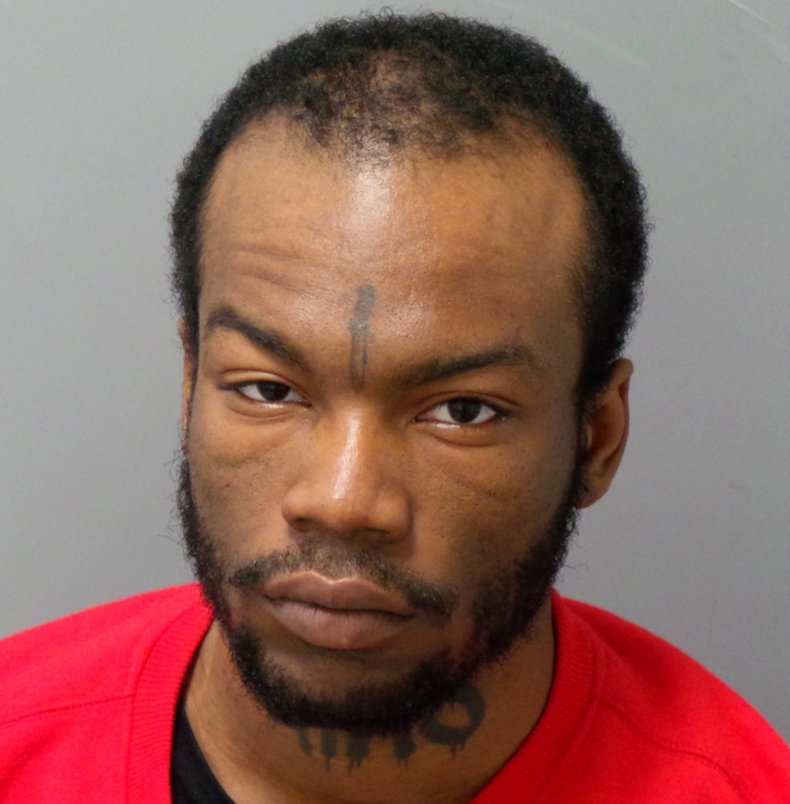 The St Louis Post Dispatch, a local newspaper, said Thomas has been charged with first-degree murder and armed criminal action.
A police mugshot of Thomas shows a lightly bearded man with tattoos on his neck and forehead, wearing what appears to be a red jumper.
There are unconfirmed reports that Thomas and Saldana had earlier had a fight outside a nearby Shell gas station, located in 700 block of North Tucker Boulevard.
It is unclear if the two men already knew each other, and little information has been publicly made available about the suspect.
The video clip showing the shooting was uploaded to Twitter several times before being removed from the platform.
Speaking to local network KMOV News 4, Syed Sajid said he arrived on the scene minutes after the shooting.
He said: "When I came here, I'd seen people standing outside, the guy was on the ground. I heard he was shot from close range.
"There was the construction guys in that building. There were workers from the other building. So, it was shocking for the whole downtown. And a lot of people went up close seeing how his face looked."
Sajid added: "It's scary, you know, of course. You get concerned about what's going to happen to anybody else."
Brad Waldrop, a local business owner, commented: "What I understand is the altercation began at the Shell station. That doesn't surprise me at all. There's been 20 shootings at the shell station since 2019, and there's been 600 calls for service."
The St. Louis Police Department has been contacted for comment.
In October two people were killed during a shooting at the Central Visual and Performing Arts High School in St. Louis, with the gunman later dying during a shootout with police.
Police later read out a handwritten manifesto, which they found in the suspect's vehicle, describing his decision to go on a shooting rampage.