Who Died Tonight on 'Game of Thrones'? Live Updates as Episode 4 Shifts Back to King's Landing
The battle for the Iron Throne is next on the agenda for the people of Westeros, and the upcoming clash for power promises deaths, betrayal and heartbreak for fans. What exactly lies ahead is unknown, but in true Game of Thrones fashion, it's sure to be bloody and shocking.
Last week's episode surprised viewers with the ultimate demise of the Night King, and an MVP moments to remember from Arya Stark. Aside from the dramatic action, though, most social media users were startled by how few main characters met their ends during the nighttime battle. The lack of deaths in Episode 3 only mean there are more to come as the fantasy series airs its last three episodes.
Here's a play-by-play of character deaths in Episode 4. Newsweek will continue to update the Game of Thrones character death count throughout the episode Sunday night.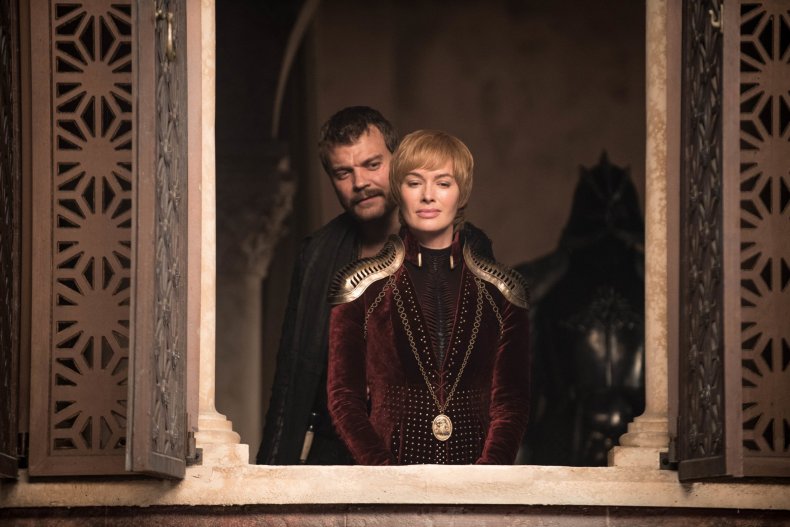 Deaths in Episode 4:
Rhaegal, dragon of Daenerys
Missandei
Rhaegal was seemingly killed when Euron Greyjoy and members of his fleet shot arrows at the flying beast. The dragon fell out of the sky and into the ocean while approaching King's Landing. No body was immediately recovered.
Missandei was decapitated by knights of King's Landing when Daenerys and army arrived at the gates. She was formerly taken captive by Eueron Greyjoy when he attacked the opposing ships.
While Episode 4 is set to lead the fight for the throne, it may not be the most thrilling of the final three episodes. Actor Emilia Clarke, who plays Daenerys Targeryan, claimed Episode 5, which will premiere May 12, will be the biggest of the season. "Episode five is bigger," the actor told Jimmy Kimmel on Monday. "Episode 5 is, I mean, 4 and 5 and 6, they're all insane, but like....find the biggest TV you can."
Last week's episode, "The Long Night," was the most-watched episode of Game of Thrones history, and also one of the lowest rated. The episode had 17.8 million viewers, a record for the show. Those viewers and critics weren't impressed with the 80-minute battle, however, as the show was rated a mere 74 percent approval on Rotten Tomatoes. This is the second lowest rating an episode of the show has ever received. It's followed only by a Season 5 episode, titled "Unbowed, Unbent, Unbroken," which depicted the rape of Sansa Stark.