WHO Director Expects 10 Million Coronavirus Cases by Next Week
The head of the World Health Organization said Wednesday he expects global coronavirus cases to reach 10 million by next week.
"In the first month of this outbreak, less than 10,000 cases were reported to WHO. In the last month, almost 4 million cases have been reported," Director-General Tedros Adhanom Ghebreyesus said at a press conference. "We expect to reach a total of 10 million cases within the next week."
"This is a sober reminder that even as we continue research into vaccines and therapeutics, we have an urgent responsibility to do everything we can, with the tools we have now, to suppress transmission and save lives," Ghebreyesus added.
His comments come as cases of the novel coronavirus continue to increase globally. According to the WHO, 216 countries, areas and territories have outbreaks. These areas have had over 9.1 million confirmed cases of the virus, which causes the respiratory disease COVID-19, and at least 473,797 deaths.
Worldwide, the U.S. remains the epicenter for the pandemic, with over 2.3 million cases and at least 121,279 deaths. New York remains the state with the most confirmed cases, over 389,000, but is seeing a decline, while over the past few weeks Florida, Texas, California and Arizona have reported large surges in their case numbers.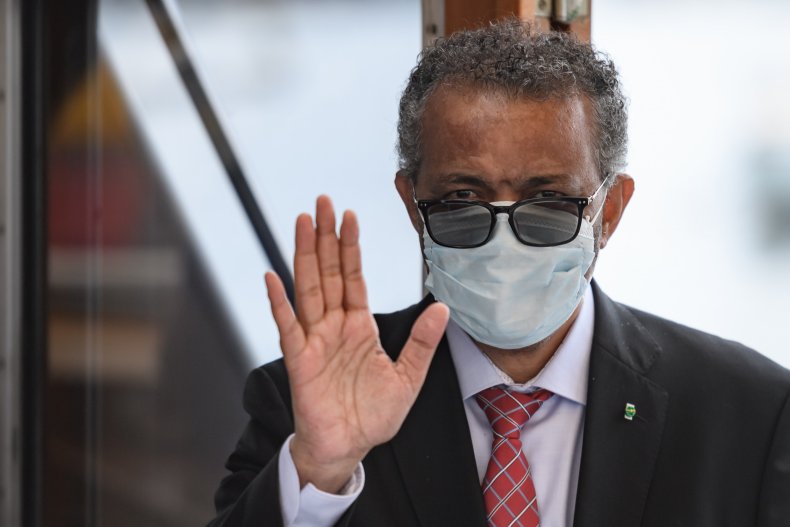 Following the U.S. are Brazil, with over 1.1 million cases; Russia, with over 606,000 cases; and India, with over 456,000 cases.
During the WHO's press conference on Wednesday, Mike Ryan, head of the organization's Health Emergencies Program, spoke about the situation in the southern Americas and how countries in the region could see an increase in cases in the coming weeks.
"The epidemic in the Americas in general is still intense. It's particularly intense in Central and South America, and that's across a range of countries," Ryan said. "We've seen a steady and worrying continuation of trend, with many countries experiencing between a 25 and 50 percent rise in cases over the last week. Which means many, many countries in Central and South America and the Americas in general are still suffering sustained community transmission."
He continued, "I would characterize the situation in the Americas, in general, as still evolving and not having reached its peak yet and likely to result in sustained numbers of cases and continued deaths in the coming weeks."
Newsweek reached out to the WHO for further comment but did not receive a response before publication.