WHO Director-General Asks World Leaders to Vaccinate 70% of Globe From COVID by Next G7 Meeting
The World Health Organization's director-general called on world leaders to commit vaccinating at least 70 percent of the global population on Monday, adding that COVID-19-related deaths weren't falling as quickly enough and that inequities in distribution were jeopardizing progress.
Tedros Adhanom Ghebreyesus welcomed the 870 million doses of vaccines pledged to the U.N.-backed COVAX initiative by leaders attending the G-7 summit, but said that number falls short of the 11 billion doses needed, the Associated Press reported.
"The virus is moving faster than the global (vaccine) distribution," Tedros said. He called for political leaders to commit to immunizing at least 70 percent of the world's population by the time of next year's G7 meeting.
Tedros noted that more than 10,000 people die from COVID-19 every day. He has previously urged rich countries to skip vaccinating their teenagers and children and to donate those doses immediately to the developing world.
"There are enough doses of vaccine to drive down transmission and save many lives if they're used in the right places for the right people," he said, emphasizing that health workers and those most vulnerable in poor countries should be immunized first.
For more reporting from the Associated Press, see below.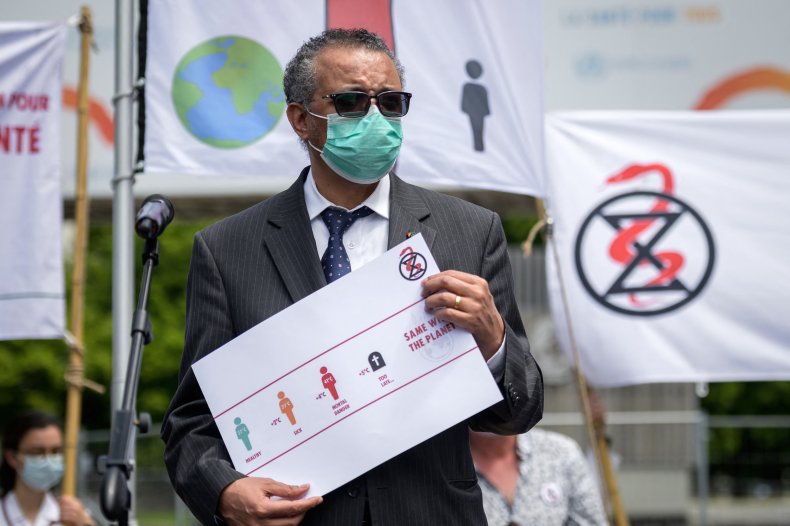 Romania Sees COVID Case Drop
Romania on Monday reported its lowest number of daily coronavirus infections in more than a year at just 50 new cases, authorities said.
The country has seen a dramatic drop in daily infections in recent weeks, tapering down from as many as 5,000 daily infections in April to around just two hundred through June.
The drop runs alongside the authority's ongoing vaccination campaign which has so far seen more than 8.5 million vaccine doses administered to Romania's population of more than 19 million. Over the past month, however, vaccination uptake has slowed considerably, raising concerns about vaccine hesitancy.
Since the start of the pandemic, Romania has reported more than one million COVID-19 infections, and more than 31,000 people have died.
Walt Disney World Makes Masks Optional for Vaccinated Guests
Walt Disney World in Florida is making it easier to see smiles again, but guests still can't hug the characters.
Starting Tuesday, face masks will be optional for visitors to the theme park resort who are vaccinated, though Disney workers won't require proof of vaccination, the company said on its website.
Visitors who aren't fully vaccinated still will need to wear face masks indoors and on all rides and attractions. All visitors, whether vaccinated or not, will still be required to wear face coverings on buses, monorails and Disney Skyliner, the resort's aerial gondola, according to the latest guidelines.
The decision on masks is Disney World's latest tweak to the virus-related safety rules it created when the coronavirus pandemic was declared in March 2020. Disney World closed for two months last year at the start of the outbreak and reopened last summer with strict safety guidelines that involved masking, social distancing and crowd limits.
Last month, Disney officials started allowing visitors to go without masks outdoors. Disney officials said they expect to ease up on physical distancing guidelines in the near future.
"It's important to remember that some experiences and entertainment may still be operating with limited capacity or may remain temporarily unavailable," the company said on its website. "We're not quite ready to bring back everything yet, but we are optimistic and look forward to the day when Disney pals and princesses are able to hug once again."