Who Do Americans Fear Most: Kim Jong Un, Vladimir Putin or Donald Trump?
Americans have revealed which world leaders they fear are the biggest threat to peace and security.
In a Politico poll of more than 1,000 people, Kim Jong Un narrowly beat out Vladimir Putin as the most "threatening" leader. It should be noted the poll was conducted shortly before the Trump-Kim summit in Singapore on Tuesday.
Those surveyed were asked to "name two world leaders you think pose the greatest threat to peace and security." While 43 percent of respondents named the North Korean leader, coming a close second was Russia's president with 42 percent.
United States President Donald Trump finished third on 26 percent. Iranian leaders came in fourth (12 percent) followed by Bashar al-Assad of Syria (five percent) and Benjamin Netanyahu of Israel (four percent).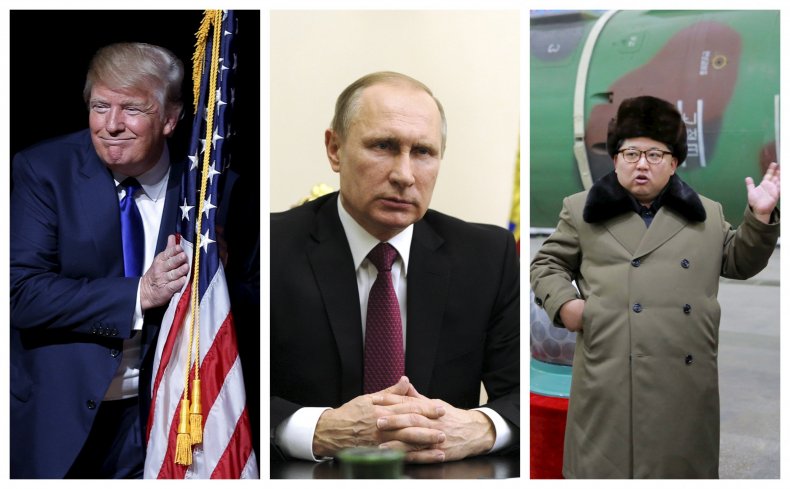 Those surveyed were asked to identify as either Republican or Democrat before answering, and the results were divided accordingly.
When it came to Kim, Republicans saw him as the biggest threat with exactly half of the GOP respondents selecting him. As for Putin, 39 percent of Republican voters chose him.
Democratic voters were more fearful of Putin than Kim. 40 percent selected the North Korean leader while 46 percent selected the Russian president, as represented in the graphic below from Statista.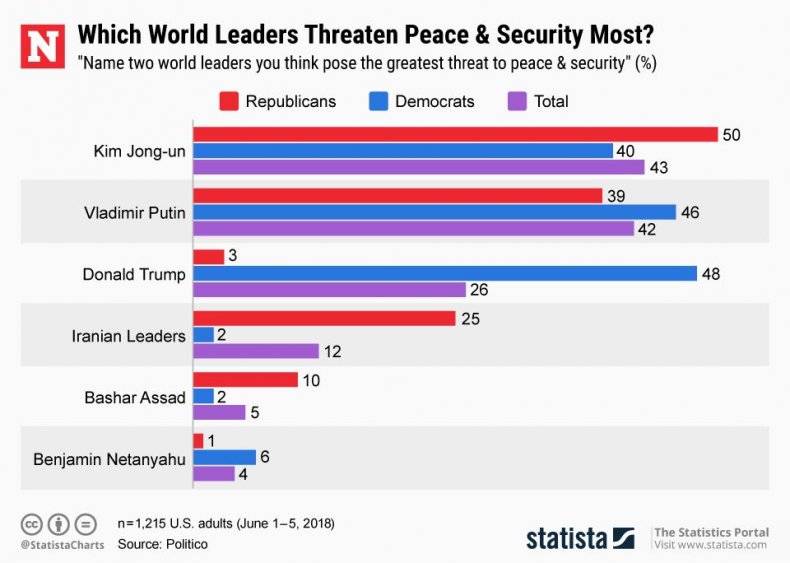 The most stark contrast between the voters was with Trump. 48 percent of Democrats named the U.S. President as their number one threat to peace and security. Trump only manages to finish third overall because of his strong Republican support—only three percent named him as a threat.
A similar disparity can be seen in the results for Iranian leaders. 25 percent of Republicans selected them, but only two percent of Democrats did.
Things may soon change as Trump and Kim seemingly agreed to work toward the denuclearization of North Korea at the Singapore summit. According to Trump, the meeting went "better than anybody could have expected."
"I feel really great," Trump said as he sat with Kim. "We're going to have a great discussion and I think tremendous success. We're going to be tremendously successful, and it's my honor, and we will have a terrific relationship."