Who Does Peter Weber End Up With? 'Bachelor' Spoilers, Fan Theories, Hannah Brown and More
Peter Weber's Bachelor season is a long way from over, but that doesn't mean the ending is a total mystery. A handful of theories, and a few facts, about his happily ever after have surfaced. Unlike past seasons, there's no confirmed spoiler about whom Weber proposes to, if anyone. The Bachelor has teased that there's a reason for this, though the details have been purposely left unclear.
The widespread belief, which was first explained by spoiler writer Reality Steve, claims Weber didn't propose in a traditional finale. It seems his season may have extended past the typical filming. This isn't unheard-of. Former Bachelorette Hannah Brown's season followed a similar formula when it followed her breakup from Jed Wyatt. And Arie Luyendyk notoriously broke up with Becca Kufrin in dramatic post-show footage.
It seems Weber's finale may not be a typical finale at all. Instead, it may unfold after the fact. That would explain why no spoilers are available, as the final moments of his season may have yet to happen.
Show host Chris Harrison seemingly implied this in an interview on Good Morning America when he said "it's possible it's still not over," speaking of Weber's season.
Fans have outlined a few possible endings. They primarily rest on spoilers that say Weber chooses Madison Prewett and Hannah Ann Sluss as his final two women. Many theories name either Prewett or Sluss as the final rose recipient.
A teaser for the finale shows Harrison admitting that the producers had just found out a crucial piece of information. A follow-up clip shows Weber lying in bed, seemingly distraught, and saying he didn't expect the news. What that news is, and how big of a role it plays in the finale, is unknown.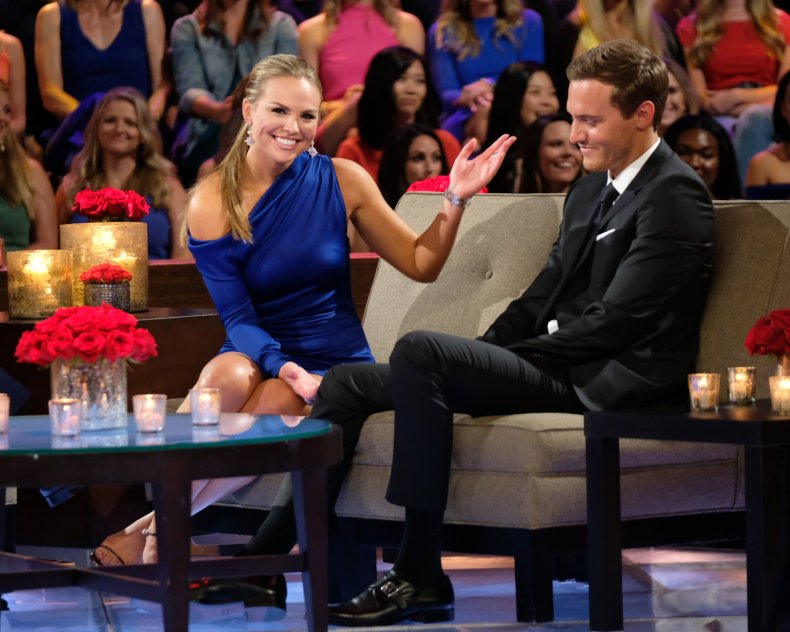 Some have taken that moment, and another teaser, to mean the return of Brown, Peter's ex. A trailer moment that shows Weber's mother in tears has also premiered. In it, she says, "Don't let her go" and "Bring her home," which fans have connected to Brown.
There's no real reason to believe Brown will reappear. Even Reality Steve claimed the former bachelorette won't play a role in the show's finale. But that hasn't stopped Twitter commenters from asking for a second chance for Brown and Weber.
Another theory claims that Weber's mom is crying over Prewett and points to her first date with Weber, where she met his family. Prewett seemingly made a good impression on Weber's loved ones when she attended his parents' vow renewal. Fans have noted that because of this early interaction, Weber's mom may be partial to Prewett.