Who Does Tayshia Adams Pick at the End of 'The Bachelorette'? Finale Spoilers
Updated 12/14/20 at 3 p.m.: Reality Steve released new spoilers on Monday that claim his original final two spoilers were incorrect. Adams' final three men will be Ivan, Zac C. and Brendan, according to the update. Who will win the season, and if Adams is engaged, is currently unknown. For Reality Steve's full spoiler update, click here.
_____________________________________________________________________
Tayshia Adams is only in her second week of being the Bachelorette, but that doesn't mean we can't look ahead to when things get good. As of Tuesday night, Adams still has a big group of men vying for her attention, and true Bachelor fans know the season gets interesting when there are just a few guys left.
Adams does reportedly pick one final contestant at the end of this season, and we know details about why she apparently chooses him. That being said, there are still some major questions about Adams's life post-show that we can't answer quite yet.
Each season, Reality Steve breaks the news as to which Bachelor or Bachelorette suitor was chosen for the final engagement. Time and time again, his sources prove to be right. That's why we're confident in his report that Adams ends up picking Zac C. at the end of The Bachelorette.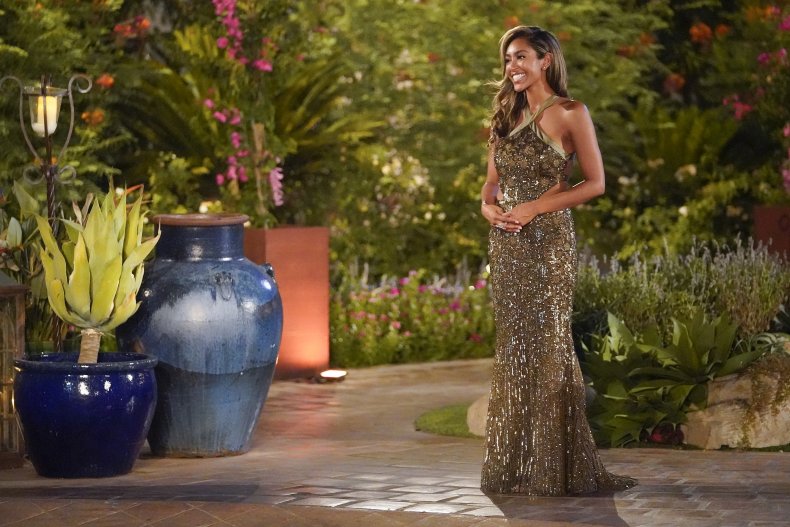 Even in Adams's second episode, it's clear that she and Zac C. have a connection. He was awarded a group date rose in Episode 5 (which was Adams's first episode as Bachelorette, after Clare Crawley.) He didn't get the first impression rose, but that doesn't seem to matter.
Zac C. might end up as Adams's final choice, but the pair hasn't gotten engaged. Why, no one is quite sure yet.
Reality Steve explains that Adams fell harder for one man: Brendan. Apparently, she doesn't choose him because he's not an option in the final two. Brendan eliminates himself from the season in either the final four or final three, according to the spoilers.
We're sure ABC will shine light on why Brendan decides to leave. The only details Reality Steve has clarified are that Brendan's prior divorce might play a role and that his family didn't show up to film the "hometowns," which were scheduled in isolation.
How it fares for Adams, and if she's happy with her choice to commit to Zac C., is unknown. There's a chance the pair aren't together now. We'll just have to wait and see what happens after the final rose.
Bachelorette viewers already got one love story this season, though. Clare Crawley, who was the original Bachelorette on Season 16, left the show after just four episodes with what appears to be true love. She spent her time falling for Dale Moss as the other men grew irritated. But it worked. Moss agreed to leave the show with Crawley and even proposed.
Moss and Crawley have kept viewers updated on their life since filming via Instagram. It appears they're still madly in love and happily engaged. Even if Adams' story doesn't end with an engagement, Season 16 has delivered on the "love story" front. It just may have come earlier than most viewers expected.