Who Is Doug Jones? 11 Facts About the Alabama Senate Race Winner
In a nail-biting race on Tuesday evening, Democratic Senate candidate Doug Jones beat the embattled GOP candidate Roy Moore, whose campaign was tainted by sexual misconduct allegations against him.
The Democrat pulled off a rare victory in a state that is deeply conservative. The special election that sought to fill the seat Attorney General Jeff Sessions left vacant captivated the attention of the nation, in part because Jones's victory will have profound implications for President Donald Trump—who staunchly supported Moore—and both parties.
"Congratulations to Doug Jones on a hard fought victory. The write-in votes played a very big factor, but a win is a win. The people of Alabama are great, and the Republicans will have another shot at this seat in a very short period of time. It never ends!" Trump tweeted after the election results came in.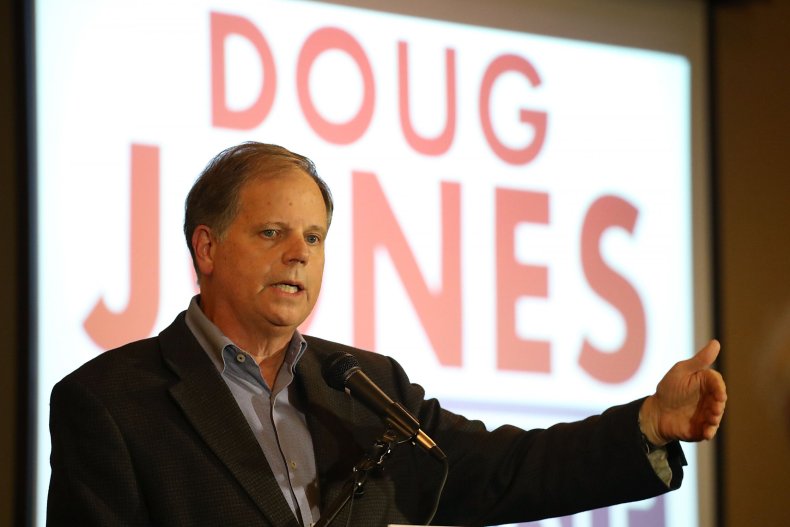 So who is the new Alabama senator? Here are 11 facts you need to know about Jones:
1. Jones is a career prosecutor who grew up in Alabama.
2. He once said that Martin Luther King Jr. and politicians such as John F. Kennedy and Robert Kennedy inspired him to assuage racial tensions in his school back in the 1960s.
3. He became the first Democratic senator to be elected in the Yellowhammer State in 20 years—the first was Howell Heflin, who served between 1979 and 1997.
4. Jones rose to prominence as a U.S. attorney when he re-opened the case of an African-American bombing perpetrated by KKK members in 1963.
5. He lives in Mountain Brook, Alabama, one of the state's richest areas.
6. He graduated from Samford University's law school in 1979.
7. He helped revamp the Democratic Party in Alabama in 2013.
8. He supports DACA and rejects the construction of the border wall between the U.S. and Mexico
9. He supports Obamacare but has pointed out that the current health care system needs to be fixed.
10. He claims to be pro-choice.
11. He is a Methodist and supports religious freedom.