Who is Ed Lee? First Asian-American Mayor of San Francisco Dies Unexpectedly In Office
UPDATED | San Francisco Mayor Ed Lee died early Tuesday morning after suffering a heart attack at the age of 65.
Lee was the first Asian American to hold the mayoral office in San Francisco and will be succeeded by the first black woman to hold the office, London Breed. Known for championing immigrant rights in the city, Lee went head-to-head with President Donald Trump over immigration and the administration's opposition to the Sanctuary City movement.
Lee said his family's background as immigrants from China inspired his desire to fight Trump's anti-immigration stance. In his 2017 State of the City speech in January, Lee spoke about defying Trump, saying that San Francisco would be "a sanctuary city now, tomorrow, forever," to a standing ovation. Lee was the 43rd Mayor of San Francisco and has served the city since 2011.
"I felt there were barriers in the city when it came to immigrant communities. I get to change a lot of that," Lee told the local KTVU News in February. "I'm glad for the things we're able to accomplish."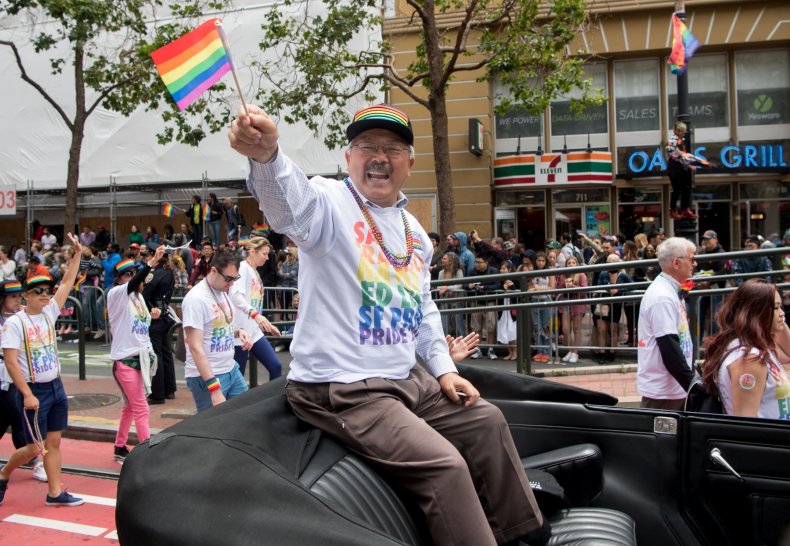 Lee was also a founding member of "Mayors Against LGBT Discrimination," a bipartisan group of leaders dedicated to fighting anti-LGBT laws. While his cause of death is unknown, Lee was not known to be sick and fulfilled his mayoral duties in recent weeks, including the lighting of The Rainbow Fund World Tree of Hope in City Hall, representing solidarity with LGBT citizens.
"With much of our national rhetoric filled with hate and enmity, it is so important that we take the time to celebrate moments of peace and harmony," Lee said in a statement on December 4.
Lee died at Zuckerberg San Francisco General Hospital on Tuesday at 1:11 a.m, his office said in a statement released a few hours after his death. He is survived by his wife Anita and his two daughters, Brianna and Tania.
"It is with profound sadness and terrible grief that we confirm that Mayor Edwin M. Lee passed away on Tuesday," his office said. "Family, friends and colleagues were at his side."
Breed, now the acting mayor of San Francisco, has served as the president of the Board of Supervisors for San Francisco. She is a 43-year-old Democrat who will become the first black woman to hold San Francisco's mayoral office.
Across the U.S., mayors reacted to the news of Lee's death. New York City Mayor Bill Blasio posted on Twitter, "Deeply saddened to hear of the death of Mayor Ed Lee. He was a good friend and a tireless fighter for the people of San Francisco. Our thoughts are with his family."
This article has been updated to include Lee's cause of death.