Who Is Edwin Meese III? Trump to Give Former Reagan Official Medal of Freedom
Former Attorney General Edwin Meese III, who served for about seven years in the Reagan administration, will be awarded the Presidential Medal of Freedom, the highest civilian honor.
President Donald Trump is scheduled to award Meese the Medal of Freedom during a White House ceremony Tuesday afternoon. Meese will be the 13th person to receive the award from Trump and the second from the Reagan administration.
In his announcement of the award, Trump applauded Meese's foreign affairs activities during the Cold War and his role in securing "historic tax cuts."
For much of his political career, Meese worked for Reagan, following him from the Governor's Mansion in California to the White House. Trump credited him with being a "thought leader" and "strong conservative voice" regarding law and policy.
Working for Governor Reagan
After serving as deputy district attorney of Alameda County, California, Meese became then–Governor Reagan's executive assistant and chief of staff in 1969, according to the Hoover Institution, a public policy think tank at Stanford University. He held the positions through 1974 and also served as Reagan's legal affairs secretary from 1967 through 1968.
Reagan's Presidential Campaign
Reagan's second term as governor ended in 1975, and the two parted ways professionally. In 1977, Meese become a law professor at the University of San Diego, where he taught until 1981.
His professional path crossed with Reagan's again when the former actor ran for president in 1980. After Reagan won, Meese was in charge of the presidential transition later joined the administration. Meese served as chief of staff and senior issues adviser, according to a biography posted on the University of Virginia medical school's website.
The Reagan Administration
Shortly after Reagan's inauguration in January 1981, Meese served as counselor to the president, the most senior staff position. As counselor, he was Reagan's chief policy adviser and also served on the president's National Security Council and chairman of the Domestic Policy Council and the National Drug Policy Board.
Following his re-election in 1984, Reagan nominated Meese for attorney general. But his confirmation was a tense one, involving accusations of poor ethical standards and a lack of commitment to enforcing civil rights laws, according to The New York Times. However, he was confirmed in February 1985 by a vote of 63-31.
''I'm not bitter at all,'' Meese told the Times after the vote. ''I think a number of people had questions. We answered those questions. Right now, I'm just glad it's over."
Meese had been the subject of independent counsel's inquiry into whether he had arranged jobs for others who did him financial favors while working in the White House and whether he received special treatment from government agencies in his business affairs. The counsel cleared him of violating federal law, but his critics argued that this showed he lacked the ethical qualifications to be attorney general.
His service as attorney general coincided with the Iran-Contra scandal, when U.S. weapon sales to Iran financed Contra rebels in Nicaragua. In 1986, according to Brown University, Meese organized an investigation into what Reagan knew about the sale. However, he made a series of missteps, including not notifying Congress of the investigation, failing to protect National Security Council documents and not taking notes during his interviews.
He was investigated for his involvement in trying to cover up the scandal, allegedly in an effort to protect Reagan, and for compromising the investigation. But no charges were ever filed.
Independent prosecutor James McKay also investigated Meese for allegedly filing a false tax return, involvement in a $1 billion pipeline project in Iraq and his ties to the Wedtech Corp., a military contractor accused of fraud. Meese was accused of bribing the Israeli Labor Party to not destroy a proposed pipeline running from Jordan to Iraq and of investing in Wedtech. McKay wrote in his 1988 report that there was "insufficient evidence" to show Meese accepted bribes with regard to Wedtech or broke the law against bribing foreign officials, in connection with the pipeline.
However, McKay claimed Meese "probably," violated federal conflict of interest laws by having stock in a telephone company while reviewing telecommunications policy as attorney general, according to The New York Times.
''I have always acted legally, ethically and properly. And any indication by the independent counsel that I have in any way violated any law is absolutely false," Meese said at the time. "To have the idea foisted upon the American people, a false implication of wrongdoing, is absolutely at odds with every principle of our system of justice.''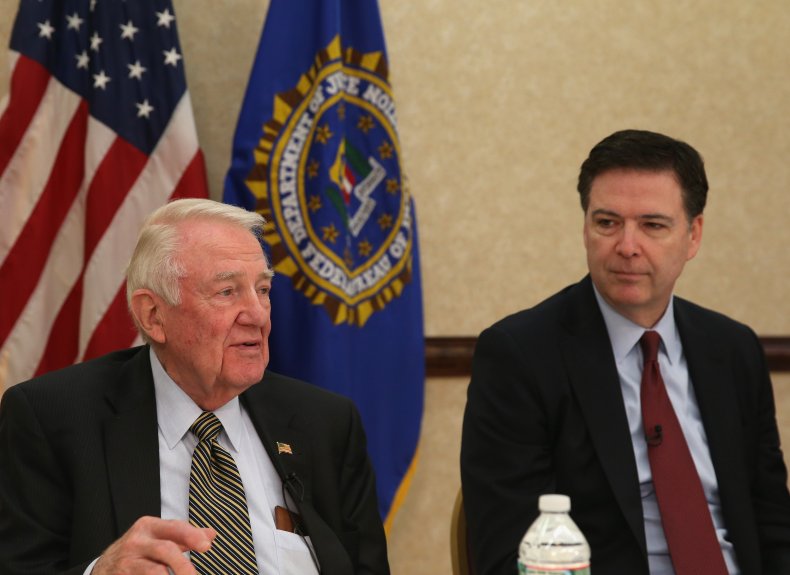 Life After the White House
Meese left the White House in 1988, resigning after the release of McKay's report. He joined the Heritage Foundation, a conservative think tank, as the first Ronald Reagan distinguished fellow. He also served as a distinguished visiting fellow at the Hoover Institution.
The Heritage Foundation later named the legal center after Meese to recognize his contributions to the "rule of law and the nation's understanding of constitutional law," according to its website.
Meese also served on the Iraq Study Group, a 10-person panel appointed by Congress to assess the situation in Iraq, as well as the 9/11 Commission. He's also an author and wrote Reagan: The Inside Story, which offered insight into the policies and career of his former boss.
Meese was born on December 2, 1931, and attended Yale University. A California native, he earned his law degree from the University of California, Berkeley, and was a colonel in the Army Reserve.
He met his wife, Ursula Herrick, in high school, according to The Washington Post, and they had three children, Dana, Scott and Michael. In the summer of 1982, 19-year-old Scott was killed in an accident after his car veered off the highway and hit a tree, The New York Times reported.