Who is Egan Bernal? Everything You Need to Know about the Cyclist Favored to Win the Tour de France
The 22-year-old phenomenon is shaking up the cycling world
With only one stage left in the 2019 Tour de France, the world's most famous bicycle race, cyclist Egan Bernal is poised to be wearing the champion's yellow jersey at the end, a first for a cyclist from his native Colombia.
"More than anything I want to cross the finish line in Paris, I'll feel calmer. Colombia is about to win its first Tour de France, it's the triumph of a whole country and not just me," Bernal told LeTour.fr after completing the twentieth step of the race on Saturday.
The grueling 23-day race takes riders from Belgium down to the Pyrenees Mountains in southwest France and through the Alps before finishing on the Champs-Elysées boulevard in Paris.
Bernal was born in Zipaquirá, a small town in central Colombia famous for its underground Salt Cathedral. He was inspired to take up cycling by his father, who worked as a security guard at the cathedral and cycled as a hobby.
At just 22 years old, Bernal won the Amgen Tour of California in 2018 and this year he's already won two other prestigious European races: the Paris-Nice in France and the Tour de Suisse in Switzerland.
Bernal rides for the Ineos professional cycling team, based in the United Kingdom. Ineos is a British chemical company that supplies fuel, packaging, and construction materials. Until earlier this year, the team was sponsored by Sky Media, a U.K. broadcasting company.
While this would be Bernal's first win on the famed race, the team has won the Tour de France six times, including 2018, when teammate Geraint Thomas of Wales took home the yellow jersey. Bernal was a part of that team and "played a key role" in the victory, according to the team's website.
Thomas and Bernal completed today's competition cycling arm in arm.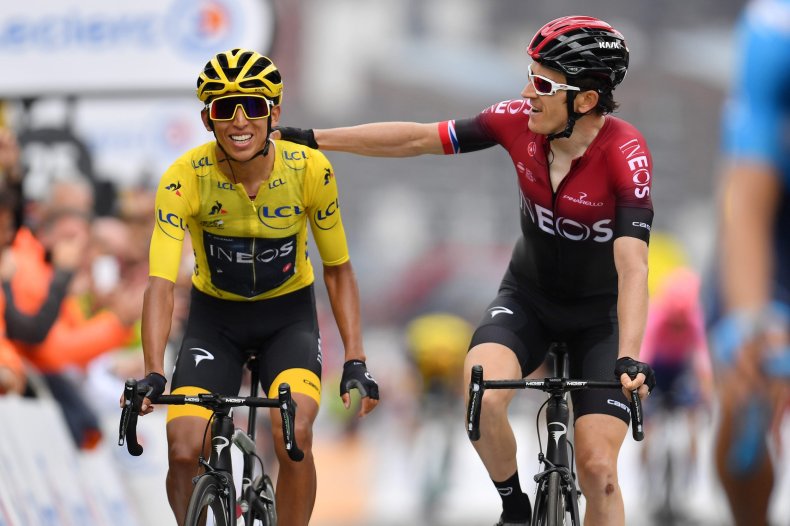 According to his bio on the Team Ineos site, Bernal is 1.75 meters (5 feet, 7 inches) tall. His specialty as a cyclist is "climber," meaning he excels at the difficult mountain ascents cyclists face in the Tour de France.
Until yesterday, rider Thibaut Pinot was in place to become the first French cyclist to win the Tour in 34 years. However, that dream ended when Pinot withdrew due to a leg injury. The last French winner, Bernard Hinault, was in 1985.
Shortly after Pinot withdrew, the race had to be stopped early due to poor weather conditions. When the rider times for the day were announced, Bernal was the new leader.
On Sunday, the final stage of the race will cover 79.5 miles from the town of Rambouillet into the heart of Paris.
"Tomorrow we hope to do the best job possible, but the Tour is not over yet." Bernal told reporters, holding back tears.
This article has been updated to clarify the race's route.