Who is El Chapo's Wife? Former Beauty Queen Emma Coronel Aispuro at Trial to Support Drug Kingpin
Joaquin "El Chapo" Guzman's wife made an appearance in a Brooklyn court for the beginning of his trial on Tuesday as prosecutors started reading a list of allegations against her husband, including the vast operations of the Sinaloa Cartel drug trade, the killing of relatives and rivals alike, as well as the use of his favorite diamond-encrusted gun.
According to the New York Post, 29-year-old Emma Coronel Aispuro did not seem interested in hearing El Chapo's accusations, and instead took off her translator headset for much of the proceedings. During the trial, she and other individuals were barred from watching juror replacements for security reasons, after two members were removed from the case at the last minute.
An Instagram video shared by Mexican newspaper Excelsior shows Coronel Aispuro apparently distressed at the end of the trial. Last week, a judge rejected El Chapo's request to hug his wife.
El Chapo's wife has garnered media attention due to her wealth and looks. The Post described her arrival at the security-laden courthouse "in a suit jacket with puffy velvet sleeves." In September, she threw a party at a mansion for her 7-year-old twin daughters, which featured "carnival rides, hundreds of pink balloons and a theater-worthy set featuring gold chandeliers and a rosé-colored throne," according to the Los Angeles Times.
As El Chapo awaits a verdict in almost four months, Coronel Aispuro has shown to be a devoted wife to her 62-year-old husband—despite his being known as a philanderer and father of at least 12 or 13 children—and is considered instrumental in his defense. Two days after he was extradited to the United States, she tweeted in Spanish: "The night arrives and my heart remembers you, here where you always reside and where no one will erase you or replace you."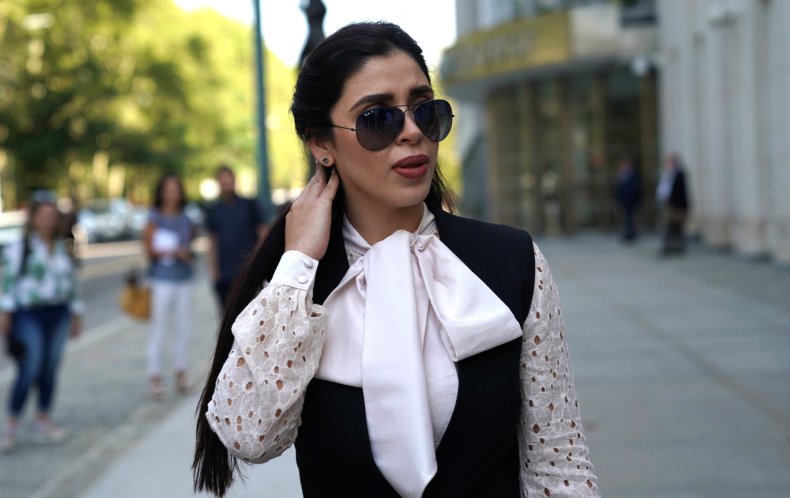 In a 2016 interview with Telemundo, Coronel Aispuro said that El Chapo had been harshly punished by Mexican authorities because he fled a prison a year prior. She later added that prison guards at Mexico's Altiplano prison did "not let him sleep, he doesn't even have privacy to go to the bathroom."
Jack Riley, a former agent for the Drug Enforcement Administration (DEQ) who tracked El Chapo for more than two decades, told the Post that Coronel Aispuro "is really his mouthpiece." He added that the drug kingpin is a "genius at public relations and he is putting Emma up to all of this, to complain about his treatment and to stall for time."
Born in San Francisco, California, Coronel Aispuro grew up in Canelas, Durango, a small rural town in northwestern Mexico where she met El Chapo and married him in 2007. A year before, she won the Coffee and Guava beauty contest when she was 17, but according to some reports, El Chapo bribed pageant's judges in order for her to be crowned.
In an apparent act of defiance, El Chapo arranged a trip in August 2011 to southern California so that Coronel Aispuro could give birth to her twins on U.S. soil. Even though authorities tracked her stay at Antelope Valley Hospital in the city of Lancaster, California, she was not arrested at the time.