Who is Patrick Crusius? El Paso Shooter Identified By Police
The El Paso Police Department late afternoon Saturday identified a shooter who killed at least 20 people and injured more than two dozen others at a Walmart earlier in the day as 21-year-old Patrick Crusius, according to several news outlets.
Authorities revealed the shooter's identity to The Washington Post and the Associated Press on the condition of anonymity.
Three sources, two in federal law enforcement and one in state government, told CNN that Crusius is from Allen, Texas, a suburb of Dallas. Law enforcement sources told NBC News that Crusius is from the Dallas area and that a second person was taken into custody but it was not immediately known if the person was involved in the mass shooting.
El Paso police spokesman Sgt. Robert Gomez in a press conference had said that a suspect in custody was a white man in his 20s.
Public records show that Crusius had a residence in Allen, which is about 650 miles away from El Paso. The records indicate that Crusius registered to vote in 2016 but does not reveal his party affiliation.
A Twitter account that appeared to possibly be that of Crusius liked an image of guns arranged to spell out "Trump." The account was taken down by Twitter after the shooting on Saturday.
When asked by reporters in a press conference late afternoon Saturday for the suspect's name, El Paso Police Chief Greg Allen said, "this person is still entitled to fair process," and, "we don't want to make any statements now" to impede the investigation.
Allen added that the suspect was arrested at the west side of the Walmart where shooting took place and that he surrendered to approaching officers. The specifics were still under investigation.
Texas Governor Greg Abbott said "mental health is a large contributor to any violence or any shooting violence" and that he will be working on legislation for funding for the issue.
Authorities told The Post that they are investigating a manifesto, not confirmed to be linked to Crusius, that has comments attacking immigrants and expressing sympathy for the Christchurch shooter.
El Paso's police department tweeted shortly after 11 a.m. local time about an active shooter near the Cielo Vista Mall and to avoid the area. An hour later, the crime scene remained active and the police department tweeted, "We have multi reports of multiple shooters."
Around 1 p.m. local time, police said that two men were responsible for the shooting and that one of them had been taken into custody.
But during a briefing near the scene a half hour later, Gomez told reporters that that the department could confirm only one male shooter. He did not have information at the time about the shooter's age or where he was detained.
"I don't know if there are more than one. We have one person in custody," Gomez said. "As of right now we don't think there's multiple [shooters], but that could change."
Gomez said police had not ruled out multiple shooters.
A witness at, Ray Holgin, told CBS News that he heard 10 or more gunshots before entering the store and that he thought he saw two shooters.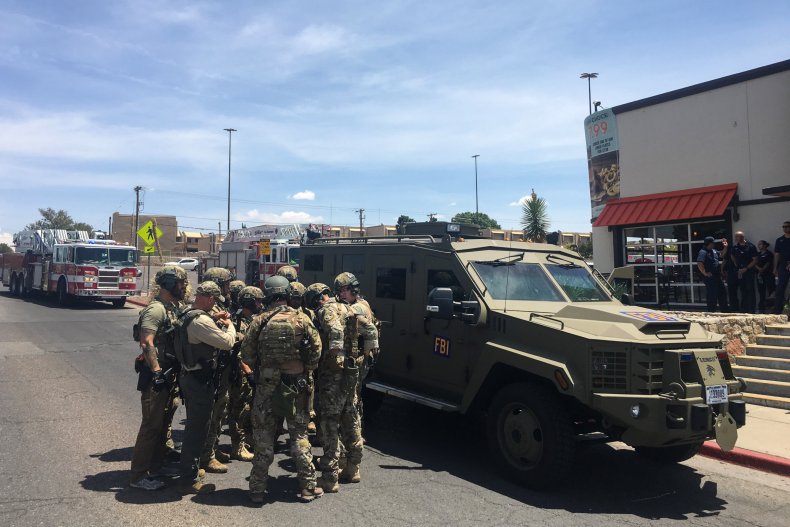 Walmart spokesman Randy Hargrove in a statement emailed to Newsweek said the company is working with law enforcement officials and will provide updates as appropriate.
"We're praying for the victims, the community and our associates, as well as the first responders who are on the scene," Hargrove stated.
The shooting in Texas comes six days after Santino William Legan fired into a crowd at the Gilroy Garlic Festival in Northern California and killed three people and injured 15 others.