Who Is Elaine Chao? House Committee Launches Investigation Into Transportation Secretary, Mitch McConnell's Wife
The House Oversight and Reform Committee on Monday launched an investigation into U.S. Secretary of Transportation Elaine Chao over whether she has taken any action that amounts to a conflict of interest.
The probes comes after media reports accused Chao of using her position in the Trump administration to benefit herself and her family's business. According to the reports, Chao may have used her role to boost Foremost Group, a shipping company owned by James Chao, her father.
Chao, whose husband is Senate Majority Leader Mitch McConnell, was confirmed as a Cabinet secretary for the president's administration in January 2017.
In a letter to Chao, House Oversight and Reform Committee Chairman Elijah Cummings and Oversight and Reform Subcommittee on Economic and Consumer Policy Chairman Raja Krishnamoorthi requested communication documents between Chao, her father and her sister, Angela Chao, who serves as Foremost Group's chief executive. The lawmakers also requested other documents pertaining to their investigation.
"The Committee is examining your misstatements of fact, your actions that may have benefited the company in which you continued to hold shares, and your compliance with ethics and financial disclosure requirements," the letter read.
Foremost Group, a New York-based business, has received hundreds of millions of dollars in loan commitments from a Chinese government-run bank, according to the New York Times. In June, the newspaper reported that Chao tried to involve members of her family in meetings with Chinese officials that she attended in her capacity as transportation secretary.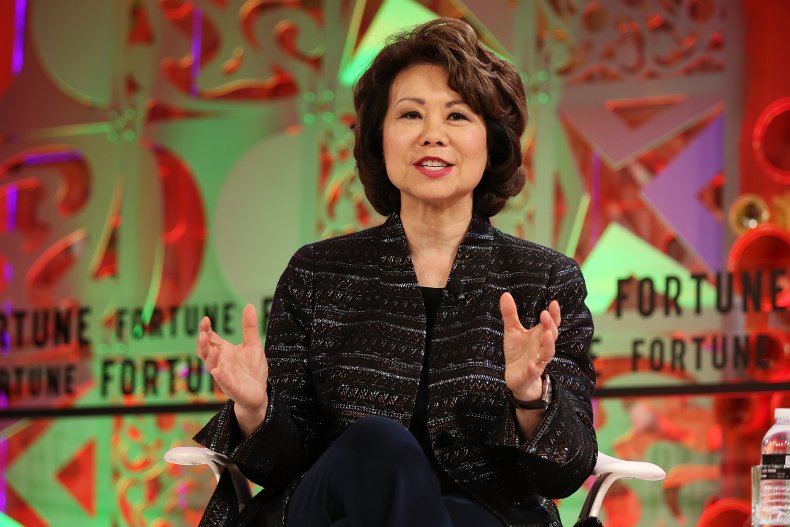 A representative from the Transportation Department condemned the "media attacks" on Chao and said the agency will respond to the committee's request. "Media attacks targeting the secretary's family are stale and only attempt to undermine her long career of public service," the representative said.
The Oversight Committee revealed in their letter, sent on Monday, that they're also investigating Chao's failure to "divest of stock" in Vulcan Materials Co., a construction company where she served on the Board of Directors for two years, prior to being appointed transportation secretary.
"You did not sell your shares in Vulcan until June 3, 2019 — after the Wall Street Journal published an article about your failure to divest from the company," the letter read.
The lawmakers have given Chao until September 30 to provide their requested information and documents.
Chao, 66, who is a member of the Republican party, previously served as Labor Secretary under former President George W. Bush from 2001 to 2009. She was born to Chinese parents in Taipei and immigrated to the U.S. at the age of eight.
Raised in Long Island, New York, Chao studied at Mount Holyoke College and Harvard Business School. She then worked for several financial institutions before being appointed to roles in the Department of Transportation under Bush and former President Ronald Reagan's administration. She is reportedly the first Chinese American in history to be appointed to a U.S. President's Cabinet.
Chao and McConnell married in 1993.