Today's Google Doodle honors Elizabeth Peratrovich, the Alaskan Civil Rights activist who worked tirelessly on behalf of equality for Alaska Natives and was instrumental in getting Alaska's Anti-Discrimination Act passed in 1945.
The search engine giant has chosen to pay tribute to Peratrovich with a Google Doodle—a special temporary alteration to its homepage logo that commemorates holidays, events, achievements and historical figures. They picked December 30 as it was on this date in 1941, after seeing an inn door sign that said "No Natives Allowed," Peratrovich and her husband decided to write to Alaska's governor. They gained his support and thus set the ball rolling towards the Anti-Discrimination Act in the territory four years later.
Today's logo shows an illustration of Peratrovich by artist Michaela Goade, speaking at a lectern while giving testimony to the Alaska Territorial Legislature in 1945. Behind her is a raven, representing that as part of Alaska's indigenous Tlingit clan, Peratrovich belonged to the Raven moiety (one of two descendant groups). The ocean and tree imagery in the illustration are a reference to the traditional homelands of Southeast Alaska.
The Google Doodle is available to all people who land on the search giant homepage today in the U.S. and Canada.
Who is Elizabeth Peratrovich?
Peratrovich was born Kaaxgal.aat on July 4, 1911, in Petersburg, Alaska—at a time when segregation was present throughout the territory.
She married Roy Peratrovich, also a member of the Tlingit clan, and the two moved to Klawock, Alaska, where they both played a role in local politics. In 1941, they moved with their three children to Juneau. That same year, the two worked with others to draft the territory's first anti-discrimination bill. Though this failed to pass, Peratrovich's continued efforts led to a second bill to reach Alaska's Senate on February 5, 1945. Her impassioned testimony on the Senate floor was met with widespread applause and is credited with playing a crucial role in the bill passing.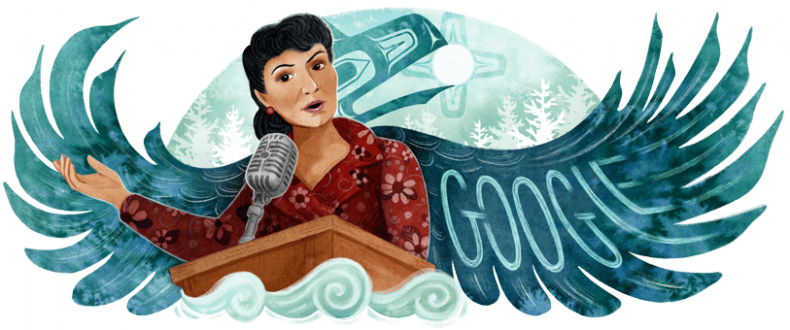 Fran Ulmer, former lieutenant governor of Alaska, described Peratrovich's testimony in 1992.
"She talked about herself, her friends, her children, and the cruel treatment that consigned Alaska Natives to a second class existence. She described to the Senate what it means to be unable to buy a house in a decent neighborhood because Natives aren't allowed to live there. She described how children feel when they are refused entrance into movie theaters, or see signs in shop windows that read 'No dogs or Natives allowed.'" she wrote.
In 1988, the Alaska State Legislature established February 16 as Elizabeth Peratrovich Day.
Betsy Peratrovich, granddaughter of the civil rights activist, told Google her thoughts about her legacy. "She and my grandpa Roy were quite a team," she said. " He liked to give her all of the credit, as she continually inspired him to strive to improve the lives of Alaska Native peoples.
"But my dad recounts that they both used to sit around the dining table at night where together they typed letters, wrote and practiced speeches, and strategized on how best to secure equal rights for all," she added.