Who Is Emanuela Orlandi? Inside the Vatican City Search for Missing Teen, Unearthed Bones Explained
Thousands of human bones have been unearthed in Vatican City, and it's all because of the search for Emanuela Orlandi, a missing teenage girl. The bones are expected to be from "dozens of people" according to Geneticist Giorgio Portera, CNN reported.
The bones were found in ossuaries, which are special containers or specific rooms designed for holding bones, all because of an anonymous tip the Orlandi family received about their missing daughter. The tip suggested that her bones may be buried close. "Look where the angel is pointing," said the note, which came with a photo, according to CNN.
The tip sparked an investigation into the tombs of both Princess Charlotte Frederica and Princess Sophie von Hohenlohe, who are both buried in the Teutonic Cemetery. The cemetery is located inside Vatican City's walls.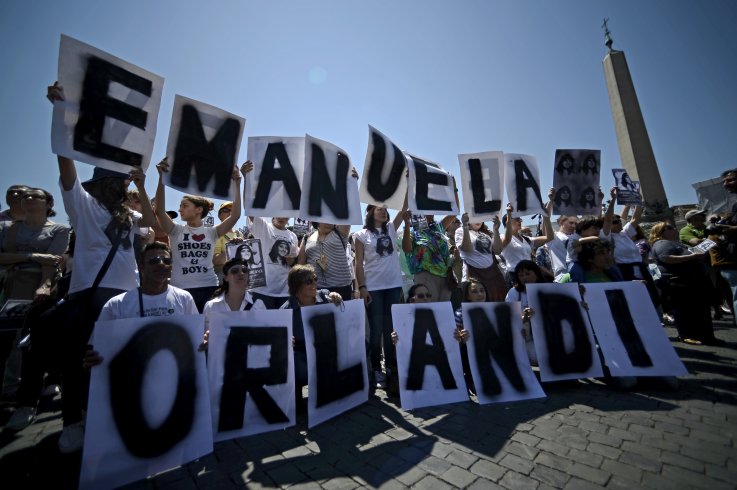 So who is Emanuela Orlandi and why is her disappearance so important?
Orlandi is the daughter of a Vatican senior official, and she's been missing since 1983. She was 15 years old at the time of her disappearance. Orlandi was at a music lesson in Rome, but she never returned home. Because of her father's prominent position, Orlandi's disappearance became flooded with conspiracy theories about Vatican, or even international terrorist, involvement.
Orlandi's brother, Pietro Orlandi, has long been vocal about his sister's disappearance and has implied the Vatican may know more than it has shared. Pope Francis told Pietro that his sister was "in heaven," according to Heavy.
Now, the bones unearthed in the two secret ossuaries will be tested for DNA. They'll likely also be dated. This could be telling, considering all bones in the old tombs should be ancient. If any relatively new bones are discovered, they could have belonged to either Orlandi or other recent missing persons.
Pitero explained this theory to CNN, saying, "There are hundreds, thousands of bones, and now the Vatican is classifying them by age and will investigate the more recent ones."
He continued to explain what it would mean to his family if Orlandi's bones are discovered. "To think if she was buried in the ossuary all these years, just 200 meters from our house. It would be devastating."
Outside the family, many Italians continue to beg for answers, though it has been nearly 40 years since Orlandi went missing.
Who Is Emanuela Orlandi? Inside the Vatican City Search for Missing Teen, Unearthed Bones Explained | World