Who Is Eric Greitens? Missouri Governor Who Cheated On Wife Says Sorry
Missouri Governor Eric Greitens admitted that he cheated on his wife after an interview with the ex-husband of his alleged mistress was broadcast on a local TV station.
"A few years ago, before Eric was elected governor, there was a time when he was unfaithful in our marriage," said Greitens, 43, and his wife, Sheena, in a joint statement posted to the Republican governor's Facebook page after the broadcast.
"This was a deeply personal mistake. Eric took responsibility, and we dealt with this together honestly and privately," the couple said. They added that "with God's mercy" Sheena has forgiven him.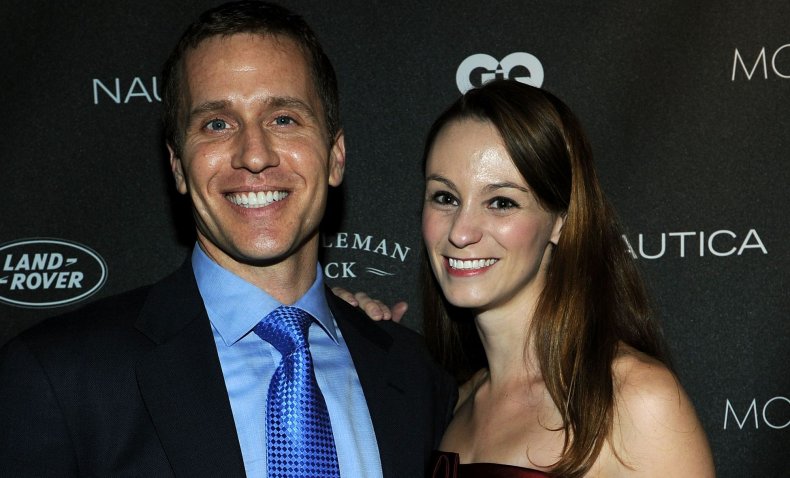 "We have a loving marriage and an awesome family. Anything beyond that is between us and God," Sheena added in a statement. "I want the media and those who wish to peddle gossip to stay away from me and my children."
A separate statement from the couple's lawyer addresses allegations of blackmail made in the broadcast by the St. Louis-based TV station, KMOV.
In addition to interviewing Greitens's former lover's ex-husband, the station obtained secret recordings in which the woman said that she met Greitens because she cut his hair at a salon. She also described what happened during their sexual encounter months before he announced his run for governor.
Related: Missouri father turns son in after finding child porn on phone
The woman alleges that during the encounter she was blindfolded and that Greitens took a picture of her and said, "You're never going to mention my name, otherwise there will be pictures of [you] everywhere."
The woman's ex-husband is heard saying on the secret recording, "He took a picture of my wife naked as blackmail. There is no worse person." The woman told KMOV that Greitens later contacted her and said, "I erased it."
The man and his ex-wife's identities have been protected by KMOV, citing the allegations of blackmail.
"There was no 'blackmail' and that claim is false," said Greitens's lawyer, James Bennett, in a statement. "This personal matter has been addressed by the governor and Mrs. Greitens privately years ago when it happened. The outrageous claims of improper conduct regarding these almost three-years-ago events are a lie."
Greitens officially announced he would run to become governor of Missouri on September 26, 2015. The couple filed for divorce in March 2016 before Greitens won the election in November 2016.
"I'm not after anything, I don't want to be part of politics, I don't want to be a part of anything. I just want to move on with my life," the ex-husband said. He added that he has come forward now because he wanted to get in front of the story after receiving calls about the matter from law enforcement and the media.
During the gubernatorial campaign, Greitens, a former Navy SEAL who served in Iraq, billed himself as a family man.