Who Is Everson Griffen? Vikings DE Undergoing Mental Evaluation After Alleged Hotel Incident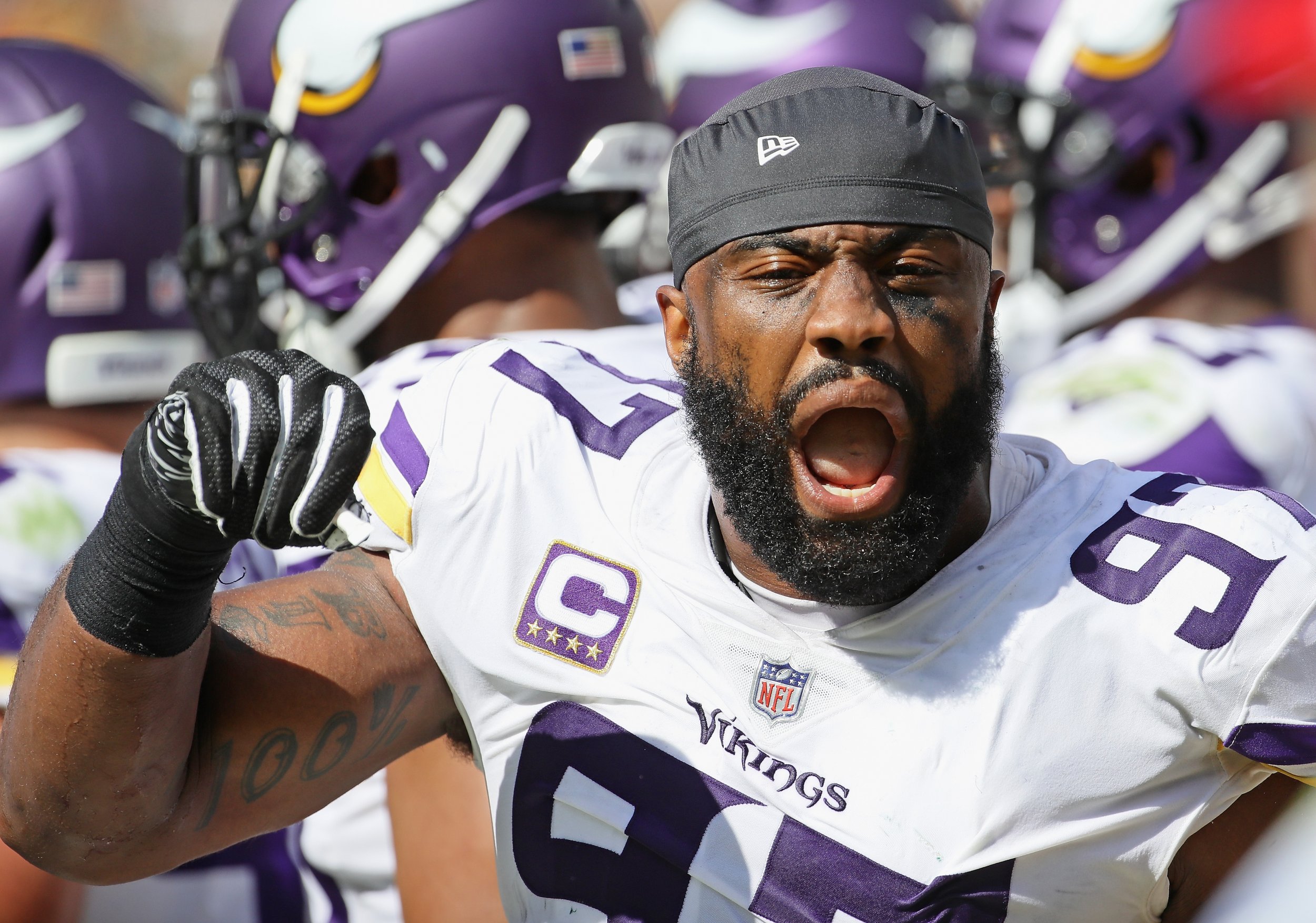 Minnesota Vikings defensive end Everson Griffen is being evaluated in hospital after he was involved in a serious incident over the weekend.
On Saturday night, a man threatened to shoot someone if he wasn't let into his hotel room at the Hotel Ivy in Minneapolis and police were called to the scene. While nobody was arrested and the name of the person making the threats was redacted from the police reports, KSTP-TV suggested the man in question was Griffen.
The Vikings defensive end was reportedly seen threatening employees and pacing the hotel lobby, threatening to assault staff if he wasn't allowed into his room. No gun was seen and Griffen was not arrested and left the venue on his own.
The 30-year-old had already been ruled out of Sunday's game against the Buffalo Bills with a knee injury but the Vikings subsequently released a statement in which they explained they were concerned for Griffen's health.
"We are aware of the situation involving Everson Griffen and certainly concerned by what we have heard. We are currently focused on Everson's well-being and providing the appropriate support for him and his family," Vikings' G.M. Rick Spielman said in a statement.
On Tuesday, NFL Network's Tom Pelissero tweeted that Griffen was being evaluated at a local hospital and that concerns over his mental health had already arisen before the incident over the weekend.
The claim appeared to be substantiated by a separate report from KSTP, which quoted a report from the Minnetrista Police Department as saying the Vikings had noticed Griffen was "not acting normally," almost like he was "having a nervous breakdown" in the days before the alleged incident.
According to the report, Griffen was kicked out of practice on Saturday, before team officials contacted police in Minnetrista, where Griffen resides, to ensure his wife and kids were kept safe.
The police report added that after speaking with Griffen's family, Vikings officials were informed that he had expressed thoughts of harming himself and had not slept for days.
"Everson has been really struggling for the past few weeks," Vikings Player Development Director Leslie Pico was quoted as saying to the police. "During practice this past week Everson had been explosive, screaming and yelling in the workplace."
A native of Arizona, Griffen has spent his whole NFL career with the Vikings, since been drafted in the fourth round of the 2010 draft following three years at University of Southern California.
In Minnesota, Griffen has developed into one of the best defensive ends in the league, earning three consecutive Pro Bowl selections between 2015 and 2017, a year in which he was also named in the second-team All-Pro.
After starting only one game in his first four years with the Vikings, Griffen has started all of the 62 games he has played over the last four seasons.
Griffen has recorded over 30 tackles in each of the last four campaigns, with a career-high of 39 in 2014. Over the same period he also averaged 10.1 sacks per season, with a career-best of 13 sacks last year.
This season Griffen played in both of the first two Vikings games, with a win against the 49ers in Week 1 and a 29-29 tie against the Packers in Week 2.
Who Is Everson Griffen? Vikings DE Undergoing Mental Evaluation After Alleged Hotel Incident | Sports