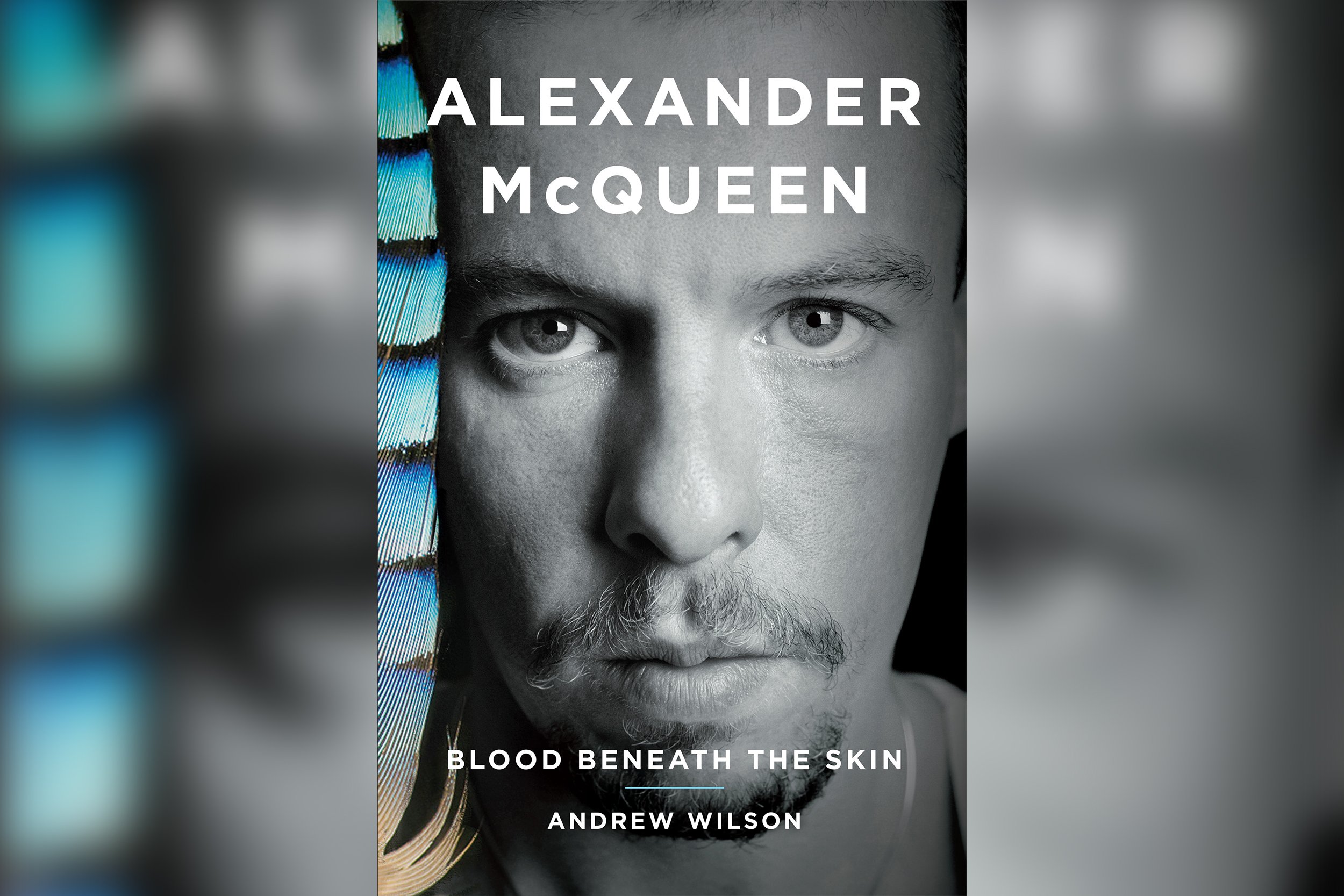 The hottest ticket in London right now is to "Savage Beauty," the exhibit of Alexander McQueen's fashion at the Victoria & Albert Museum. Just as at New York's Metropolitan Museum, where the exhibit first opened, demand to see McQueen's extraordinary sculptural fashion is intense, with lines around the block. Bowing to public pressure, the V&A has opened its doors 24 hours a day before the exhibit closes on August 2.
But who exactly was McQueen? And what was his special magic? A new biography of the designer, by Andrew Wilson, to be published in the U.S. in September—it has already been published in the U.K.—attempts to describe the often difficult character from humble origins who soared to become the master of sharply tailored women's fashion.
Read the first excerpt from Alexander McQueen: Blood Beneath The Skin below, and a second, on the distressing circumstances of his death by suicide, and look at a selection of the fashion on show in the exhibit here.
Alexander McQueen was an anti-intellectual and his formal education was patchy to say the least, but he had an innate ability to provoke and manipulate emotion. "I don't want to do a cocktail party, I'd rather people left my shows and vomited," he once said. "I prefer extreme reactions."
He certainly divided opinion. "He was one of a kind, the service was bitter-sweet, perfect," said Sarah Jessica Parker after the memorial service to celebrate his life after he committed suicide. Kate Moss said simply, "I loved him," while Shaun Leane added that McQueen "never knew quite how many people cared about him."
Yet it can't be denied that there were those who felt betrayed, frustrated and angry with him; very often the same people who also loved him so deeply. "He's the one person I would probably forgive anything," said Annabelle Neilson, who together with some of his friends helped organize the service. "Maybe you forgive difficult people more."
He was, as he described himself, "a romantic schizophrenic," a personality often at battle with itself. Accessing his creativity was never hard for McQueen—he said he could plan a collection in the space of two days—because he used his raw and unfettered self as his subject.
"My collections have always been autobiographical," he said in 2002, "a lot to do with my own sexuality and coming to terms with the person I am—it was like exorcising my ghosts in the collections. They were to do with my childhood, the way I think about life and the way I was brought up to think about life."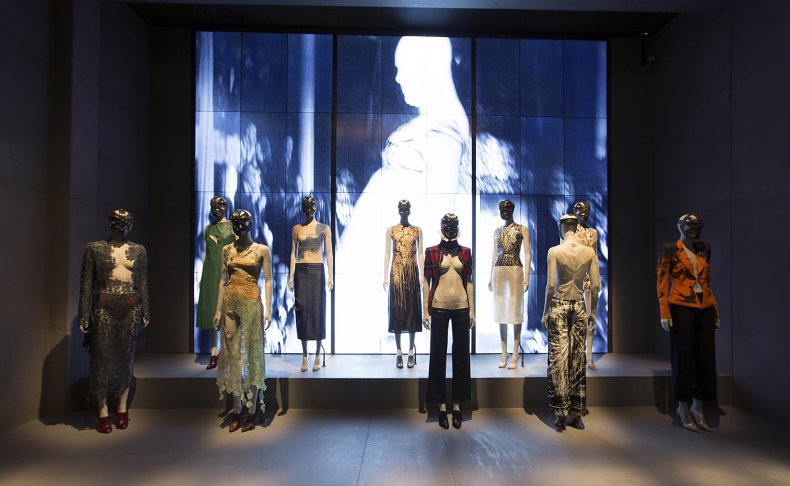 His work can be read, in the words of Judith Thurman of the New Yorker, as "a form of confessional poetry." In the same essay, Thurman continues, "Therapists who treat children often use dolls' play as a tool for eliciting their stories and feelings, and one has the sense that the dolls' play of fashion was such a tool for McQueen."
His life has many of the elements of a dark folktale or a mythic fable. It is the story of a shy, strange-looking boy from a poor working-class background who used his gothic imagination to transform himself into a fashion superstar—by the time of his death, at the age of 40, he had amassed a fortune of £20 million—but who along the way lost a part of his innocence.
As one commentator observed, his life was a "modern-day fairy-tale infused with the darkness of a Greek tragedy." It's no surprise to learn that in his posthumous collection, Angels and Demons, one of the pieces, an exquisite coat "tailored from lacquered gold feathers," referenced both Grinling Gibbons, who worked his sculptural magic in St. Paul's Cathedral, and the myth of Icarus, the boy whose wild aspirations drew him too close to the sun.
Birds swept in and out of McQueen's brief life, from the birds of prey he used to watch from the roof of the tower block behind his childhood home, to the beautiful prints of swallows featured in his Spring/Summer 1995 collection, The Birds, inspired by M.C. Escher's illustrations and Hitchcock's film.
Then there were the hawks and kestrels and falcons that he had learnt to handle at Hilles, Issie and her husband Detmar Blow's grand country home in Gloucestershire. "He's a wild bird and I think he makes clothes fly," said Isabella of her friend.
There were others who took the metaphor one step further. "He behaves like a bird, twitchy and nervous, rarely making eye contact," said the journalist Vassi Chamberlain. Easily bored and restless, McQueen sometimes behaved like someone with attention deficit disorder—he would often return from expensive exotic holidays early and, like a bird or wild animal, hated the idea of being constrained or contained.
His most challenging work explored the idea of the hybrid and the mutant, the way that strands of our primitive and savage state continue to twine their way through our DNA. His favorite books were the Marquis de Sade's The One Hundred and Twenty Days of Sodom and Patrick Süskind's Perfume, works that explore transgression and the darker aspects of human existence.
He injected the seemingly superficial world of fashion with classic Freudian concepts of dreams and delusions, totem and taboo, the ego and the id and civilization and its discontents.
"I don't think like the average person on the street," he said. "I think quite perversely sometimes." He visualized and made real the deviant and the depraved, but swathed his dark ideas in exquisite fabrics and constructed them around elegantly tailored pieces, clothes that were beautiful and, despite repeated accusations of misogyny, incredibly empowering for women.
"When you see a woman wearing McQueen, there's a certain hardness to the clothes that makes her look powerful," he said. "It kind of fends people off."
Excerpted from Alexander McQueen: Blood Beneath the Skin by Andrew Wilson. Copyright © 2015 by Andrew Wilson. Published by Scribner, a Division of Simon & Schuster, Inc. Originally published in 2015 in Great Britain by Simon & Schuster UK Ltd. Reprinted with permission.