Faisal Hussain Identified as Toronto Shooting Suspect, Dead After Mass Shooting
The suspect accused of killed two people and injuring 12 others during a mass shooting in Toronto on Sunday night has been identified as Faisal Hussain.
Hussain's name was released by the Ontario Special Investigations Unit on Monday due to "the exceptional circumstances of this tragic incident," BBC News reported.
Hussain, 29, was found dead after the shooting, the unit told CBC News. It said that six investigators and three forensic investigators are looking into the alleged gunman's death, CBC News reported.
Police are still investigatingthe motive in the shooting, which began on Sunday night about 10 p.m, according to the Toronto Star. An exchange of gunfire took place in Toronto's Greektown neighborhood of Danforth. Hussain was found dead on Danforth Avenue, according to the publication.
Witnesses described the shooter as a man dressed in black and wearing a black hat who allegedly fired about 20 shots, the Toronto Star reported. Police Chief Mark Saunders told CBC News that the gunman had a handgun on him.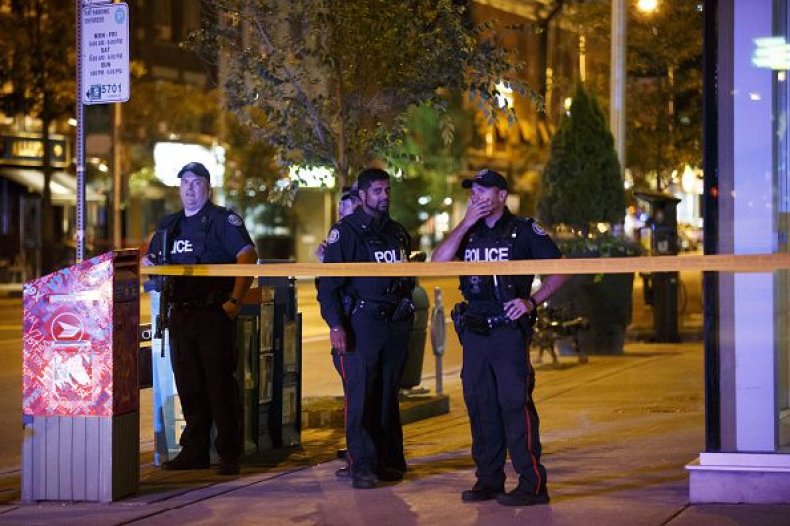 An 18-year-old woman and a 10-year-old girl were killed in the shooting, according to the Associated Press. Saunders said anyone with any information about the shooting is encouraged to come forward, CBC News reported.
"I'm looking at every single possible motive for this," he said. "When you have this many people struck by gunfire, it's a grave concern."