Who Is Flirtaus? BTS Fan Creates Outcast, a Horror-Themed AU, and Thread Goes Viral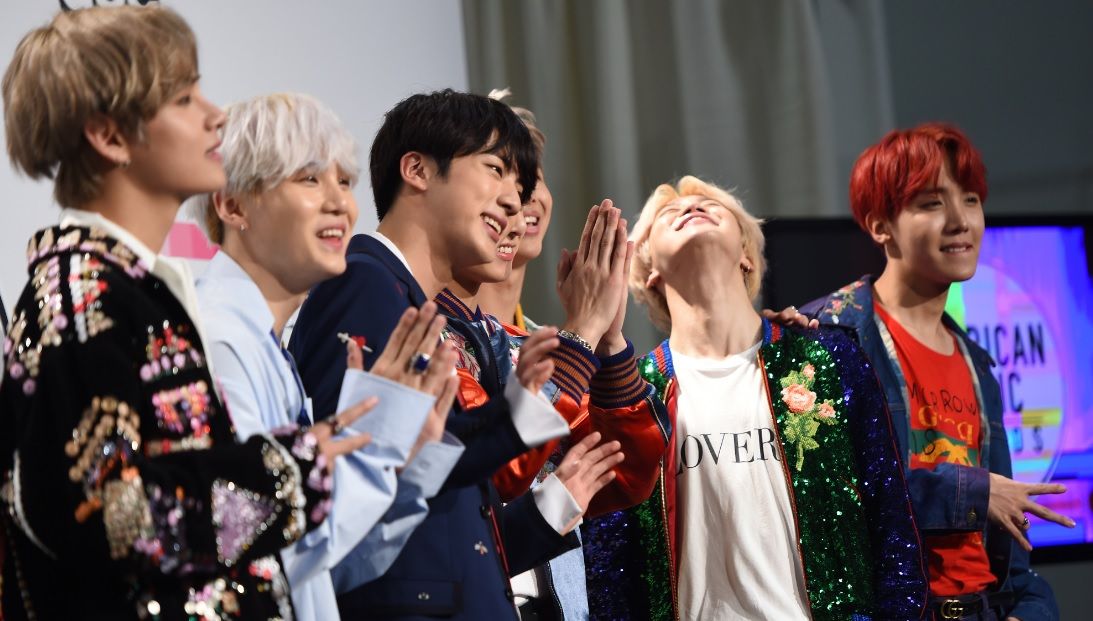 Twitter users around the world became obsessed over the last week with a creative bit of fan fiction built around the band BTS. On January 3, Twitter user Flirtaus posted the first installment of a horror-themed AU, or alternate universe, story starring members of BTS. Very quickly, the hashtag #BTSOutcast went viral and by Tuesday, Flirtaus's follower count ballooned to more than 419,000.
For those who don't know, BTS is a band from South Korea with seven members: Jungkook, V, Jimin, Suga, Jin, J-Hope and RM. They dance, rap and sing. The band, also known as Bangtan Boys or Bulletproof Boy Scouts, have climbed the charts since 2013. Their hits include "No More Dream" from their first album, 2 COOL 4 SKOOL, and, most recently, songs from 2017's EP Love Yourself: Her, like "MIC Drop," "DNA" and "Go Go."
In Flirtaus's story, which is told through screenshots of text messages, characters Min Yoongi (Suga) and Jung Hoseok (J-Hope) play a game called Outcast that takes a sinister turn: People start to go missing in "real life." (No one has actually gone missing, just in the Outcast AU. But the idea is that the game controls reality.)
Flirtaus uses imagined text messages between Yoong and Hoseok to tell the story, where the seven members of BTS don't know each other. Early on, it's revealed a person named Park Jimin goes missing. In order to play the game, Yoong and Hoseok must put their phone numbers into the game. They soon discover they are controlling the missing Jimin and Jungkook.
With multiple chapters over the course of several days, Flirtaus kept readers on edge, releasing new information each day. In the end, Flirtaus announced the name of the killer. (Hint: It's one of the BTS members.)
Some fans became seriously invested in the fiction, but Flirtaus assured readers none of it was real and no members of the band were harmed. He only used the pop stars' likenesses to tell the AU horror tale.
"Please remember that this au is purely fictional. all backstories, traits, etc is made up. All of the boys in bts in reality are legendary sweethearts and deserve the world. they are amazing, selfless souls. Let's continue to love & support them in everything," Flirtaus tweeted as a reminder on Sunday.
The horror thread was such a hit that BTS's management company announced the band would release its own game. This one, however, will be called Superstar BTS.
"We are here to let you know the exciting news about us. The first official BTS game! Superstar BTS! You can enjoy our music by a rhythm game," Big Hit Entertainment announced on Monday. A release date has yet to be announced.
Flirtaus did not immediately respond to a request for comment.
Click here to read the full Outcast story, courtesy of Koreaboo.