Who Gave Your Job Away? Democrats Ask Voters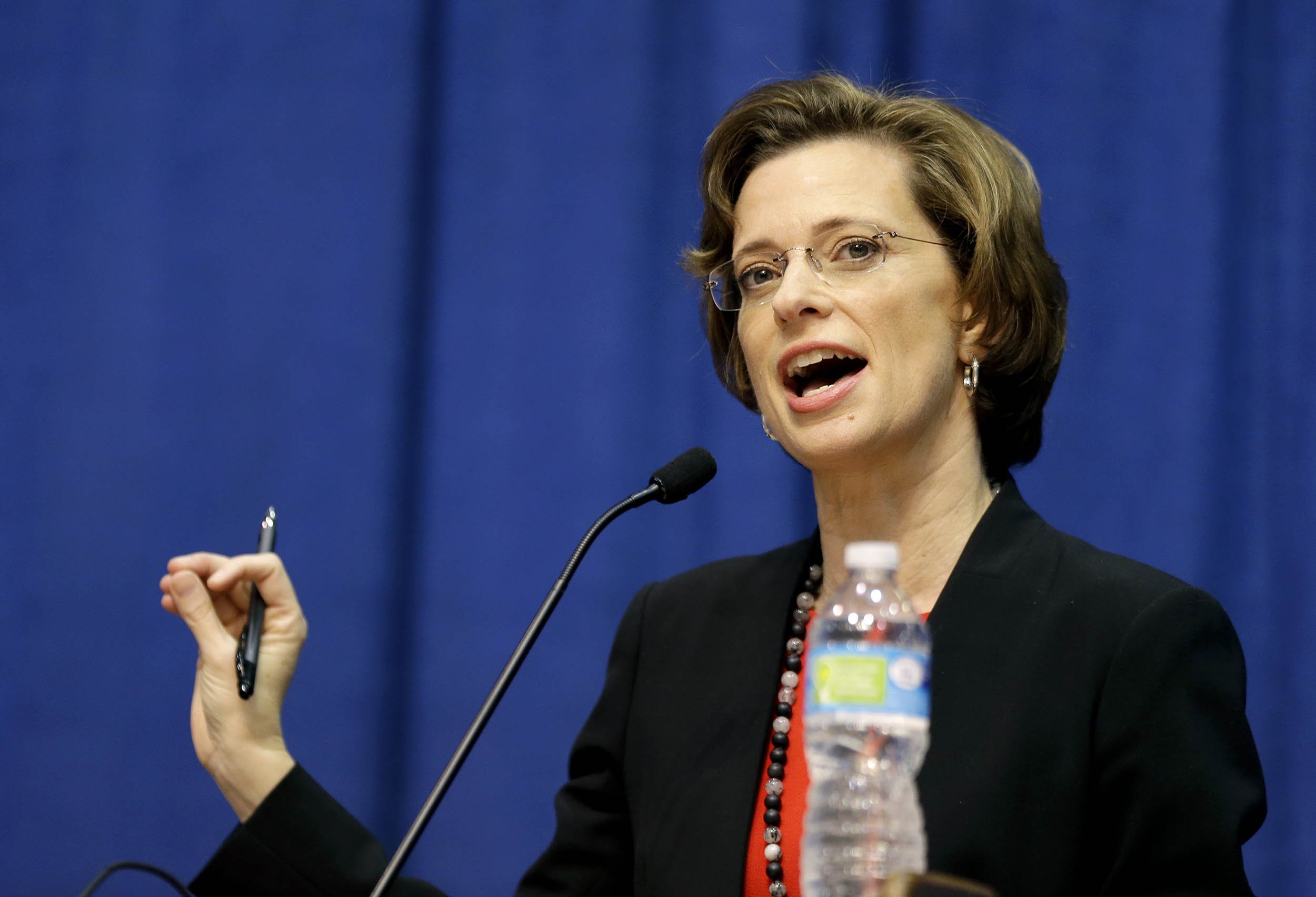 Remember this ad? A bald man named Mike Earnest looks into the camera and recalls when bosses at his plant asked workers to build a stage. Days later, corporate honchos used the stage to announce the plant was closing and their jobs were gone.
It was a political ad about Mitt Romney, the Republican presidential candidate whose career at the private equity firm Bain Capital became an albatross around his neck during the 2012 campaign.
"Mitt Romney made over $100 million by shutting down our plant," Earnest said in the ad, produced by the Democratic super-PAC Priorities USA Action. "Turns out that when we built that stage, it was like building my own coffin."
Outsourcing became a central theme of the 2012 campaign and played a significant role in President Barack Obama's victory. So it should come as little surprise that the strategy is being deployed again this year. And like last time, it seems to be working.
In Georgia's Senate race, Democratic candidate Michelle Nunn was supposed to be a long shot. Georgia is a red state, though demographic changes are quickly turning it purple. But in the two most recent opinion polls, Nunn is ahead of her Republican opponent, businessman David Perdue. Democrats are rushing an extra $1 million to the state in the final weeks of the campaign. The FiveThirtyEight Senate forecast gives Nunn a 34 percent chance of winning, but the site notes that the Democrat has had a few good weeks.
What changed? In a word, outsourcing.
On October 3, Politico released a 2005 deposition in which Perdue is asked about outsourcing. "I spent most of my career doing that," Perdue responded. At the time, Perdue was the CEO of a company called Pillowtex Corp., which lost 7,600 jobs when it went under.
As if that wasn't bad enough for Perdue, he made the situation far worse by defending his record with the line "Defend it? I'm proud of it." Thus far, the Nunn campaign has several ads with the outsourcing quote and his "I'm proud of it" retort. One ends with the hashtag #HisPrideOurPain.
The ad that feels most like a replay of the anti-Romney ads (it's actually produced by the same ad firm) is called "Kannapolis," the name of the North Carolina town where Pillowtex was based. The minute-long spot features former Pillowtex employees speaking to the camera about Perdue as ominous music and images of abandoned factories roll across the screen. "He walked away with his $1.7 million and didn't care about if we had a dollar in our pocket," says one woman, who worked at Pillowtex for 32 years.
What is it about these ads that seems so effective? As National Journal's Josh Kraushaar wrote Thursday, "More than any of the other well-worn Democratic arguments...this argument is successfully persuading undecided voters in close races." And it's not just in Georgia where Democrats are dusting off the 2012 playbook. Democrats are fending off Republican gubernatorial challengers in Illinois and Connecticut with similar attacks.
"This issue of outsourcing fundamentally undercuts any notion that that candidate is on your side," Bill Burton, the Democratic strategist who co-founded Priorities USA and helped orchestrate the outsourcing attacks on Romney, told Newsweek. Polls in 2012 showed people did not think Romney cared about people like them.
There's a more specific reason the attacks might be hurting Perdue. "It makes it hard to recover from [these attacks], especially among voters who are particularly important in this race, which is white working-class voters," Burton said.
Democrats have a host of issues that help them appeal to their base—abortion access for women, immigration reform for Hispanic voters, for example. The demographic they just can't seem to get on board are white working-class voters. In particular, white working-class men. (In fact, Newsweek ran a whole cover story on this phenomenon.) But outsourcing speaks to white working-class voters, who have steadily seen their jobs shipped overseas over the past 30 years.
"I think Georgia is like a lot of other states where it's important to reach all sorts of different voters," said Burton. "But for Michelle Nunn, if she can activate a good number of white working-class voters, she's going to be on a glide path to victory."
The return of the outsourcing theme comes just as Romney himself has reentered the political conversation. He's on the stump helping elect Republicans this cycle, and his name is being floated as a possible presidential contender in two years.
"It would be amazing if Mitt Romney were the Republican nominee in 2016 and we had yet another chance to beat him," Burton said. "The American people have time and again said that this style of economic policy and politics is not for [them]."