Who is Gen. Charles Brown? New Air Force Chief First Black Service Member to Lead Branch of U.S. Military
The Senate unanimously confirmed General Charles Q. Brown to serve as Air Force Chief of Staff on Tuesday, making Brown the first black service member to lead a U.S. military branch.
Brown is currently serving as commander of Pacific Air Forces and will take his new position this summer. He was nominated for the role by President Donald Trump in March.
"My decision to appoint @usairforce General Charles Brown as the USA's first-ever African American military service chief has now been approved by the Senate," Trump tweeted about an hour before the Senate voted. "A historic day for America! Excited to work even more closely with Gen. Brown, who is a Patriot and Great Leader!"
The confirmation makes Brown the Pentagon's highest-ranking black U.S. military officer since former Secretary of State Colin Powell's tenure as Chairman of the Joint Chiefs of Staff from 1989 to 1993.
Brown began his Air Force career as an F-16 fighter pilot and instructor, before moving on to a series of leadership roles that included assignments in Europe, Asia and the Middle East. He also served as the assistant, or aide-de-camp, to former Air Force Chief of Staff Ronald R. Fogleman in the mid-1990s.
Brown, sometimes known by his call sign "CQ," will take the place of outgoing Air Force Chief of Staff Gen. David L. Goldfein, who is set to retire on June 30.
"You don't have a person who is more connected and is more combat-savvy than CQ Brown," Goldfein told the Air Force Times. "No one's been better prepared for this job than him. It's going to be exciting to watch our Air Force just flourish under his leadership."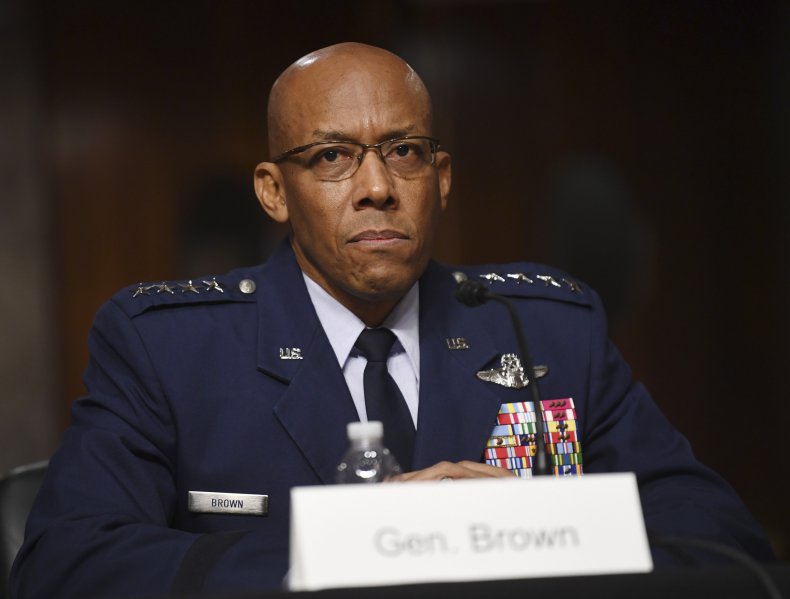 Brown's confirmation comes amid widespread social unrest and mass protests against racial injustice and police brutality after the May 25 death of George Floyd, an unarmed black man who died in Minneapolis, Minnesota under police custody.
In a video posted to social media by the Pacific Air Forces on June 5, Brown discussed his nomination in the context of Floyd's death and ongoing issues related to racism in the military and the country.
"I'm thinking about the African Americans who went before me to make this opportunity possible," Brown said in the video. "I'm thinking about the immense expectations that come with this historic nomination, particularly through the lens of current events plaguing our nation."
"My nomination provides some hope but also comes with a heavy burden," he added. "I can't fix centuries of racism in our country, nor can I fix decades of discrimination that may have impacted members of our Air Force."
Newsweek reached out to the Pentagon, who declined to comment.