Who Is Geoffrey Fieger? Columbine Attorney Representing Oxford School Shooting Victims
The first lawsuit in the Oxford, Michigan, school shooting was filed Thursday by the parents of two sisters who survived the November 30 tragedy, and the family has hired Columbine attorney Geoffrey Fieger to represent them in two suits.
In the new suits, Fieger is representing Jeffrey and Brandi Franz, the parents of 17-year-old Riley and 14-year-old Bella. The two sisters were coming out of a restroom when Riley was shot in the neck by 15-year-old Ethan Crumbley.
The lawsuit, filed in federal court, is seeking $100 million in damages. It says that the teenagers' constitutional right "to be free from danger" was violated under the 15th Amendment and alleges that school staff acted in "reckless disregard" of their safety.
Four students were killed and another seven were injured in the shooting.
Crumbley has been charged with murder and terrorism. His parents were also charged, with involuntary manslaughter. State prosecutors said they allowed their son access to a gun while ignoring warnings that he was a danger to the school.
"At Oxford High School, they'll search your backpack if they think you're vaping, but they refused to suspend or search a student who wrote what we now know was reams of homicidal notes and drawings, scenes of classroom slaughter and mania," Fieger said at a press conference.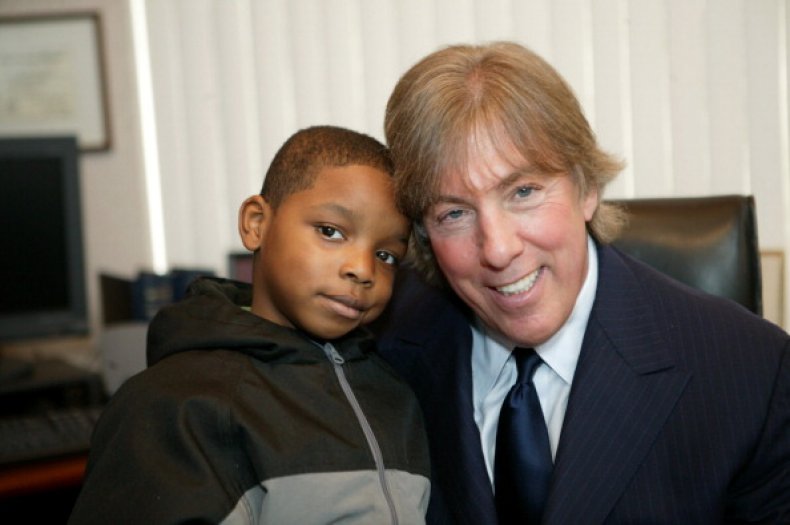 Fieger has worked on several high-profile cases, including one in which he represented the family of Isaiah Shoels, a student who was killed in the 1999 Columbine High School massacre in Colorado.
"Twenty years and nothing has changed," Fieger said of school shootings. "We've been talking for over 20 years, for God's sake. Some of us are tired of talk.... We're going to hold people responsible for betraying the trust we put in them to protect our children."
More than two decades ago, Fieger represented the parents of 18-year-old Isaiah Shoels, who was one of 15 killed in the Columbine shooting.
The 1999 lawsuit accused the parents of the Columbine gunmen, Dylan Klebold and Eric Harris, of failing to supervise their children and sought damages of up to $250 million.
"Responsibility for violence sometimes extends beyond the person who actually pulls the trigger," Fieger said at the time. "It sometimes extends to those who contribute to individual acts of violence."
Fieger, who is almost 71, also represented victims of the Flint water crisis in a $100 million class-action lawsuit and successfully defended Dr. Jack Kevorkian in the first of several doctor-assisted suicide trials.
The lawyer, who grew up in a suburb of Detroit and received his J.D. from the Detroit College of Law, has also dipped into politics.
In 1998, Fieger unsuccessfully ran as the Democratic nominee against then-Republican Governor John Engler. Despite putting in nearly $6 million of his own money into the campaign, he lost, getting only 38 percent of the vote.
Fieger has also been on trial himself. In 2007, he was indicted on federal campaign finance charges when the government alleged that he and his longtime law partner Ven Johnson illegally funneled $127,000 to John Edwards' 2004 presidential campaign. Fieger was acquitted on all 10 charges.