Who Is George Stephanopoulous, Moderator of Biden Town Hall?
George Stephanopoulous, who currently serves as ABC News' chief anchor, will moderate a town hall-styled event on Thursday with Democratic presidential candidate Joe Biden.
Stephanopoulous, 59, leads breaking news and major special events coverage for the network, a position he's held since 2014. The journalist also serves as a co-anchor with Robin Roberts and Michael Strahan on Good Morning America, as well as the host of This Week, ABC News' Sunday morning current affairs program.
Stephanopoulous has interviewed many high-profile figures in his career, from President Donald Trump and former President Barack Obama to Russian President Vladimir Putin and former Iranian President Mahmoud Ahmadinejad. He has received multiple awards, including two Emmys, according to the National Press Foundation.
But before gaining recognition as a famed broadcaster, Stephanopoulous dipped his toes into the world of politics. He received his undergraduate degree in political science from Columbia University, and earned his master's in theology as a Rhodes Scholar from the University of Oxford in England.
Upon his return to the U.S., Stephanopoulous joined the staff of Representative Ed Feighan, an Ohio Democrat, eventually working his way up to be Feighan's chief of staff, according to Dana Loesch's 2016 book Flyover Nation: You Can't Run a Country You've Never Been To.
He then worked on Michael Dukakis' 1988 presidential campaign, noting in his memoir All Too Human: A Political Education that one of his reasons for joining the campaign was because Dukakis was a Greek-American liberal from Massachusetts, similar to Stephanopoulous.
After leaving Dukakis' campaign, Stephanopoulous became the "floor man" for Dick Gephardt, a Missouri Democrat and then-House majority leader, according to Flyover Nation.
Stephanopoulous served in this position until he became one of the top members of Bill Clinton's 1992 presidential campaign. When Clinton won the presidency, Stephanopoulous became his de facto press secretary. But the Clinton administration soon appointed Dee Dee Myers as the official White House press secretary after Stephanopoulous misspoke to reporters on several occasions, according to Britannica.
Stephanopoulous resigned from Clinton's administration after President Clinton was re-elected in 1996. In his memoir, Steph described Clinton as "complicated man responding to the pressures and pleasures of public life in ways I found both awesome and appalling."
One year later, in 1997, Stephanopoulous made his foray into journalism, becoming a political analyst for ABC News. He has stayed with the network ever since, working his way through various positions.
Stephanopoulous became host of This Week in 2002 and the network's "chief Washington correspondent" in 2005. He began co-anchoring Good Morning America in December 2009, a role he continues to have alongside his other anchor spot on This Week.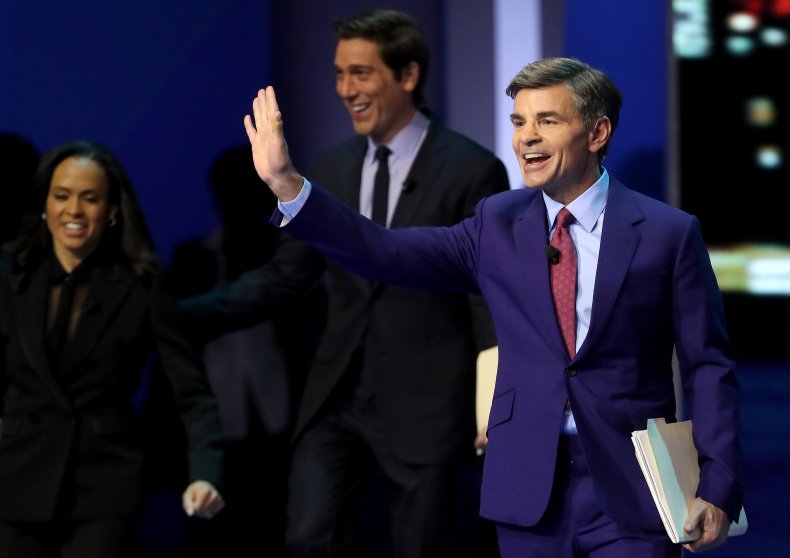 Biden's town hall will not be the first presidential campaign event Stephanopoulous has moderated. In 2008, he co-moderated the Democratic Party's final presidential debate between candidates Barack Obama and Hillary Clinton.
Stephanopoulous and his co-moderator Charles Gibson were criticized for their decision to focus most of the debate on controversies occurring during the campaign rather than issues affecting the country, according to The Los Angeles Times.
Stephanopoulous later acknowledged that some people might've been upset with the decision, but ultimately defended his line of questioning.
"The questions we asked were tough and fair and appropriate and relevant and what you would expect to be asked in a presidential debate at this point," he said at the time. "The questions we asked...are being debated around the political world every day."
In 2012, Stephanopoulous co-moderated a debate among Republican presidential candidates Mitt Romney, Ron Paul and Rick Santorum. In September 2019 and February 2020, Stephanopoulous co-moderated debates among Democratic presidential candidates.
And on September 15 of this year, he hosted a town hall in Philadelphia between Trump and undecided voters. He questioned the president particularly hard on his healthcare record, as Trump has repeated throughout his nearly four years in office that a new bill is imminent.
Stephanopoulous' ties to the Democratic Party have come under scrutiny at different points throughout his career. In 2015, the journalist was criticized after he failed to disclose three separate donations made to the Clinton Foundation, a nonprofit organization, in the years 2012, 2013 and 2014 for $25,000 each.
Politico reported on the donations, revealing that Stephanopoulos did not tell ABC News nor his viewers about the donations, which some viewed as a conflict of interest in his role as a journalist. The network backed its employee, calling the anchor's actions an "honest mistake." Stephanopoulos also apologized, admitting he should've personally disclosed his donations.
"I made charitable donations to the Foundation in support of the work they're doing on global AIDS prevention and deforestation, causes I care about deeply," Stephanopoulos told Politico. "I thought that my contributions were a matter of public record. However, in hindsight, I should have taken the extra step of personally disclosing my donations to my employer and to the viewers on air during the recent news stories about the Foundation. I apologize."
Stephanopoulos will moderate Thursday's town hall with Biden in Philadelphia at the National Constitution Center, where voters have the opportunity to ask the Democratic candidate questions over the course of the special edition of the ABC television program 20/20.
Those interested in watching the event can tune in to ABC starting at 8 p.m. ET, or can watch it live on the network's website and mobile apps. The event will also be streaming on ABC News Live, which the network said is accessible on Amazon Fire, Hulu, Roku, Sling TV, Xumo and YouTube TV. ABC News' Facebook and Twitter pages will also livestream the event.