Who Got Left Out of the Emmy Nominations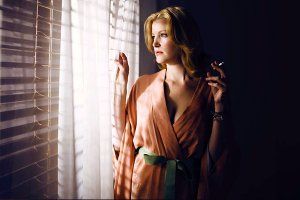 As television's embarrassment of riches continues, the process of choosing nominees come Emmy time has gotten more and more difficult. Even increasing the number of nominees in each category hasn't helped—year after year, worthy actors, actresses, and shows end up out in the cold. The 2010 nominees have been announced, with HBO's The Pacific leading with 24 nominations, and Glee and Mad Men leading the comedy and drama categories with 19 and 17 nods, respectively. But there will be plenty of time to recognize the nominees. Now it's time to take inventory of those who didn't manage to get a chair when the music stopped.
Anna Gunn and Dean Norris, Breaking Bad
Breaking Bad is the best drama on television. Yes, even better than whatever show you just named. Brian Cranston and Aaron Paul, the actors who form the complex relationship at the nucleus of the show, were nominated for their stellar work this season. But Anna Gunn, who plays Walter's steely wife, and Dean Norris, who plays his emotionally suffocating brother-in-law, were both mesmerizing as their characters were pulled deeper into Walt's dangerous world.
John Noble, Fringe
In its second season, Fringe shape-shifted from an intermittently interesting monster-of-the-week thriller into something deeper, something more mournful, layered, and invested in character rather than squishy, winged creatures. John Noble anchors the show as the psychologically fractured genius Walter Bishop, whose deft performance showed the inner turmoil of a father who went to unconscionable lengths to save his son and now must live with the consequences.
Zach Gilford, Friday Night Lights
Considering the vindicating nominations of Kyle Chandler and Connie Britton, I'm nitpicking at this point where Friday Night Lights nods are concerned. Still, Zach Gilford deserves all the attention he's gotten from his jaw-droppingly good performance in "The Son," the episode in which former Dillon quarterback Matt Saracen finally has the breakdown he's been teetering on the verge of for three seasons. But Gilford did get his own Facebook campaign in support of a nomination, and these days that's almost just as good.
Parks and Recreation
The beauty of television is its ability to improve over time. Between seasons, show runners can tweak certain elements, and suddenly a middling series can turn into a superlative one. Such was the cast with Parks and Recreation, which had the necessary ingredients in its exploratory first season but wasn't able to combine them just right. By the time of its second-season premiere, it was a dramatically different show that, like its spiritual twin The Office, packed in belly laughs galore but had a big heart and never lost sight of its characters.
Survivor
No one appreciates Survivor anymore. After singlehandedly launching the reality-competition craze that dominates television, it gets overlooked at Emmy time, and that's a shame. Project Runway got a nomination despite turning in one of its least interesting seasons ever. Meanwhile, the last installment of Survivor, "Heroes vs. Villains," had more twists than a pack of licorice and was absorbing from start to finish. At least its host, Jeff Probst, the best in the business, got a nod for his work.
Merritt Wever, Nurse Jackie
As good a show as Nurse Jackie is, it's the type of dramedy that makes for a hard sell come Emmy time—too dramatic for the comedy categories, and vice versa. So the nominations that it did get—particularly for best comedy series, edging out traditional, popular sitcoms like The Big Bang Theory—were unexpected. But, given the love heaped on it, why overlook Merritt Wever? Wever is the show's secret weapon as Zoe Barkow, a green young nurse who walks a fine line between earnestness and cluelessness.
Ed O'Neill, Modern Family
The cast of Modern Family, perhaps the truest ensemble cast on the dial, faced a dilemma when trying to come up with an Emmy strategy. Should some of the cast try for the lead categories, and if so, which? Ultimately, they went with the collegial plan to enter all the actors in the supporting categories, and while that was clearly going to result in some of the cast being left out, no one could have expected that patriarch Ed O'Neill would be the one to come up short.
Katey Sagal, Sons of Anarchy
There are so many rich, rewarding characters on television now, and so few slots in the Emmy categories, you have to accept that an amazing inclusion means there has to be a crushing exclusion. As long as I've been waiting for Connie Britton to be nominated for Friday Night Lights, I hate that Katey Sagal didn't pull out a nomination. As the damaged matriarch of a biker gang, Sagal turned in a masterful performance in what had to be the most emotionally challenging arc in the past year of television.
Michelle Forbes, True Blood
Acting has always seemed incredibly difficult to me. I admire it but have no interest in it myself. So the fact that I envied Michelle Forbes in True Blood demonstrates the amount of fun she was having as Maryann Forrester, the cartoonishly villainous she-beast who terrorized Bon Temps in the show's second season. To be as over the top as is Maryann and still manage to be genuinely menacing is no small feat, but Forbes made it look easy, and, more amazing still, like a total lark.
Sons of Anarchy
I remember first seeing Sons of Anarchy and being intrigued enough to stick around through the first season, but also feeling like these violent, profane bikers, who were involved in all manner of unsavory activities, weren't people I wanted to spend much time with. But by its second season, Anarchy had earned its place among the best dramas on television. The material is extremely dark, and while I can see how some of it might be off-putting to Emmy voters, I wish they'd stuck around as long as I did.