Who is Grimes? Award-Winning Canadian Musician Attends Met Gala as Elon Musk's Date
Tech billionaire Elon Musk and Canadian musician Grimes stole the spotlight as they attended the Costume Institute Gala at New York's Metropolitan Museum of Art on Monday as each other's dates.
The big news at the Met Gala usually focuses on what attendees wear, but the couple's appearance came hours after an article on Page Six revealed they were dating, citing an "insider" source. According to the source, the couple met online about a month ago, when Musk discovered that Grimes, real name Claire Boucher, had beat him to a joke about artificial intelligence by three years.
In 2015, Grimes wrote, produced, recorded and sang the critically-acclaimed "Art Angels," her fourth album studio. The single "Flesh Without Blood," which she wrote, directed, edited, colored and art-edited the video for, features a character she called Rococo Basilisk, as related in an interview with Fuse.
"I don't know if you've heard of Roko's Basilisk," she told the publication, referring to a complex thought experiment by which an AI could turn against anyone who thought, but did not act upon, the idea of creating AI.
"She's doomed to be eternally tortured by an artificial intelligence, but she's also kind of like Marie Antoinette," Grimes explained, with the French queen referring to the "Rococo" element of the word play, as the extravagant style developed around the time of her reign in the mid-18th century.
Musk seemed to confirm the Page Six report, tweeting "Rococo Basilisk" on Monday, in a thread explaining the concept, but with no explicit reference to Grimes. He however told reporters, according to The Cut, the two were on a "date night" and that he helped sketch her outfit, which featured a collar necklace similar to the Tesla logo.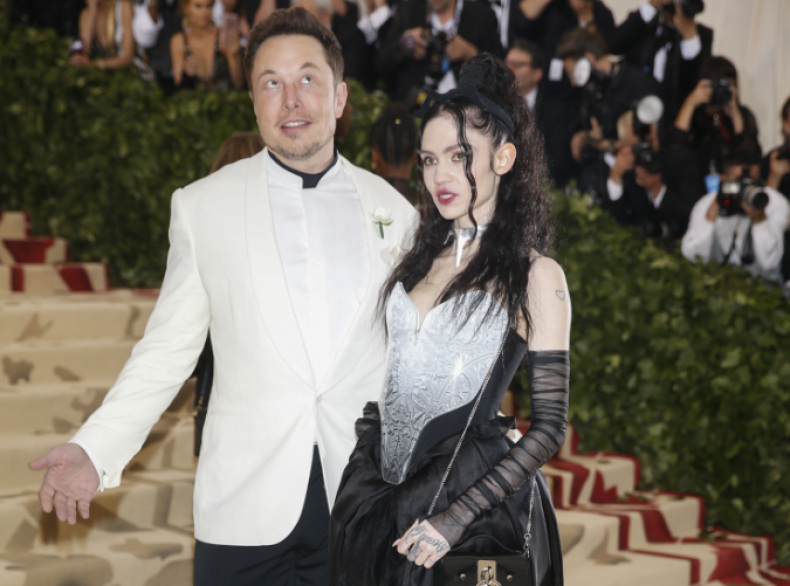 There may have been no need for it, as Musk's subtle flirtation with the musician had already caught some people's attention on Twitter. One user wrote "Just ask her out already Elon" after the SpaceX and Tesla founder tweeted: "Yeah, most people don't know this, but comets r mostly made of cocaine" at Grimes, one of only 48 accounts he follows on the social media platform. Musk simply replied with a winking emoji on April 27.
A few days earlier, Musk tweeted he was listening to Grimes's "Go Flex & Psycho" playlist. He later wrote: "Sounds great riding my cyborg" with a dragon emoji, a tweet he followed up with what sounds like his best idea to date. "I'm building a cyborg dragon."
But Musk's admiration for Grimes first emerged at the end of March, when he tweeted the video of the song "Venus Fly," a collaboration between the musician and Janelle Monáe, calling it: "Best music video art I've seen in a while."
The video won Canada's JUNO Awards for video of the year in 2018—the second year in a row as her video for the song "Kill v Maim" took the prize in 2017.