Who Is Gus Johnson? Abelina Sabrina Allegations Explained
Abelina Sabrina Rios (known as Abelina Sabrina) and Gus Johnson are YouTubers who were in a relationship for some time. In a recent video Rios spoke about the lack of support she felt she received from a boyfriend during her ectopic pregnancy, and fingers were pointed at Johnson.
Rios' video has been watched over 227,000 times since it was uploaded on October 22, and has thousands of comments in support for her.
Johnson has since come out with his own apology on the issue, though Rios has declared she is not ready to forgive. Johnson's apology, in which he reveals he will be stepping back from his podcast and live shows, has received mixed responses in the many comments on Twitter.
Newsweek breaks down what happened between the YouTubers and the reaction they have received.
Who Is Gus Johnson?
Johnson is a YouTuber who focuses mainly on skits and comedy scenes with other performers. He even collaborated with Rios many times, playing different characters.
Other than that, Johnson is a podcaster along with another comedian on the Gus and Eddy Podcast, and has been taking part in a live comedy tour across the U.S.
He dated Rios for more than two years, with them splitting up during 2021. Their relationship took center stage in Rios' recent video.
Rios, who is also a YouTuber, worked for Walt Disney Entertainment for three years before releasing videos on the platform, which are also mainly comedy skits.
What Did Abelina Sabrina Say About Gus Johnson?
In her video, Rios spoke about how she suffered an ectopic pregnancy which became so bad one of her fallopian tubes ruptured.
During this time, she spoke of needing to go to the doctor as she knew something was wrong, but her partner at the time said he wanted to go out and have drinks for work.
Later, she discussed how she tried to bottle up her feelings and pretend she was OK, but would occasionally rely on him for rides to the hospital. During these times, she claimed he told her that "anyone else would have left you by now" and described how he found her illness to be a strain on his life.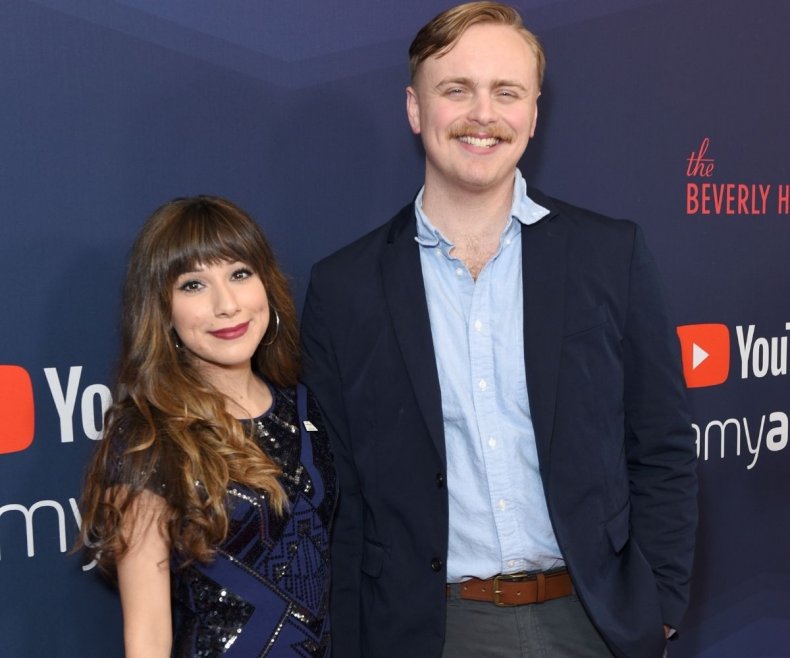 She said: "The lack of support was really hard, and I had to put myself through therapy to try and minimize these episodes because I don't want that. I don't want to get hooked on Xanex or Addavan to try and take the edge off whatever I feel is starting to creep on...
"It was awful, and then it would get to the point where I would ask for help to take me to urgent care please, because I can't drive myself, and he would say, 'Oh well call the advice nurse, and then I'll take you.'
"And then he would insist on listening to the phone calls to make sure that I wasn't exaggerating my symptoms."
She also claimed he would "correct" her in front of doctors after insisting on sitting in on her appointments, for fear she would, as she puts it, "exaggerate my symptoms."
What Has Gus Johnson Said About Abelina Sabrina's Allegations?
Though Rios never named the boyfriend, fans believed it to be Johnson, a fellow YouTuber, and soon he responded to comments urging him to come forward.
On his Twitter, he wrote: "I'm aware of a recent video that calls out some actions that I'm not proud of and I want to apologize. The circumstances were extremely hard and complicated for both of us, but I can't even begin to imagine how difficult it was for her.
"We were young and not remotely prepared to deal with all the realities of a long-lasting and traumatic medical situation. During the talks, counseling, and therapy we went through together following this time, I came to grips with my behavior and recognized my shortcoming, and I would like her to know just how deeply sorry I am.
"I fully realize what I did wrong, and wish I could change how I responded and acted during that time. I've grown a great deal since that happened and I wish I knew then what I know now. I will continue to grow and learn, and strive to be a better person every day.
"At this time, I am stepping away from the podcast and the remainder of this year's live shows will be cancelled with full refunds being issued. I will also be taking some time off from posting and working for a while."
His comments received thousands of likes, but commenters on the post have showed mixed feelings about his apology.
One commenter wrote: "can't believe a lot of people are just 'good response, you're a great dude' for a dude that clearly and evidently was still making horrendous decisions as recent as this month. hope you get the help you need, and become better. s*** was beyond unacceptable."
Another, however, shared their sympathy with Johnson, replying in response to the above message: "Let's dial up one of your ex's and let them air all your relationships dirty laundry. There's two sides to every story and relationships are complex and messy."
Rios has since posted a tweet of her own, which seems to be in response to Johnson's apology. She said: "I won't accept a misleading apology with lies in it. I don't forgive you."
Newsweek has contacted Johnson's representatives for comment.