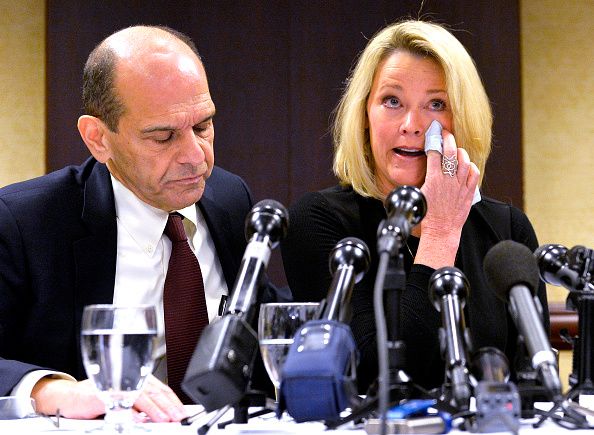 Updated | For weeks, Heather Unruh has hinted on Twitter at a sexual assault allegation against Kevin Spacey. On Wednesday, she came forward with details.The former Boston-area television news anchor held a press conference to discuss how the House of Cards actor allegedly assaulted her son on Nantucket in July 2016. Her son was 18 years old at the time.
The conference didn't come as a total surprise. Unruh has been tweeting for weeks about the sexual harassment and assault scandals in Hollywood. She paid particular attention to the allegations against Spacey and sent two tweets that explained why:
Unruh wiped away tears as she recounted her son's experience. She said he met Spacey at the Club Car restaurant on the island, where the actor bought her "star-struck, straight" son several drinks. Spacey eventually reached into her son's pants, grabbed his genitals and tried to convince him to go to a private party. When Spacey went to the bathroom, a woman at the restaurant asked if her son was OK and he ran to his grandmother's house.
"I want to make it clear: This was a criminal act," Unruh said. "It harmed him, and it cannot be undone."
Unruh's son was originally too scared and embarrassed to report the incident to police. But the now-19-year-old college sophomore has done just that. "Last week my son filed a police report and handed over evidence to the Nantucket Police, and now a criminal investigation has begun," she said. "He's committed to doing what he can to stop Kevin Spacey from victimizing anyone else."
Nantucket Police Lt. Angus C. MacVicar told WBZ-TV that he could not confirm or deny the report, adding that "reports of sexual assaults are confidential under Mass. General Law."
Given her resume, Unruh has more experience reporting a story than being the story. From May 2001 until October 2016, she worked as a television news anchor at WCVB-TV, a Boston-area ABC affiliate, according to a LinkedIn page that appears to belong to her. Prior to that, she worked as an anchor and medical reporter at KFOR-TV in Oklahoma City and WVTM-TV in Birmingham. Her LinkedIn page also lists her as a freelance documentary director and producer, a role she has been in since January. On Twitter, Unruh calls herself an "Award winning Journalist, Aspiring Filmmaker, Animal Lover, Family Gal, Human Rights Advocate."
Unruh also appears in F_CKIT, a documentary about people facing adversity in their lives and careers. Filmmaker Caroline Hart explained to HuffPost that the people in the film have reached the "breaking point where you can stay and do nothing about it, or you find your inner strength, pull yourself together and say F_CKIT! I've got to fight this." Based on a teaser posted to Vimeo, Unruh's story seems to center on a fight for equal pay.
But Unruh has turned her fighting energies toward Spacey, who she said on Wednesday should go to prison. "I've wanted to say something for a very long time," she said. "Now the climate in this country is changing. There's a shift," she added. "The timing was everything. I think a lot of us felt a lot less fear of how my son would be treated."
Actor Anthony Rapp was the first to speak out about Spacey's alleged behavior. Spacey responded to Rapp's allegations with a tweeted statement about not remembering the encounter, "but if I did behave as he describes, I owe him the sincerest apology for what would have been deeply inappropriate drunken behavior."
He used the statement as an opportunity to come out once and for all as a gay man, a move that angered Unruh.
"To Kevin Spacey, I want to say this: Shame on you for what you did to my son," she said on Wednesday. "And shame on you for using your apology to Anthony Rapp to come out as a gay man. That was an appalling attempt to deflect attention away from what you really are: A sexual predator. Your actions are criminal."
Spacey and his representatives have not yet responded to the allegations made by Unruh.