Who Is H.E.R., aka Gabi Wilson? Once Mysterious Singer Nabs Two R&B Grammys Among Album of the Year Nomination
A new face made waves at the 61st Annual Grammy Awards, and found herself trending online with questions about her career. H.E.R, real name Gabi Wilson, is the face behind the somewhat mysterious R&B project who nabbed two R&B Grammys on Sunday night. Wilson took home Best R&B Album and Best R&B Performance for her self-titled debut album, which was released in 2017. She was also nominated for Album of the Year and Best New Artist, though she did not win those titles.
Wilson began her career as H.E.R. in 2015. Her first project, a seven-song release on RCA records in 2016, was released with little information into her identity, but sources quickly guessed Wilson was behind the new name after her cover of Drake's "Jungle" resurfaced on the project. She'd originally performed the cover in 2015, according to Genius.
Though her career began to propel her to great heights in 2017 with the release of H.E.R, Wilson has been in the music arena since she was just 10 years old. She appeared on Maury's "Most Talented Kids" episode when she was 10 where she performed a cover of Alicia Keys's "Fallin."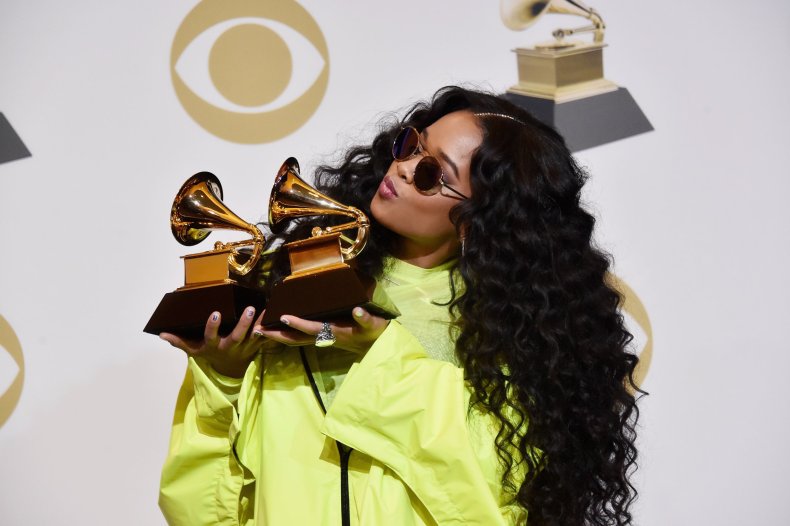 H.E.R. is an acronym for "Having Everything Revealed," according to the Los Angeles Times. At the Grammy Awards, she took the stage to perform a track from her full album: "Hard Place." The song appeared on her EP I Used To Know Her Part 2. Though she was backed by a full band, H.E.R was seen in a single spotlight as she sang and played electric guitar.
Now, her debut album, which is a combination of her first two EPs that boasts a whopping 21 songs, brings Wilson's talent to full light in a collection of dreamy, weightless R&B tracks. The album is an experience, easy to get lost in and long enough to sink into a true depth that some shorter albums just can't produce. It's a complete world, which introduces listeners not only to Wilson's alluring vocals but her writing style, similar to that of SZA or Jhene Aiko.
Wilson is only 21 years old and accepted her awards with genuine appreciation and shock. "I'm speechless right now," she said in her acceptance speech for Best R&B Album. "I'm holding back tears." Wilson has been considered a SoundCloud artist; that's where she's found most of her rise to fame and success.
The half black, half filipino artist gave her first face-to-face interview in 2017 to the Los Angeles Times. She revealed under her real name, she'd signed a deal with RCA records at the age of 14. But with H.E.R., Wilson wanted to be more mysterious. "Whether you know who I am or not, you don't really know who I am," she told the newspaper.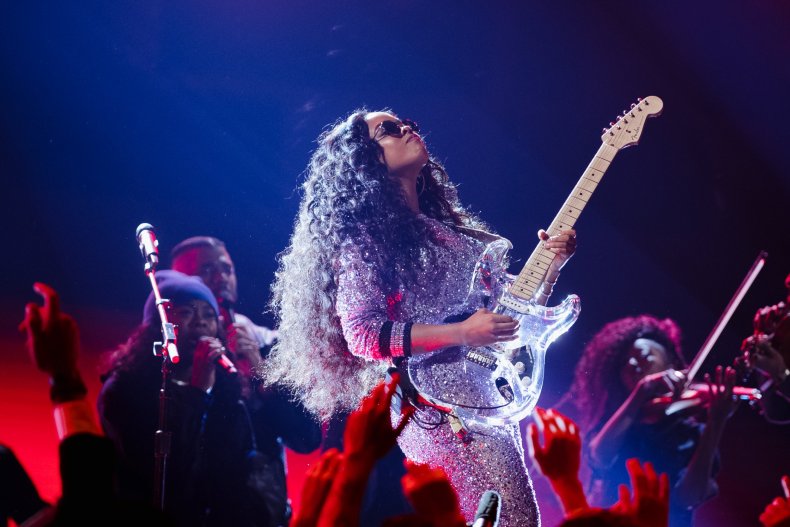 Until H.E.R., Wilson had been known as a sort of child star. After Maury, she appeared on other talk shows as a child prodigy. It was known she signed to RCA. Audiences who had witnessed her music were waiting for Wilson to step into the spotlight as an adult. But she wanted to do so in a way that reinvented herself.
Wilson's manager, Jeff Robinson said it was a way to allow her to present her music without other types of judgement. "Coming out in this kind of way has made her freer so that she can just concentrate on making music, and having people judge the music for what it is," he told the Los Angeles Times. "She wanted to touch people without dealing with anything else. In today's society, too many people are caught up on the superficial. What does she look like? How do they dress? Who are they friends with?' It should be back to being about the music—like it used to be."
She spoke of her decision to leave an air of mystery with the release of her music. "This was the best way for me to present myself. A part of it [was] to get away from my past," she explained. "People are obviously going to see my face more, but I'm still H.E.R."
Though her revealed identity was on her terms, she still didn't feel prepared for the attention it brought. "Being anonymous, I thought I'd just release the music and see what happens organically," she says. "It hasn't even been a year and everything is happening so fast. It was almost like I was forced to reveal myself — like, 'OK, it's time.'"