Who Is the Hollywood Ripper? Ashton Kutcher Shares Chilling Testimony in the Case Against Accused Killer Michael Gargiulo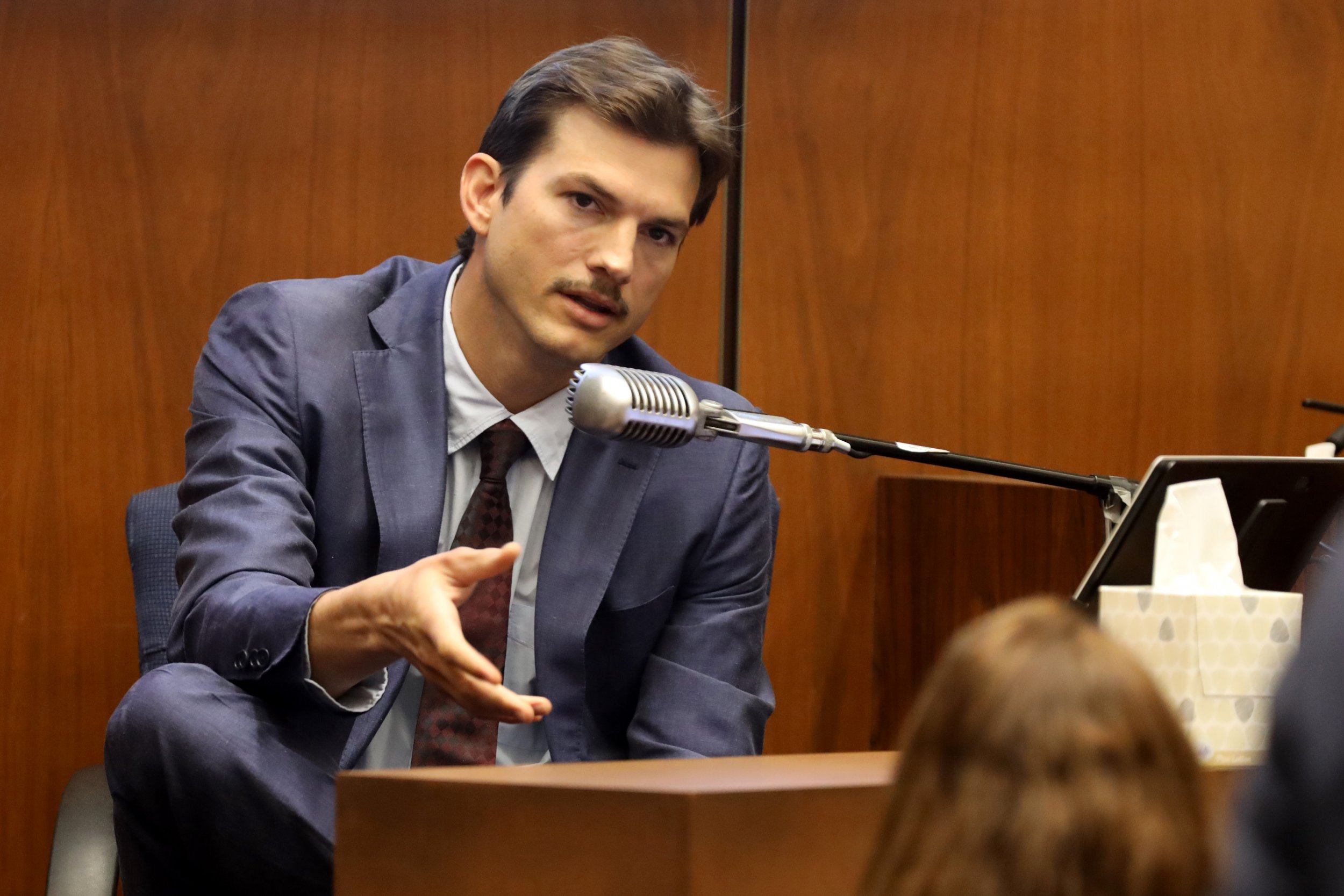 Some may have initially thought that Ashton Kutcher was on the set of a new Netflix series or Lifetime movie but the Two and a Half Men actor provided a real-life testimony Wednesday in the trial of the "Hollywood Ripper," alleged killer Michael Gargiulo.
Detailing the evening of February 21, 2001, Kutcher said he went to Ashley Ellerin's home. He and the 22-year-old had dinner plans. The actor provided a chilling testimony of seeing what looked to be red wine stains.
"I thought it odd the lights were all on, I didn't want to be the guy looking through her window," Kutcher said, adding that the place looked a little bit of a mess. "Then I saw what I thought was red wine on the carpet."
Kutcher continued: "But that wasn't alarming because I went to her house party [days before] and it was like a college party. I didn't think much about it."
Assuming that Ellerin bailed on him, Kutcher found out the following day that she was murdered, stabbed 47 times in her own home.
The accused killer, Gargiulo, was a 24-year-old air conditioning repairman and former bouncer at the Rainbow Bar & Grill, according to a People report. Friends of the college student told police they had seen Gargiulo "surveilling" her home before her murder.
"We believe she had just exited the shower and was getting ready to go out with Mr. Kutcher when she was attacked from behind," Los Angeles County Deputy District Attorney Dan Akemon said during opening statements.
The now 43-year-old is also facing murder charges in the killings of two other women–Maria Bruno, 32, and 18-year-old Tricia Pacaccio–as well as the attempted murder of Michelle Murphy, who was viciously stabbed in her Santa Monica home in 2008.
Murphy testified against Gargiulo earlier this month detailing what happened on the night of April 28, 2008.
"There was someone on top of me," Murphy told a Los Angeles jury May 6. "They were stabbing me."
She recalled trying to gain "leverage" against her attacker and asking him, "Why are you doing this?"
"All of the victims were young, outgoing women," Deputy District Attorney Dan Akemon said, according to a CNN report. "All of the attacks occurred at night, all of the victims suffered multiple stab wounds, all of the victims were stabbed with the knife, each of the victims were attacked in or around her home and in close proximity of Mr. Gargiulo."
Kutcher and Murphy are two of the 200 scheduled testimonies in the six-month trial. Prosecutors are seeking the death penalty. Gargiulo has pled not guilty.