Who Is Hosting the 2019 Oscars? Search for Kevin Hart's Replacement Reportedly Prompts Academy 'Freak-out'
Kevin Hart pulling out as host for the 2019 Oscars has been a big blow for the Academy, and now members are allegedly "freaking out" trying to find a suitable replacement ahead of February's ceremony.
Hart backed out of hosting the 91st annual Academy Awards last Friday, after announcing he'd tackle event two days earlier. The Academy called Hart to request he delete old anti-gay tweets he posted between 2009 to 2011. In the unearthed tweets, he referred to someone as a "fat faced fag" and suggested someone's profile pictured resembled "a gay bill board for AIDS." He also detailed how he'd be disappointed if his son wound up being gay, writing: "If my son comes home & try's 2 play with my daughters doll house I'm going 2 break it over his head & say n my voice 'stop that's gay."
The Academy wasn't amused by Hart's sentiments and gave him the chance to apologize, but the Night School actor refused to oblige.
"I chose to pass, I passed on the apology. The reason I chose to pass is because I've addressed this several times," he said in a December 6 Instagram video. "This is not the first time this has come up. I've addressed it. I've spoken on it. I've said where the rights and wrongs were. I've said who I am now versus who I was then. I've done it. I've done it. I'm not going to continue to go back and tap into the days of old when I've moved on, and I'm in a completely different space in my life."
According to Variety, the Academy is struggling to find a replacement. A top comedy agent informed the publication how that organizers are "freaking out" about the last-minute change. "My clients are bummed. They're bummed Kevin didn't stay the course and serve as an example. It dampens the experience, hopefully [the Academy] can pull it together so we can focus on the excitement," the talent representative said.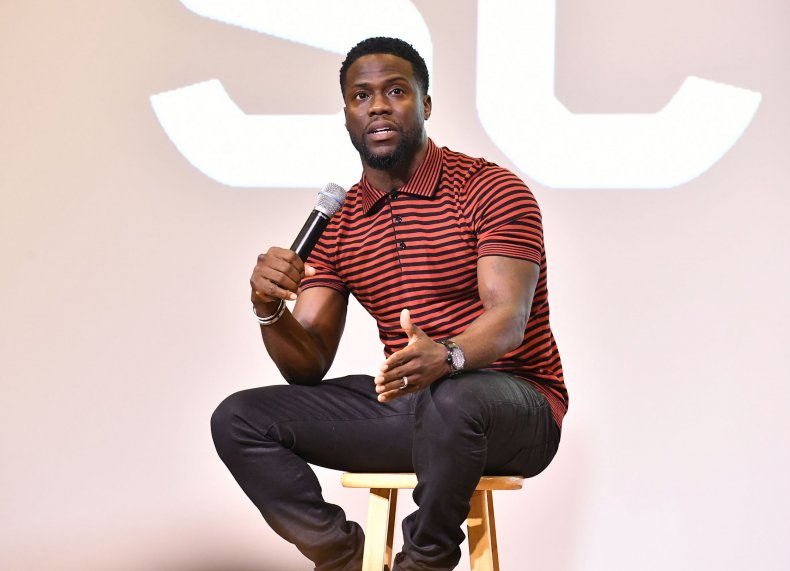 Late-night host Jimmy Kimmel hosted the Oscars for two consecutive years. These plans were made well ahead of time: the Academy revealed Kimmel would host the 2018 ceremony way back in May 2017. Announcing Hart in December and losing him just days after unveiling the hire makes the loss more difficult to address.
Variety reported Academy members are mulling over several ideas, but an source suggested they're "gun-shy about going with someone anyone who might be too edgy." The Academy is even reportedly considering not having a host at all.
While the Academy appears to be in disarray, some celebrities have come up with a few prospective pinch-hitters of their own. New Girl alum Lamorne Morris shared his interest in hosting, Jon Cryer suggested Patton Oswalt host and Billy Eichner pitched politician Beto O'Rourke for the position. Broadway's Oh, Hello—comprised of John Mulaney and Nick Kroll—have campaigned for the job on social media as well.
Actress and late-night host Busy Philipps tweeted and posted to Instagram about her interest in hosting the event in 2019. Philipps also pitched the idea of having Issa Rae, Sarah Silverman, Ali Wong, Samantha Bee, Robin Thede and Aisha Tyler host. She further suggested how "ANY OTHER WOMAN WORKING IN HOLLYWOOD RIGHT NOW WHO WANTS TO" should be allowed to host in Hart's place as well.