Who Is In House Freedom Caucus? Full List of Members After Midterms Results
The House Freedom Caucus appears poised to play a major role in the next Congress after Republicans performed less well than was widely expected in Tuesday's midterm elections.
The group of right-wing Republican members of the House of Representatives could wield significant influence if the GOP majority is slim, though control of the House has not yet been determined.
The exact composition of the House Freedom Caucus in the next Congress is also not yet clear as some races have yet to be decided. Representative Lauren Boebert, a prominent member, is locked in a tight race in Colorado's 3rd district against Democrat Adam Frisch.
Representative Yvette Herrell has conceded her race to her Democratic opponent, while Representative David Schweikert is also in a tough race, and it remains unclear if he will be re-elected.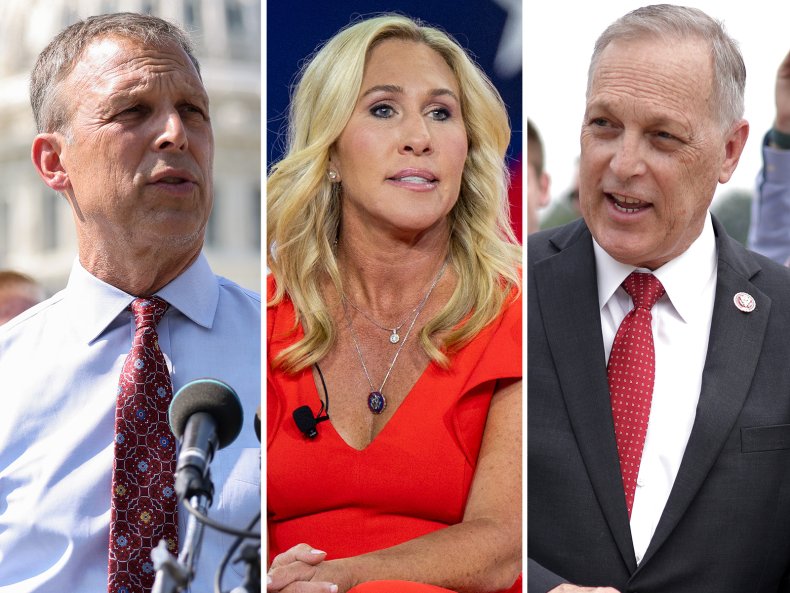 Representative Ted Budd has successfully been elected to the U.S. Senate in North Carolina and will therefore not be in the House from January.
Representatives Mo Brooks, Jody Hice and Louie Gohmert are leaving the House at the end of the current Congress. Representative Madison Cawthorn was defeated in his primary and will not serve in the next Congress.
The House Freedom Fund—the campaign arm of the Freedom Caucus—endorsed several candidates who have now been elected and may be expected to join the group. Though a red wave did not materialize, the House Freedom Caucus is likely to play a major role in the House where new members could rise to prominence.
Not all the races with candidates backed by the House Freedom Fund have been decided. This list will be updated when more results become available.
Here is a list of current and potential members of Congress of the House Freedom Caucus.
Elected Members in the 117th Congress
Rep. Scott Perry (PA)
Rep. Lauren Boebert (CO)
Rep. Chip Roy (TX)
Rep. Jim Jordan (OH)
Rep. Warren Davidson (OH)
Rep. Andy Biggs (AZ)
Rep. Dan Bishop (NC)
Rep. Mo Brooks (AL)
Rep. Ken Buck (CO)
Rep. Ted Budd (NC)
Rep. Madison Cawthorn (NC)
Rep. Ben Cline (VA)
Rep. Michael Cloud (TX)
Rep. Andrew Clyde (GA)
Rep. Scott DesJarlais (TN)
Rep. Byron Donalds (FL)
Rep. Jeff Duncan (SC)
Rep. Russ Fulcher (ID)
Rep. Louie Gohmert (TX)
Rep. Bob Good (VA)
Rep. Paul Gosar (AZ)
Rep. Mark Green (TN)
Rep. Marjorie Taylor Greene (GA)
Rep. Morgan Griffith (VA)
Rep. Andy Harris (MD)
Rep. Diana Harshbarger (TN)
Rep. Yvette Herrell (NM)
Rep. Jody Hice (GA)
Rep. Clay Higgins (LA)
Rep. Debbie Lesko (AZ)
Rep. Mary Miller (IL)
Rep. Alex Mooney (WV)
Rep. Barry Moore (AL)
Rep. Ralph Norman (SC)
Rep. Gary Palmer (AL)
Rep. Bill Posey (FL)
Rep. Matt Rosendale (MT)
Rep. David Schweikert (AZ)
Rep. Greg Steube (FL)
Rep. Tom Tiffany (WI)
Rep. Randy Weber (TX)
New Members Endorsed By House Freedom Fund
Josh Brecheen (OK)
Eli Crane (AZ)
Anna Paulina Luna (FL)
Max Miller (OH)
Newsweek has asked the House Freedom Fund for comment.
Do you have a tip on a politics story that Newsweek should be covering? Do you have a question about the midterm elections? Let us know via politics@newsweek.com.
Correction 11/11/22 02.26 a.m. ET: This article was corrected to remove the name of Representative Mike Johnson.