On an episode of 60 Minutes scheduled to air Sunday, former Starbucks CEO Howard Schultz nearly announces a presidential run, according to The Atlantic. Schultz's careful phrasing isn't quite a declaration, but rather a working plan to secure himself on the ballot. And he says he'd run as an independent.
Schultz has spoken in-depth about his feelings around politics and a future in office, but his possible decision to run as an independent could be detrimental to Democrats, splitting the vote and resulting in a re-election for Trump, according to The Atlantic. The outlet argues Independents rarely win elections, and despite a constant aim for new angles in the political sphere, Republicans and Democrats still hold the cards.
Schultz doesn't want to see Trump reelected. He's candid about his opposition toward the policies and temperament of the current president. "Not only the fact that this president is not qualified to be the president, but the fact that both parties are consistently not doing what's necessary on behalf of the American people and are engaged, every single day, in revenge politics," he told Scott Pelley on Sunday's 60 Minutes.
Schultz served as CEO of Starbucks twice, first from 1986 to 2000 and again between 2008 to 2017. Schultz is responsible for expanding the company from a mere 11 stores to more than 28,000 global locations, according to Forbes. He received his Bachelors of Arts and Science from Northern Michigan University. He now lives in Seattle with his wife, Sheri Kersch Schultz, and two children.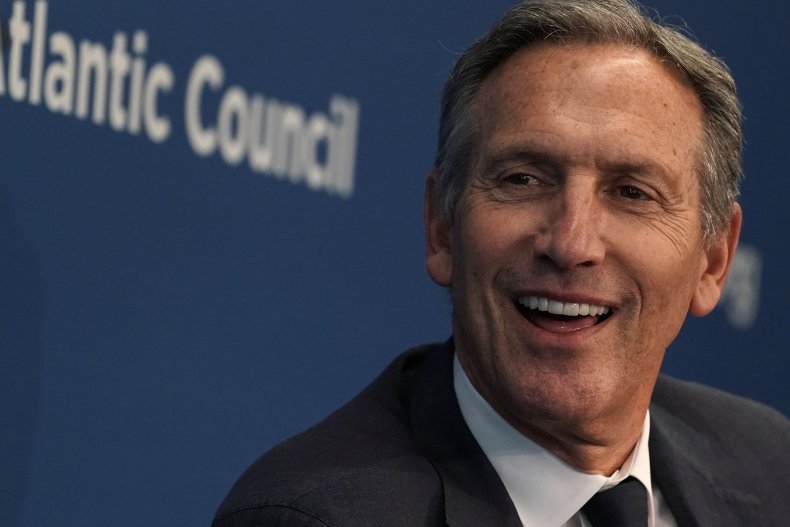 During his time at Starbucks, Schultz was a vocal proponent inner-community change, and vowed to make differences in the neighborhoods Starbucks became a part of. "It is no longer enough to serve customers, employees, and shareholders," Schultz wrote in 2011 for The Harvard Business Review. "As corporate citizens of the world, it is our responsibility—our duty—to serve the communities where we do business by helping to improve, for example, the quality of citizens' education, employment, health care, safety, and overall daily life, plus future prospects."
Schultz also founded the Schultz Family Foundation with wife Kersch Schultz, which has three charitable divisions: Opportunity Youth, Post 9/11 Veterans and Responsive Giving. Schultz has a net worth of over 3.4 billion according to Forbes. He ranked 887th on Forbes 2018 billionaires list.