Who Was Hutton Gibson, Mel Gibson's Father?
Hutton Gibson, father of actor Mel Gibson, died May 11 in Thousand Oaks, California at the age of 101. The Gibson family patriarch, father of ten children in addition to his famous son, received more scrutiny than most celebrity parents in his life, due in large part to his conspiratorial philosophy and outspoken prejudices.
Born in Peekskill, New York in 1918 and raised in Chicago, Gibson had early plans to join the priesthood, but dropped out of seminary. After working for Western Union and the Civilian Conservation Corps established by the New Deal, Gibson joined the U.S. Marine Corps. He married his first wife, Anne Patricia Reilly, in 1944. They had ten children together and adopted an eleventh.
In 1968, Gibson was injured while working as a brakeman for the New York Central Railroad and was awarded $145,000 in a lawsuit. That same year, he also appeared on the game show Jeopardy!, winning more than $4,680—before Gibson and his family moved to Ireland and then Australia. There he formed the conservative Alliance for Catholic Tradition. He would return to the United States later in life, taking up residence in Texas and West Virginia.
Hutton became well-known in traditionalist Catholic circles for his multi-decade crusade against the Vatican, argued in self-published books like 1978's Is the Pope Catholic?: Paul VI's Legacy: Catholicism? His last book, 2003's The Enemy is Still Here! collects material from his quarterly newsletter (he had 600 subscribers in 2003) to attack the post-Vatican II popes—described as the "usurpers" using "the papal chair to promulgate heresy." This argument enfolds not only Catholicism, but also screeds against evolution, Jewish people (questioning not only the realities of the Holocaust, but also claiming no Muslims or Jews were persecuted during the Spanish Inquisition) and even other Catholic traditionalists hewing to a philosophy of geocentrism, which is rejected at length.
Newsweek subscription offers >
In a 2003 article for The New York Times Magazine, Gibson described how the Catholic Church was subverted by "a Mason plot backed by the Jews," which may have involved a covert threat "to atom-bomb the Vatican City."
But while most of Gibson's convictions tied back into what he viewed as wrong with the modern incarnation of the Catholic Church, he also presented himself as an equal opportunity conspiracy theorist in conversation with New York Times Magazine reporter Christopher Noxon, hopping from describing the planes flown into the World Trade Center as "crashed by remote control" to questioning the logistics of the extermination of Jewish people during the Holocaust.
Further Holocaust denial statements by Hutton in the weeks leading up to the 2004 release of The Passion of the Christ fueled a conversation about Mel Gibson's own beliefs, which hew closely to the schismatic Catholicism practiced by his father.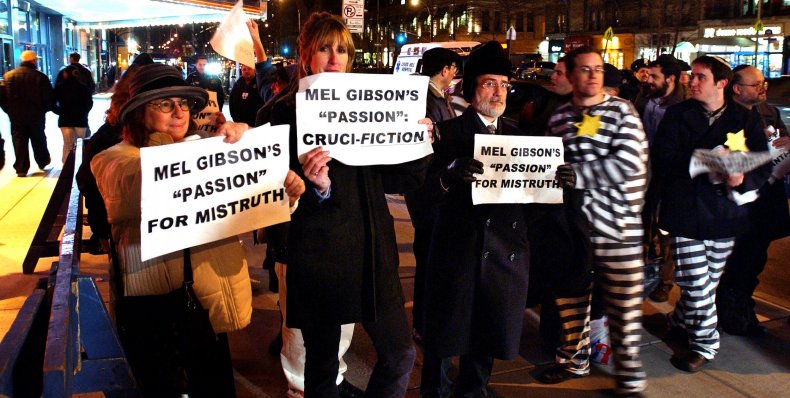 Newsweek subscription offers >
"There was a lot of talk, particularly in the '60s, of 'Wow, we've got to change with the times.' But the Creator instituted something very specific, and we can't just go change it," Gibson told USA Today in 2001.
Newsweek reached out to the Gibson family for comment and was told by a publicist that the family has no statement at this time. Hutton Gibson's death at Los Robles Hospital and Medical Center was confirmed by The New York Times via public records.
Who Was Hutton Gibson, Mel Gibson's Father? | Culture