Who Is Abu Ibrahim al-Hashimi al-Qurayshi? ISIS Leader Dies in U.S. Strike
President Joe Biden said Thursday a "horrible terrorist leader" had been "taken off the battlefield" after U.S. military forces killed Abu Ibrahim al-Hashimi al-Qurayshi, leader of the Islamic State militant group (ISIS), in Syria overnight.
Al-Qurayshi died after detonating a bomb as U.S. forces approached, killing himself and family members, including women and children, according to the Associated Press.
In October 2019, ISIS announced that al-Qurayshi would be its new leader after longtime leader Abu Bakr al-Baghdadi died by suicide that month when cornered by U.S. forces in an operation in northwest Syria. Even before al-Baghdadi's death, the U.S. had reportedly placed a $5 million bounty on al-Qurayshi's head. But little is known about the ISIS leader, according to experts at West Point.
In a speech Thursday morning, Biden said that since al-Qurayshi took over the militant organization, ISIS has "directed terrorist operations" targeting Americans, allies and "countless civilians" in the Middle East, Africa and South Asia.
Biden, who referred to al-Qurayshi as "Haji Abdullah," said the leader "oversaw the spread of ISIS-affiliated terrorist groups around the world after savaging communities and murdering innocents." He noted that al-Qurayshi was behind ISIS's attack on a prison holding ISIS fighters in northeast Syria last month.
Biden also said al-Qurayshi was the "driving force behind the genocide" of Iraq's Yazidi minority group in northwestern Iraq in 2014.
"We all remember the gut-wrenching stories, mass slaughters that wiped out entire villages and thousands of women and young girls sold into slavery. Rape used as a weapon of war," Biden said. "And thanks to the bravery of our troops, this horrible terrorist leader is no more."
Biden said that knowing that al-Qurayshi had "chosen to surround himself with families, including children," U.S. officials launched a special operations forces raid "at a much greater risk to our own people, rather than targeting him with an airstrike."
Biden said that as the troops approached, "in a final act of desperate cowardness, with no regard to the lives of his own family or others in the building, he chose to blow himself up...taking several members of his family with him, just as his predecessor did."
Al-Qurayshi had been publicly named by U.S. officials as Amir Muhammad Sa'id Abdal-Rahman al-Mawla, according to the Combating Terrorism Center at the West Point military academy. "Although a few details have emerged about al-Mawla, very little is known about his history and involvement in the Iraqi insurgency," the center wrote.
He was born in Al-Muhalabiyyah, Iraq, in the country's Tal Afar region, in October 1976, according to the center.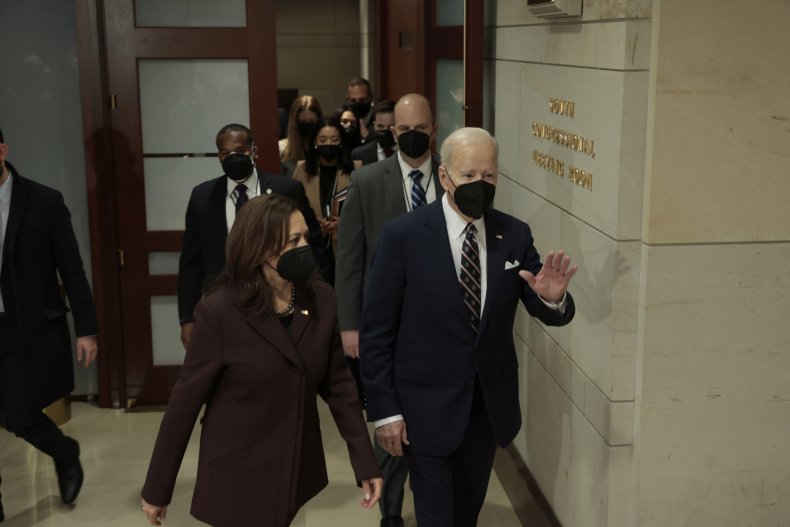 "The Tal Afar region is home to an ethnically diverse population of Arabs and Turkmen, with some estimates placing the proportions in the early 2000s at 10 and 90 percent, respectively," the center wrote. "Although the specific ethnic breakdown of Al-Muhalabiyyah is not known with certainty, it is generally accepted to be predominantly Turkmen."
According to The Guardian, al-Qurayshi was one of the few non-Arabs in ISIS's leadership. He had previously been detained by the U.S. in Iraq in 2005, at a prison where he met al-Baghdadi.
Reached for comment about al-Qurayshi on Thursday morning, the Defense Department said it had no information beyond what it had provided in a statement Wednesday night.
"U.S. special operations forces under the control of U.S. Central Command conducted a counterterrorism mission this evening in northwest Syria. The mission was successful," Pentagon press secretary John Kirby said.
"There were no U.S. casualties. More information will be provided as it becomes available," he added.
Update 02/03/2022,10:55 a.m. ET: This story was updated with President Joe Biden's remarks on Thursday morning.
al-Qurayshi