Who is Jackie Ormes? Google Doodle Honors First Black Female Newspaper Cartoonist
Jackie Ormes, the first and only Black female newspaper cartoonist of her time in the United States, is celebrated in today's Google Doodle. On September 1, 1945, Ormes' groundbreaking Patty-Jo 'n' Ginger, the single-panel cartoon featuring the smart and fashionable Ginger and her precocious 6-year-old sister Patty-Jo, debuted in the Pittsburgh Courier.
As well as Patty-Jo 'n' Ginger, Ormes was known for her satirical, stylish cartoons and comic strips that challenged derogatory portrayals of Black women.
Today's Google Doodle is a slideshow by cartoonist Liz Montague that depicts scenes from Ormes' life, including teaching herself to draw and working as a freelance reporter for the nationally circulated Black newspaper the Pittsburgh Courier.
As well as telling the story of her career, the slideshow also reflects Ormes' artistic style Montague said in a Q&A with Google: "I drew a lot of inspiration from Jackie's illustration style, such as the lines she uses as well as her compositions and layouts."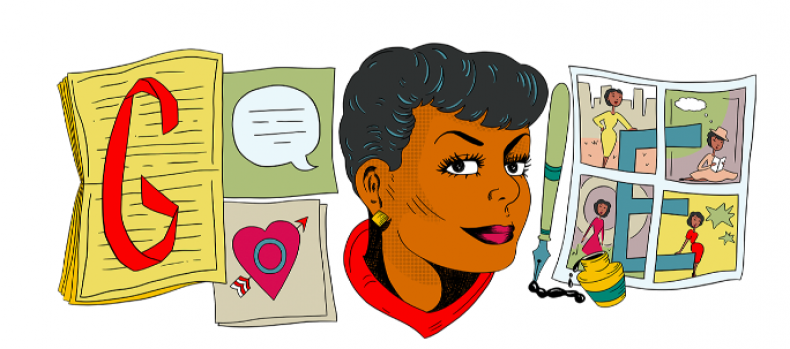 Who is Jackie Ormes?
Jackie Ormes was born Zelda Mavin Jackson on August 1, 1911, in Pittsburgh, Pennsylvania. At an early age, she taught herself to draw and published a page of cartoons in her high school yearbook. Following graduation, Ormes became a proofreader and freelance reported for the Pittsburgh Courier.
It was in this newspaper that Ormes' comic strip, Torchy Brown in Dixie to Harlem, was first published, in 1937. The comic dealt with the struggles of the people migrating from the South to the North to escape racism and find better opportunities. After Torchy Brown in Dixie to Harlem, Ormes created Candy, her longest-running work Patty-Jo 'n' Ginger, and her final comic, Torchy in Heartbeats.
Ormes' work was inspired by the issues she and those around her faced, and featured heroines facing real-life issues from heartbreak, to environmental justice and gender inequality. The Google Doodle describes her characters as "independent women—confident, intelligent, attractive, and brave, who persevered against adversity to reach their next adventure."
Cartoonist Liz Montague said: "Jackie is a huge inspiration for me. She made such honest, fearless work and centered it entirely around Black women.
"It's harder than you would think: to make characters that look like you, when you look so different from most people in that space, so to do the work she did in mid 20th century America is mind-boggling."
Not only did Ormes further positive depictions of Black women and girls in her cartoons, but also in the several dolls related to her characters. In 1949, Ormes designed one of the first high-quality American Black dolls, "Patty-Jo." In 1950, the debut of her full-color comic strip featuring the character Torchy came with an accompanying paper doll topper, "Torchy Togs."
Ormes retired in 1956 but continued to be an advocate and community leader for the rest of her life. She died aged 74 in 1985 and was posthumously inducted into the National Association of Black Journalists' Hall of Fame in 2014 and the Will Eisner Comic Industry Hall of Fame in 2018.
Montague said: "I hope people are as inspired by Jackie's bravery and creativity as I am," and "I read her cartoons today, and I feel so seen! The illustrations are immaculate, the humor is witty, the social criticism is bitingly accurate—her work is just the total package.
"She is why I create cartoons as social justice and why I feel valid doing it. Jackie is a genius and paved the way for so many of us as a pioneer in the cartoon and illustration world."
Google Doodle said: "Thank you, Jackie Ormes, for helping to strip away negative stereotypes one panel at a time."