Who Is Jacob Blake? Wisconsin Man in Serious Condition After Police Shot Him in the Back 7 Times
Jacob Blake is in a serious condition in hospital after police in Kenosha, Wisconsin shot him in the back seven times moments after he reportedly tried to break up a fight between two women. A video of the incident has been circulating online.
Blake is a 29-year-old father whose three sons were in the car when he was shot, according to civil rights attorney Ben Crump.
"Confirmed: Jacob Blake's 3 SONS were IN THE CAR he was getting into when@KenoshaPolice shot him tonight," Crump wrote on Twitter.
His shooting prompted crowds of protesters to march in the streets and led to Kenosha County enacting an emergency curfew until 7 a.m. on Monday.
In the video circulating on social media, which appears to have been filmed from a residence across the street, three officers are seen shouting and pointing their weapons at Blake as he walks around the front of a vehicle parked on the road.
As he opens the driver's side door and leans in, one officer is seen grabbing his shirt from behind and opening fire as several people in the street are heard screaming.
Seven gunshots can be heard on the video, but it isn't clear how many officers fired their weapons.
The Kenosha News reported that several witnesses said Blake had tried to break up a fight between two women outside a home on 40th Street.
The witnesses said police had attempted to use a stun gun on Blake, who was unarmed, before shooting him in the back.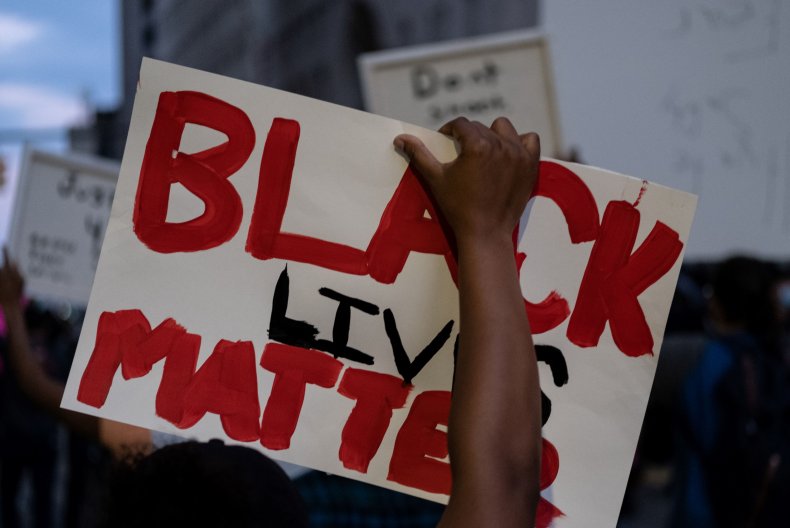 In a news release, the Kenosha Police Department said a person was hospitalized in a serious condition after officers responded to a "domestic incident" in the 2800 block of 40th Street at around 5.10 p.m.
Police said officers "provided immediate aid to the person," who was then transported to Life to Froedtert Hospital in Milwaukee.
Kenosha Police did not release details about what led up to the shooting or the officers involved.
They directed all inquiries to the Wisconsin Department of Justice's Division of Criminal Investigation, which will investigate the officer-involved shooting. The Wisconsin Department of Justice has been contacted for comment.
Later on Sunday, protesters gathered outside the Kenosha County Public Safety Building, where the police department is located. The scene echoed the months of protests against police brutality and racial injustice that have taken place across the U.S. in recent months over the killings by police of George Floyd, Breonna Taylor and other Black people.
Protesters faced off against police in riot gear outside the station. Police deployed tear gas at one point, according to TMJ4 reporter Laurn Linder.
The shooting also drew a sharp rebuke from Wisconsin Gov. Tony Evers.
"Tonight, Jacob Blake was shot in the back multiple times, in broad daylight, in Kenosha, Wisconsin," Evers said on Twitter Sunday night. "Kathy and I join his family, friends, and neighbors in hoping earnestly that he will not succumb to his injuries.
"While we do not have all of the details yet, what we know for certain is that he is not the first Black man or person to have been shot or injured or mercilessly killed at the hands of individuals in law enforcement in our state or our country.
"We stand with all those who have and continue to demand justice, equity, and accountability for Black lives in our country—lives like those of George Floyd, of Breonna Taylor, Tony Robinson, Dontre Hamilton, Ernest Lacy, and Sylville Smith."