Who Is Jair Bolsonaro? Brazilian Presidential Candidate Stabbed at a Campaign Event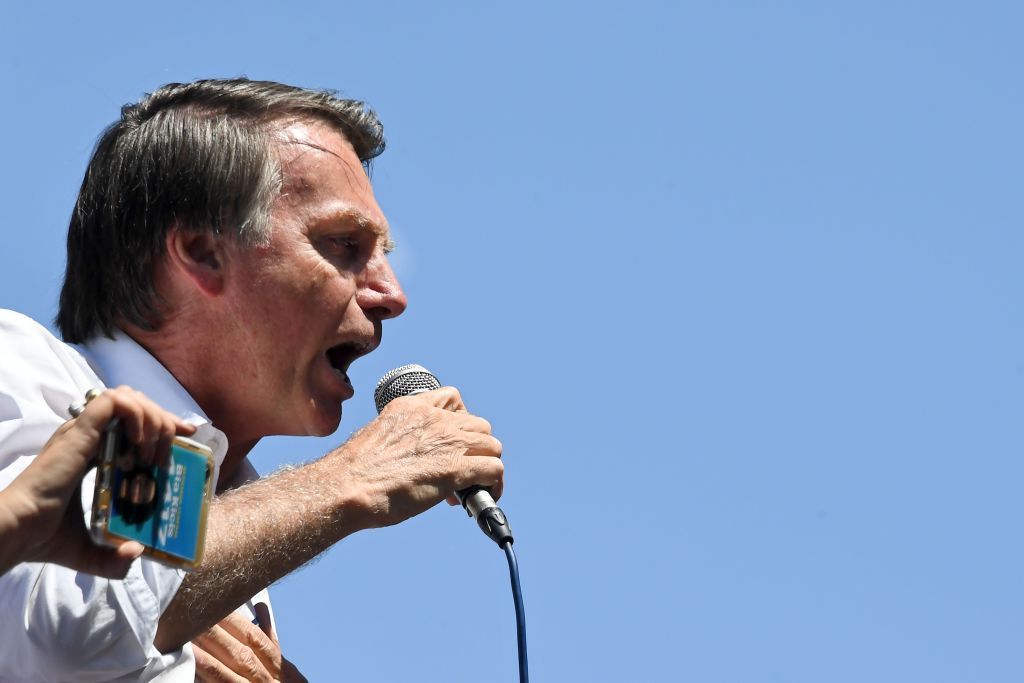 Far-right Brazilian presidential candidate Jair Bolsonaro was stabbed during an event in the city of Juiz de Fora in Minas Gerais state on Thursday.
In a video of the incident uploaded to social media, the politician can be seen riding on the shoulders of supporters as he is carried waving through a crowd of supporters. Suddenly, from the crowd, a hand reaches up to stab him quickly in the abdomen. Despite the attack, Bolsonaro has said that he is OK, the Associated Press reported.
Footage shows the moment he was attacked. Please watch at your discretion here.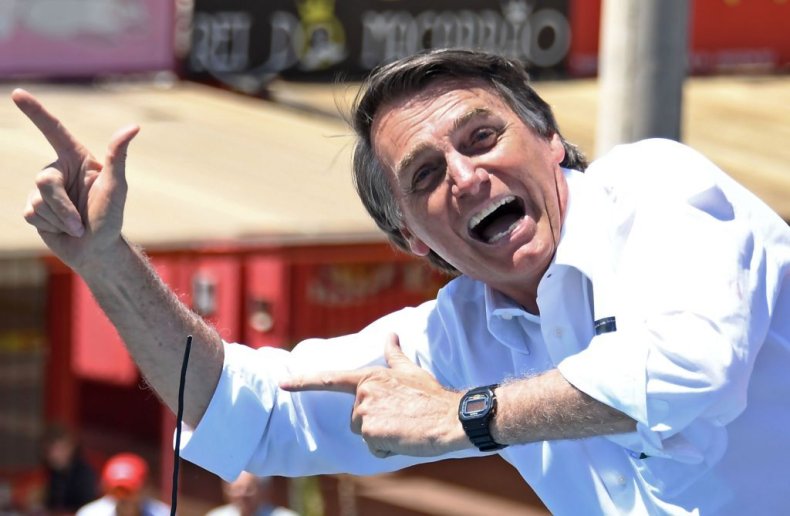 Brazil's O Globo TV reported that the politician was wearing a bulletproof vest, but the attacker managed to stab below it. His son Eduardo confirmed in a tweet that his father's life was not in danger, however.
The first poll, conducted following the top electoral court's decision to ban popular former President Luiz Inacio Lula da Silva from running in the election, showed Bolsonaro leading with 22 percent of the vote, according to Voice of America. However, the poll also predicted that the candidate would lose in a runoff by 11 percentage points to leftist candidate Ciro Gomes. He is also expected to lose in a runoff against environmentalist candidate Marina Silva. The first round of voting will be held on October 7.
A former military captain, the politician has promoted his campaign on policies targeting corruption and cracking down on crime. He has blasted his opponents in Brazil's Workers Party (PT)—Lula's party—and the Brazilian Social Democracy Party (PSDB) as criminals and corrupt.
"We're going to sweep the leaders of these parties into the dustbin of history," the politician told thousands of supporters at a rally in Brasilia this week, Deutsche Welle reported. "Brazil cannot stand another government by the PT or PSDB."
The crowd also kicked an inflatable doll designed to look like Lula, who remains jailed on corruption charges. Despite being banned from running, the former president remains popular with Brazilians. His lawyer has also filed two legal appeals on Wednesday with the country's Supreme Federal Court and the electoral court in a bid to overturn the current ban.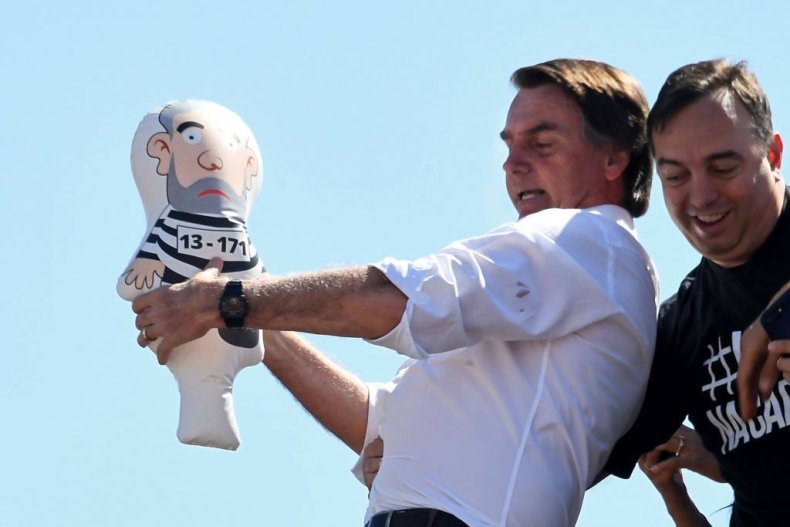 Currently serving as a congressman representing Rio de Janeiro, Bolsonaro is well-known as an apologist for the two-decade dictatorship between 1964 and 1985, when military generals ruled Brazil. Those who challenged the ruling elite during that era were often kidnapped, tortured and even faced secret executions.
He has been dubbed by some newspapers as the Trump of the Tropics, and has also wanted to follow the example of the U.S. president by removing his country from the Paris Climate Accords. Currently, the U.S. is the only country in the world that does not belong to the international treaty.
Speaking about Trump, Bolsonaro told Time, "I'm not richer than him. That's all I do not admire."
Bolsonaro has also openly compared same-sex relations to pedophilia, advocated state-sponsored violence and praised strongman leaders such as Philippine President Rodrigo Duterte and former Chilean dictator Augusto Pinochet, whose agents used dogs to rape women.
"This is probably one of the biggest tests Brazil's democracy has faced," Anthony Pereira, director of the Brazil Institute at King's College London told Time.