Who Is James Comey? Before Trump Testimony, Former FBI Director Was Registered Republican Who Investigated Clintons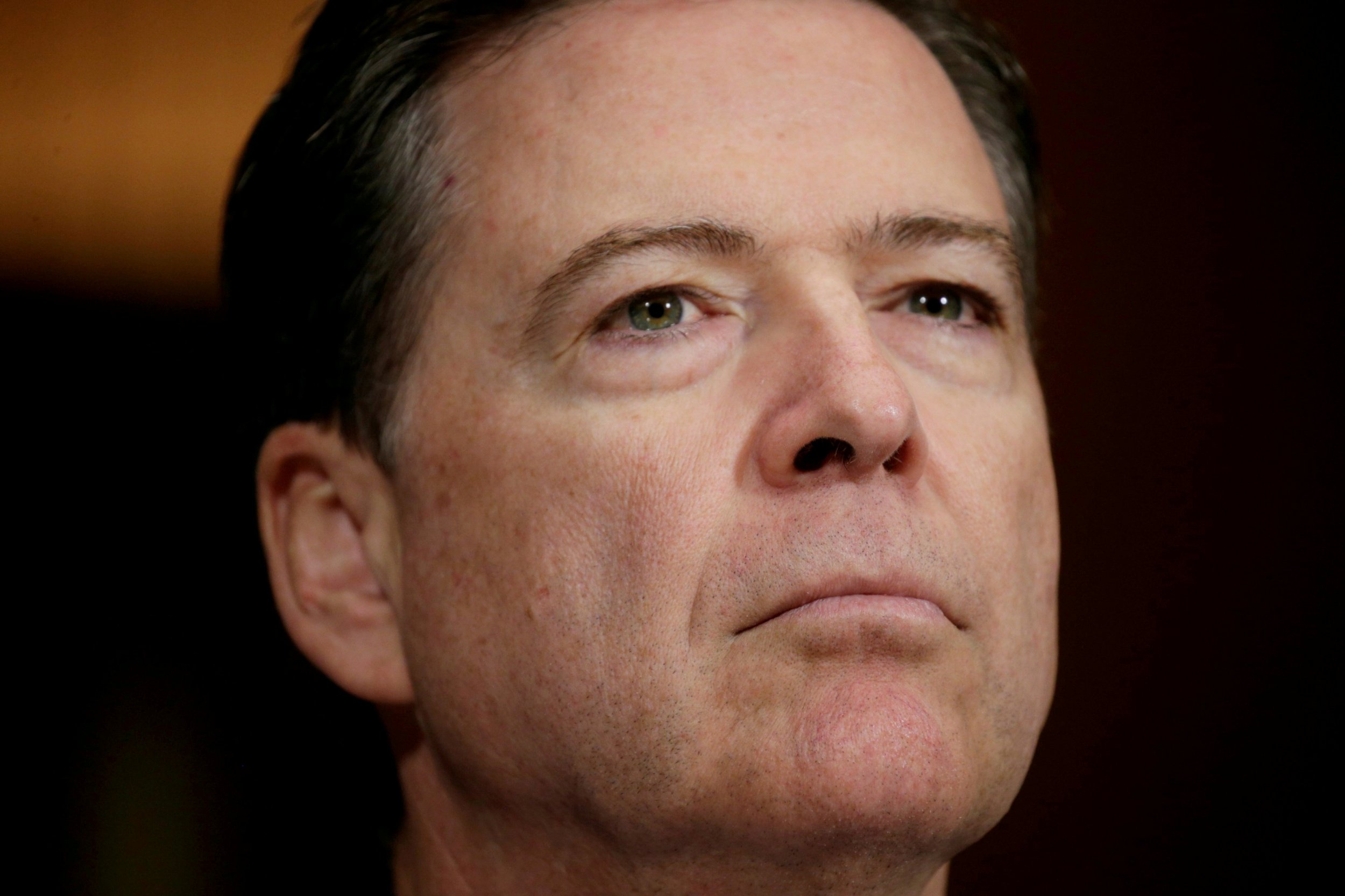 After a career of keeping tabs on others, for at least a few hours on Thursday, James Comey will be the most watched man in the United States. For a 56-year-old lawyer from Yonkers, New York, it is quite the position to be in.
Related: Is James Comey Telling the Truth About Trump? Statement Confirms Loyalty Pledge, Flynn Request
Amid much discussion that Comey's words about his interactions with Donald Trump could lead to the downfall of the president, his testimony before the Senate Intelligence Committee is set to be must-see television for even those with only a cursory interest in politics. For those new to Comey, here are some of the key points in his history.
He Was Held at Gunpoint As a Teenager
No matter how tough the questions are on Thursday, Comey is unlikely to be fazed. As a teenager in New Jersey, he was held hostage at gunpoint, along with his brother and three neighbors, by a man who had broken into his parent's home.
Comey Previously Took on The Mafia—And Martha Stewart
As the U.S. Attorney in Manhattan, Comey took on the famous Gambino crime family and helped prosecute 14 alleged members just weeks after the death of its feared boss, John Gotti, in 2002. Comey was the man who announced the indictments at a news conference, giving him one of his first tastes of the limelight. It was also Comey who, in 2003, brought a series of charges against Martha Stewart related to a stock deal.
He Has Investigated The Clintons Multiple Times
Comey's history with the Clintons dates back long before his investigation into Hillary's use of emails and his infamous letter sent to Congress just days before the 2016 election. Twice before he was involved in cases against the Clintons. As far back as the 1996, when Bill Clinton was president, Comey signed onto the Senate Whitewater Committee investigating allegations related to the Clintons' involvement in a land venture deal. He concluded that they were part of "a highly improper pattern of deliberate misconduct." Six years later, Comey led an investigation into Bill Clinton's controversial pardon of financier Marc Rich before deciding not to pursue the case.
Comey Was a Registered Republican
He may not exactly be the flavor of the month within the Republican ranks right now, but for most of his life Comey was a registered Republican.
"I have been a registered Republican for most of my adult life, not registered any longer," Comey said in response to a question about his political allegiances during testimony on Capitol Hill last July. He also donated to the presidential campaigns of both John McCain, in 2008, and Mitt Romney, in 2012.
He Came to National Prominence in 2007
Comey's first real taste of the national spotlight came a decade ago when he testified before the Senate. He was asked to recount his version of events three years earlier during a confrontation between him and George W. Bush's White House, and specifically White House counsel Alberto Gonzales over a surveillance program ordered by the president. Soon after his testimony, Gonzales, then the attorney general, resigned.
Appointed in 2013
Comey was nominated for the role of FBI Director by then-President Barack Obama and confirmed by the Senate by a 93-1 count. He would have expected, therefore, not only to remain in the position throughout the Trump presidency but long into the following term. Since 1968, FBI directors have been given 10-year terms, intended to insulate them from partisan politics.
Who Is James Comey? Before Trump Testimony, Former FBI Director Was Registered Republican Who Investigated Clintons | U.S.