Who Is James D Melville Jr? U.S. Ambassador to Estonia Resigns Over Trump's Anti-Europe Rants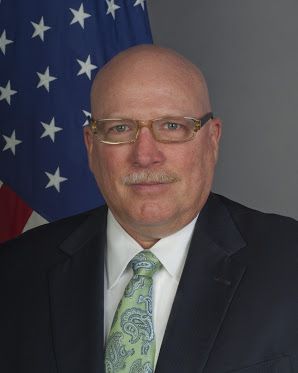 The U.S. ambassador to Estonia is resigning in frustration at President Donald Trump's jibes at America's European allies.
Ambassador James D. Melville Jr. revealed in a Facebook posting that Trump's comments about Europe had led him to bring forward his retirement.
In the private Facebook post seen by Foreign Policy, Melville reportedly told friends: "A Foreign Service Officer's DNA is programmed to support policy and we're schooled right from the start, that if there ever comes a point where one can no longer do so, particularly if one is in a position of leadership, the honourable course is to resign. Having served under six presidents and 11 secretaries of state, I never really thought it would reach that point for me.
"For the president to say the EU was 'set up to take advantage of the United States, to attack our piggy bank', or that 'Nato is as bad as Nafta [the North American Free Trade Agreement]' is not only factually wrong, but proves to me that it's time to go."
A career diplomat with 33 years in the foreign service, Melville was appointed to his position by President Barack Obama in 2015.
Trump has in recent days renewed attacks on European allies, whom he accuses of piggy backing on U.S. defence capabilities and of unfair trading practices. Speaking to reporters on Air Force One Friday he said countries including Germany, Spain and France had to increase their financial contributions to the NATO bloc.
"It's not fair what they've done to the United States," he said. "The United States is paying much more disproportionately to anyone else."
European officials told The New York Times Tuesday that they are concerned that Trump will drive further divisions between the U.S. and Europe when he visits Brussels for July's NATO summit, before flying to Helsinki for a summit with Russian President Vladimir Putin.
A State Department spokesperson confirmed Melville's departure on Friday, saying: "Earlier today, the United States' Ambassador to Estonia, Jim Melville, announced his intent to retire from the Foreign Service effective July 29 after 33 years of public service."
He is not the first U.S. diplomat to resign over Trump administration policy, with Elizabeth Shackelford, who worked as the U.S. mission in Somalia, stepping down in December and U.S. ambassador to Panama John Feeley resigning the following month.