Who Is Jamie Dimon? JP Morgan Chase CEO Says He Could Beat Donald Trump, Adds That He Actually Earned His Money
J.P. Morgan Chase Chief Executive Officer Jamie Dimon is the latest person to say that they could defeat Donald Trump in an election, claiming that he's "smarter" and just as "tough" as the president.
"I think I could beat Trump... because I'm as tough as he is, I'm smarter than he is," Dimon said this week, according to CNBC. "I can't beat the liberal side of the Democratic party."
The comments came while Dimon was speaking at an event where J.P. Morgan was outlining a $500 million investment program that would help boost the world economy. In addition to claiming he could defeat Trump in a head-to-head matchup, Dimon also told the crowd that he "earned" his fortune unlike Trump, who received a $1 million loan from his father to start his business.
"And, by the way, this wealthy New Yorker actually earned his money," Dimon added. "It wasn't a gift from Daddy."
The 62-year-old CEO has run America's largest bank since 2005, steering the company through the 2008 financial crisis. In 2017, Dimon made over $28 million, which was a 4 percent increase from the previous year. As a result, Dimon is the highest paid banking and finance CEO in the S&P 500, according to a report by The Wall Street Journal.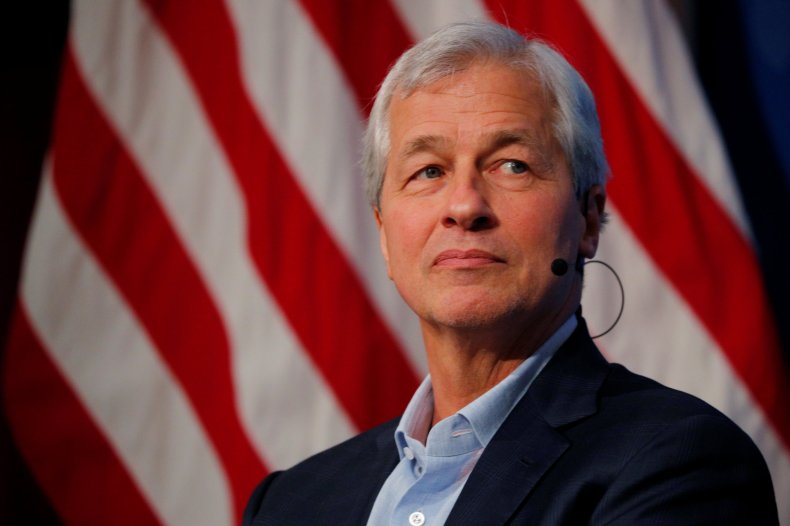 Dimon grew up in Queens, New York, and received his master's degree from Harvard Business School and went on to work at American Express after graduation. Eventually, Dimon left the credit card giant to run another company called Commercial Credit. Right before becoming CEO at J.P. Morgan Chase, Dimon was the CEO of Bank One.
The financier has waded into politics on several occasions and has been a big Democratic donor, supporting candidate Barack Obama in 2008. In 2016, Dimon said that he would "love to be president of the United States." But at the time he said it was "just too hard and too late."
But even as he thinks he could defeat Trump in an election, Dimon has since clarified that he does not plan on running for the presidency. In a statement from Dimon sent out by the bank on Wednesday afternoon, the CEO added that he regrets making the comments on beating Trump, according to Bloomberg.
Trump seems to be unphased by potential opponents in his bid for re-election, telling reporters gathered at the White House last week that "nobody is going to come close" to beating him in 2020. The president added that his administration has "done more than anybody ever thought possible in, it's not even two years."