Who Is Jane Buckingham? Parenting Guru Says There's 'Absolutely No Excuse' for College Admission Scandal Behavior
Jane Buckingham, who pleaded guilty to paying $50,000 to have a proctor take the ACT exam for her son, Jack, offered Judge Indira Talwani no excuses for her actions ahead of her sentencing.
"This wasn't just a single bad decision. I could have stopped at multiple points, but each time I made the deliberate choice to go forward," Buckingham wrote in a letter to Talwani.
She was one of more than a dozen parents arrested in March for allegedly taking part in a fraudulent college admission scheme uncovered in the FBI operation "Varsity Blues." Buckingham, who's published multiple books on parenting tips and dealing with teenagers, is set to be sentenced on Wednesday.
Because she quickly took responsibility for her actions and demonstrated remorse, her team requested one year of probation. The prosecution, however, said a sentence more along the lines of six months in jail would be appropriate.
Buckingham will be the 11th parent indicted in the scandal to be sentenced and, as many parents before her did, she penned a letter to Talwania ahead of her court appearance. She reiterated that she took full responsibility for her actions, saying she was both ashamed and embarrassed.
"There is absolutely no excuse. I committed this crime for myself. Not because I wanted my son to go to any particular school, but because I needed to make myself feel like a better mother," Buckingham wrote.
She and her ex-husband, Marcus Buckingham, divorced in 2018 after 22 years of marriage, and their son and daughter have since spent a "handful of nights" with Marcus, according to court documents. Her son's suffering as a result of the separation was one of the ways she felt she failed Jack, Buckingham told Talwani.
Despite not wanting to fail her son, Buckingham acknowledged in her letter that she did exactly that and also failed her daughter, family, friends and community in the process.
News of operation "Varsity Blues" reignited complaints about the uneven playing field of the college admissions process. For students who were already at a disadvantage because of their socio-economic standing, wealthy parents paying thousands of dollars to cheat their child's way into college was yet another obstacle in their pursuit of an education, because it meant there were fewer spots for students who had to rely on their own merit.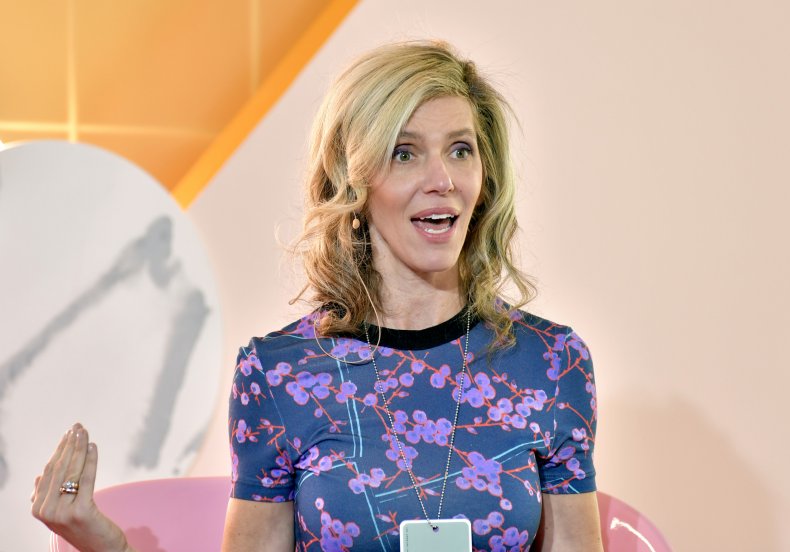 Buckingham acknowledged that her actions showed students that in a "system already stacked against them," people with money had even more advantages than the students may have thought.
"I know that I can never truly make amends to these other students and families, but I will spend the rest of my life trying," Buckingham wrote.
Buckingham, the founder and owner of the marketing firm Trendera, has published five books including, The Modern Girl's Guide to Motherhood, which was marketed as "practical advice for navigating the different stages of motherhood."
She hired mastermind Rick Singer as a "legitimate college counselor" in 2017, according to court documents. After a year of providing "lawful" counseling services, he allegedly arranged for Jack, who lived in Los Angeles, to take the ACT exam in Houston, Texas.
When Jack couldn't travel due to medical issues, Buckingham and Singer agreed a proctor would take the exam in place of her son. She provided Singer with a handwriting sample, which she obtained from her son under false pretenses that it would be used to verify his essay portion.
To further keep her son in the dark about her actions, Buckingham obtained a copy of the ACT exam and told her son they were administering it at home.
The children of the college admission scandal have largely remained mum on the topic of their parents' alleged behavior. Jack, however, spoke out. In March, he told The Hollywood Reporter that he was upset he was "unknowingly involved" in a scheme that helped kids obtain spots in colleges over those "who truly deserve those spots."
Moving forward, he hoped the actions of those implicated in operation "Varsity Blues" would help cut down on money and wealth being heavy factors in college admissions.
"Instead, I hope colleges may prioritize [looking at] an applicants' character, intellect and other qualities over everything else," Jack told The Hollywood Reporter.
Jack was one of nearly 30 people who penned letters to Talwani in support of his mother. His letter was redacted from court records, but Buckingham's attorneys pointed to it in a sentencing memorandum as proof she never "wavered from owning full responsibility for what she did."
Who Is Jane Buckingham? Parenting Guru Says There's 'Absolutely No Excuse' for College Admission Scandal Behavior | U.S.