Who is Eddie Van Halen's Wife, Janie Liszewski?
Unlike many rockers of the 1980s, Eddie Van Halen wasn't a musician whose relationships took more spotlight than the music. The rocker, whose death was announced on Tuesday, was only married twice. At the time of his passing, he was married to Janie Van Halen (née Liszewski), whom he'd been in relationship with since 2008.
Prior to Liszewski, Van Halen's first marriage was to actress Valerie Bertinelli in 1981. In 1991, the two had one son, Wolfgang, who would go grow up to play bass in his father's and uncle's band. While the couple's divorce was finalized in 2007, the appeared to remain on good terms, with Wolf sharing a photo of the three of them together in October 2019. Bertinelli responded to her son's tribute to his late father on Twitter with a series of broken hearts on Tuesday.
Van Halen married Janie Liszewski in 2009. The stuntwoman turned publicist walked down the aisle to her husband's hit "When It's Love." The wedding seemed to be a family affair, as EVH's son Wolfgang was his best man, and his brother Alex, officiated the ceremony. Even Bertinelli attended.
Their honeymoon took place in New York, Germany, and Van Halen's birth country in The Netherlands.
Janie Van Halen is currently a publicist and owns her own public relations agency High Profile Media. Her husband's band is listed among her clients. Prior to becoming a publicist, Van Halen worked as a stuntwoman.
She's performed stunts in movies like Mulholland Drive, Looney Tunes: Back in Action, Along Came Polly, and Spider-Man 2. Her acting work includes roles in CSI: Miami and From Dusk Till Dawn.
Besides publicity, Van Halen appears to still have some interest in the stunt work she used to do. According to her Instagram page, she also ballroom dances with choreographer and actor Louie Martinez. The pair also appear to be a pro-wrestling duo, who use dancing as their gimmick. Van Halen appears to portray "King Louie's" manager Lita Lamae. In an Instagram story posted Tuesday, King Louie shared a photo of himself with the Van Halens in tribute to the guitarist following his death.
Van Halen has used her social media to share a number of snapshots into her life with the legendary rocker, including photos of the pair's Pomeranian puppy and pictures of herself and EVH.
On Wednesday, Van Halen posted a tribute to her husband on Instagram with a picture of the two's feet on a beach. "Saying goodbye is the hardest thing I have ever had to do so instead I say so long, I will see you again soon in a place with no pain or sorrow. Please watch over Kody and I," she wrote.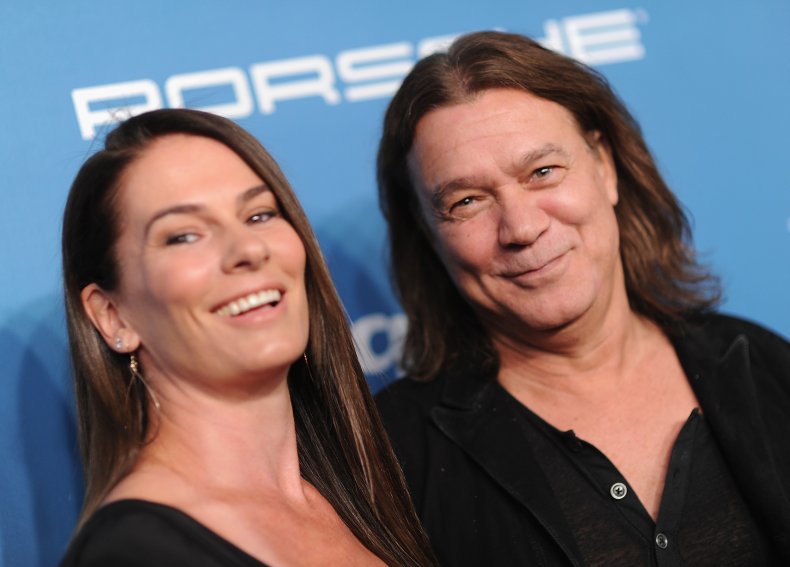 Update 10/7/20 12:58 p.m. ET: This story has been updated to include Janie Van Halen's Instagram post.