Who Is Jason Spencer? Georgia Lawmaker to Resign After Exposing Himself, Yelling Racial Slurs
Georgia state lawmaker Jason Spencer announced his resignation after he exposed himself and repeatedly yelled racial slurs during an episode of Showtime's Who is America over the weekend.
On Sunday night, Spencer featured in a segment of the show with its star Sacha Baron Cohen. In the episode, the legislator is tricked into performing a series of racist acts by Cohen, who was impersonating an Israeli anti-terrorism expert called Col. Erran Morad.
After the segment aired on Sunday, news of Spencer's resignation surfaced. "Rep. Jason Spencer has written to Speaker Ralston to announce his resignation from the Georgia House of Representatives effective July 31," Georgia House Speaker David Ralston said on Tuesday.
In the segment, Spencer and Cohen meet inside a gym for a one-on-one anti-terrorism training session. Before they commence, Spencer revealed his support of the burqa ban. "I don't call it a burqa ban, I call it an anti-masking statute," he tells Cohen.
Cohen then manages to convince Spencer to impersonate a Chinese accent in order to take photos from under a woman's burka. During the same segment, Spencer also repeatedly screams the n-word and drops his pants to use his "buttocks to intimidate ISIS."
On Monday, Georgia Gov. Nathan Deal took to Twitter to condemn Spencer's actions on the show. "The actions and language used by Jason Spencer are appalling and offensive. There is no excuse for this type of behavior, ever, and I am saddened and disgusted by it," he wrote.
Spencer defended his actions to the Washington Post after the episode aired over the weekend in a series of text messages where he claimed Cohen exploited his fear that he or his family would be attacked by a terrorist group.
"In 2017 I received countless death threats in connection with my introduction of legislation involving the wearing of masks. The threats escalated to the point that my wife received threatening phone calls concerning her and my children. I was very afraid for my safety and the safety of my entire family," he said.
"Sacha Baron Cohen and his associates took advantage of my paralyzing fear that my family would be attacked. In posing as an Israeli Agent, he pretended to offer self-defense exercises. As uncomfortable as I was to participate, I agreed to, understanding that these 'techniques' were meant to help me and others fend off what I believed was an inevitable attack," Spencer added.
"My fears were so heightened at that time, I was not thinking clearly nor could I appreciate what I was agreeing to when I participated in his 'class.' I was told I would be filmed as a 'demonstration video' to teach others the same skills in Israel. Sacha and his crew further lied to me, stating that I would be able to review and have final approval over any footage used."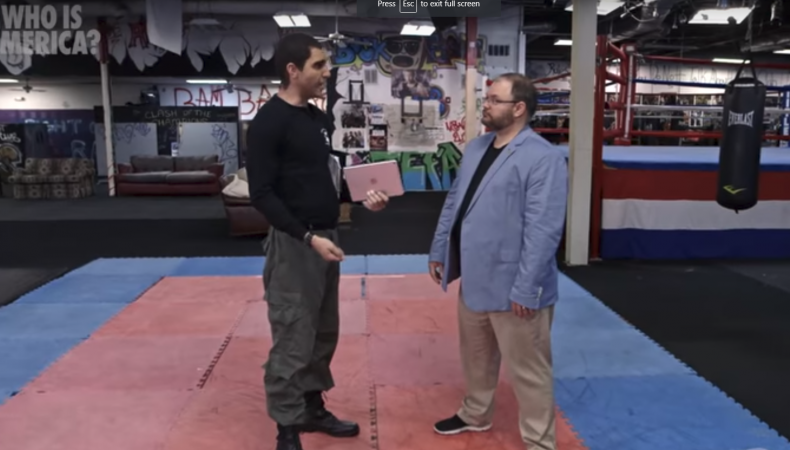 Spencer then goes on to apologize for using racial slurs in the "ridiculously ugly episode."
"I deeply regret the language I used at his request as well as my participation in the 'class' in general. If I had not been so distracted by my fears, I never would have agreed to participate in the first place," he said. "I apologize to my family, friends, and the people of my district for this ridiculously ugly episode."
Watch the Who is America segment below: