Who Is Jean-Claude Arnault? Photographer Found Guilty of Rape Caused Cancellation of 2018 Nobel Literature Prize
A court in Sweden has convicted French philosopher Jean-Claude Arnault of raping a woman in 2011 in a scandal that led to the cancellation of this year's Nobel Prize in literature.
Sexual assault claims against Arnault had led to the walkout of seven of the 18 members of the Swedish Academy, which chooses the Nobel laureates. As a result, it no longer had a quorum to decide on the prize, which will not be awarded for the first time in 70 years.
Instead, two laureates will be announced in 2019, one of which will be for a work completed in 2018.
Arnault, 72, was born in Marseille in 1946 to Russian refugee parents. He arrived in Sweden in the late 1960s to study photography and is married to the poet and writer Katarina Frostenson. He would refer to himself as the academy's 19th member.
The couple were key figures in the Swedish cultural scene and ran Forum, a club in Stockholm that showcased exhibitions and readings.
The club was partially funded by the academy. As a result, there were suggestions of a conflict of interest when the Academy decided against expelling Frostenson when the allegations first came to light.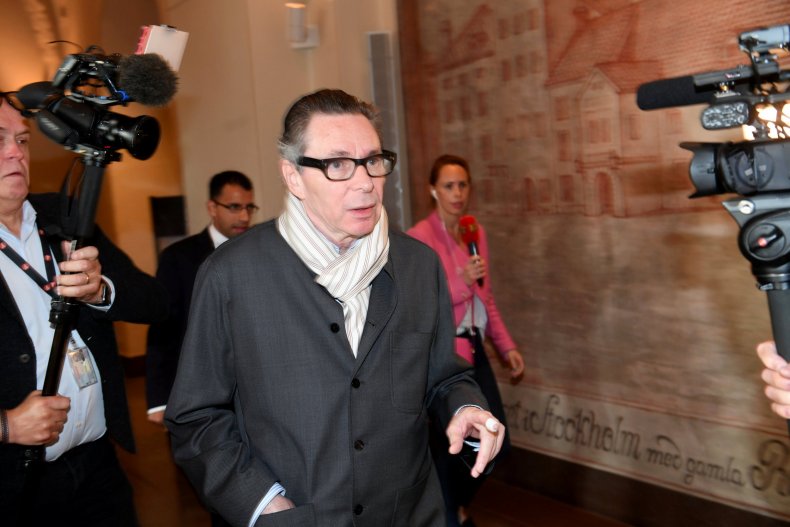 This prompted three academy members to resign, although Frostenson said she should not be punished for her husband's wrongdoings. She later withdrew voluntarily.
Members of the committee then engaged in public spats through the Swedish media. Permanent secretary Sara Danius resigned, which provoked protests in Sweden, with people saying it seemed as if a woman was being punished for male behavior.
Stockholm district court judge Gudrun Antemar said there was "sufficient evidence, consisting mainly of statements during the trial by the injured party and several witnesses," to convict Arnault, who has been sentenced to two years, The Local reported.
Arnault's lawyer, Björn Hurtig, had said before the verdict that his client would appeal if convicted. Arnault has strenuously denied the charges against him and says he is the victim of a witch hunt.
"I believe that the evidence is flimsy. The information provided falls apart in fundamental ways," Hurtig told Swedish media.
Arnault was accused of forcing a woman to engage in oral sex and intercourse in a Stockholm apartment on October 5, 2011, and of raping her again on December 2 in the same apartment while she was asleep.
The Swedish daily Dagens Nyheter published the testimonies of 18 women claiming to have been raped, sexually assaulted or harassed by Arnault.
The scandal started in November 2017 after sexual abuse accusations surfaced against Hollywood mogul Harvey Weinstein.
Arnault has been held in preventive custody since the end of his trial on September 24 and will stay in jail until his sentence starts.