Who Is J.E.B. Stuart? Richmond, Virginia, Monument Taken Down
A statue of former Confederate Gen. J.E.B. Stuart that had stood in Richmond's Monument Avenue for more than a century, was removed by work crews on Tuesday amid cheers and chanting from onlookers.
On July 1, Richmond Mayor Lever Stoney ordered the removal of 11 Confederate monuments in Richmond, including the 22-foot bronze image of James Ewell Brown Stuart that was erected more than 40 after the end of the Civil War.
That same day work crews removed statues of Confederate General Thomas "Stonewall" Jackson, and Naval officer Matthew Fontaine Maury, the Associated Press reported.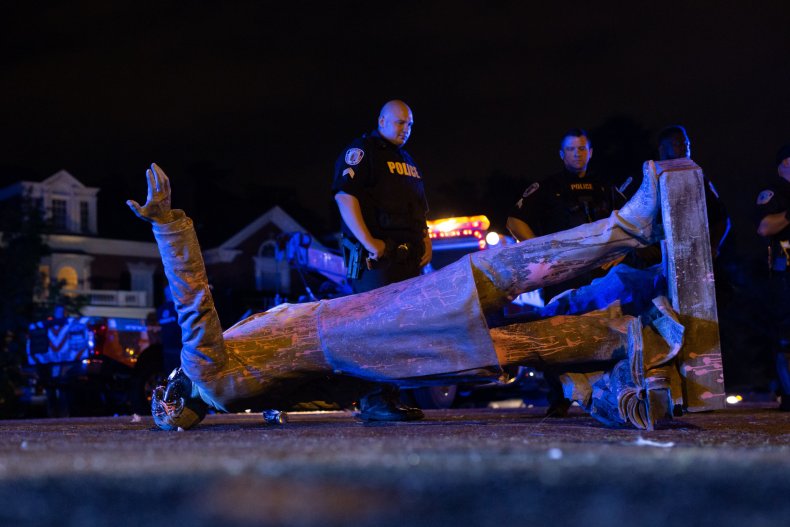 Stuart, a Virginia native, was a West Point graduate and a career Army officer who served with cavalry units in Texas and Kansas before secession and the start of the Civil War.
When Virginia seceded from the United States, Stuart resigned his army commission and offered his services to the Confederate States of America, according to History.com. Stuart, a slave owner, then served the Confederacy and commanded the Cavalry Corps for the Army of Northern Virginia at the battles of Gettysburg, the Battles at Bull Run, Chancellorsville, and Fredericksburg.
On May 11, 1864, Stuart was mortally wounded by Union forces in the Battle of Yellow Tavern, which took place outside the Confederate capital of Richmond. He died from his wounds the next day.
The statue of Stuart was erected in 1907. Is and the other removed statues have been placed in a temporary storage facility until the city determines their fate.
A statue of Confederate Gen. Robert E. Lee that was erected on state land has been slated for removed by Virginia Governor Ralph Northam, which has thus far been blocked by a temporary injunction filed after Northam ordered the removal of the statue.
Confederate statues and monuments have been the target of numerous protests in recent years, but calls for their removal intensified after the death of George Floyd, who died in Minneapolis Police custody on May 25, igniting nationwide protests against police brutality and racial injustice.
Since the start of protests that began in the wake of Floyd's death, numerous Confederate statues have been removed in many cities.
Protesters in Montgomery, Alabama pulled down a statue of Lee on June 1, and on June 10, in Richmond protesters toppled the statue of Confederate President Jefferson Davis.
On June 9, crews in Jacksonville, Florida removed plaques and a statue honoring fallen Confederate soldiers from Hemming Park.
"If our history prevents us from reaching the full potential of our future, then we need to take action," Jacksonville Mayor Lenny Curry said in a CNN report.
Crews in Charleston, South Carolina removed a statue of former Vice President John C. Calhoun on June 24. Calhoun defended slavery in the mid-1800s and was himself a slave owner.
Other monuments have been removed in Houston, Texas; Louisville, Kentucky, and Raleigh, North Carolina.
Officials have also called for federal buildings and military bases named for Confederate generals to be renamed. Those include Fort Bragg, North Carolina, Fort Hood, Texas, and Fort Benning, Georgia.