Bachelorette fans aren't happy to see Jed Wyatt has a new girlfriend.
Wyatt, who was engaged to former Bachelorette Hannah Brown earlier this year, posted an Instagram photo of himself with Ellen Decker on Thursday.
Wyatt's caption seemingly confirmed the pair are an item. It read: "Thanks @mastro_m for introducing me to the only person to make me smile more than riding a jetski." It also hashtagged a celebrity couple name for the two: #jellen.
Decker is a model and personal trainer who lives in Miami, according to her Instagram bio. She, too, seemingly confirmed her relationship status with Wyatt in an Instagram story posted Sunday. A video shows Wyatt riding an escalator while doing the splits, which was seemingly inspired by the Christmas movie Elf. Along with a sticker of the Elf character, Buddy, Decker wrote: "Reasons why I like him so much."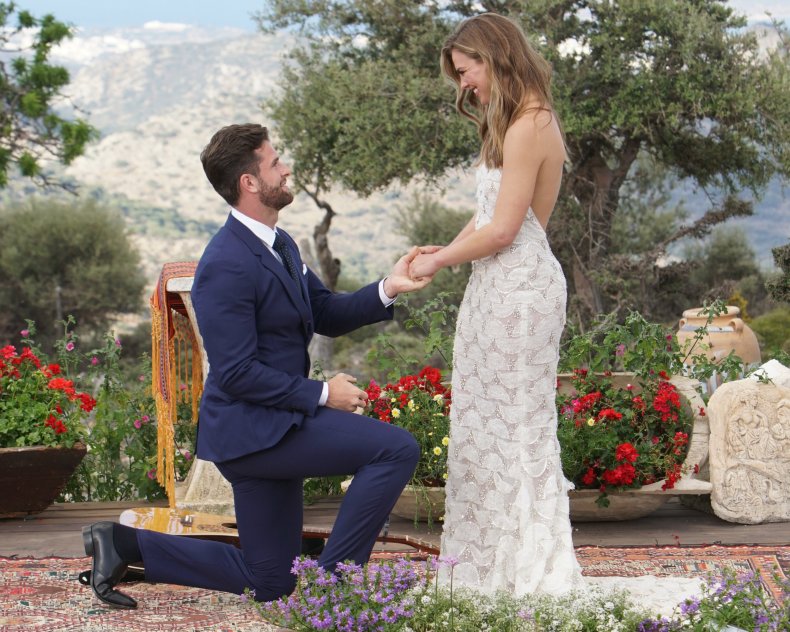 Decker also shared a snap of the couple on Thanksgiving. Wyatt even commented: "You're nothing short of amazing, El."
Fans were skeptical about the relationship, and some of them commented on Wyatt's photo. "Crazy how fast you move on," wrote user @misschelle33.
Commenter @afloats echoed the idea. "Moving on so quickly after a so called 'serious relationship/engagement.' I was rooting for Jed since day one, but I'm really disheartened by the events following the engagement. Hannah really did deserve so much better than that."
The comments point to Wyatt's broken engagement with Brown. During Brown's Bachelorette season, Wyatt was loved by many until he admitted to Brown he'd only come on the show to promote his music career. However, during the same conversation, he also shared he was falling for Brown. She kept him around, and eventually, the pair got engaged at the conclusion of the show.
Months after their engagement, though, a woman came forward and claimed she was dating Wyatt before he left to film the show. Haley Stevens told People Wyatt planned to use the show as an advertising platform, and return to her after. Instead, she never heard from him again. She said they spent the night together before he left for filming.
Brown apparently found out about Stevens' claims along with the rest of the world: through the People article. The reality star, who won the most recent season of ABC's Dancing With The Stars, is scheduled to make an appearance on Peter Weber's season of The Bachelor, which will air on January 6.