Who Is Jellyfish on 'The Masked Singer'? Season 4 Sneak Peek
It's playoff season for Group C on The Masked Singer. The remaining contestants are expected to go head-to-head in another Season 4 sing-off on the sixth episode of the season airing on Fox on Wednesday.
Viewers were finally introduced to the mysterious performers Broccoli, Squiggly Monster, Mushroom Jellyfish and Lips on the last episode of the musical competition. Although Lips gave a hilariously energetic performance—there was even one moment during her cover of Odyssey's hit song, "Native New Yorker," where she burst into laughter and snorted—the ruby red and sparkly smackers got the least amount of votes and was eliminated from the show.
Another member of Group C will sing their heart out for the last time on Wednesday after the contestants take the stage for the second time this season. It's anyone's guess who will end up in the bottom this go-round, but it doesn't seem likely that Jellyfish will be that contestant.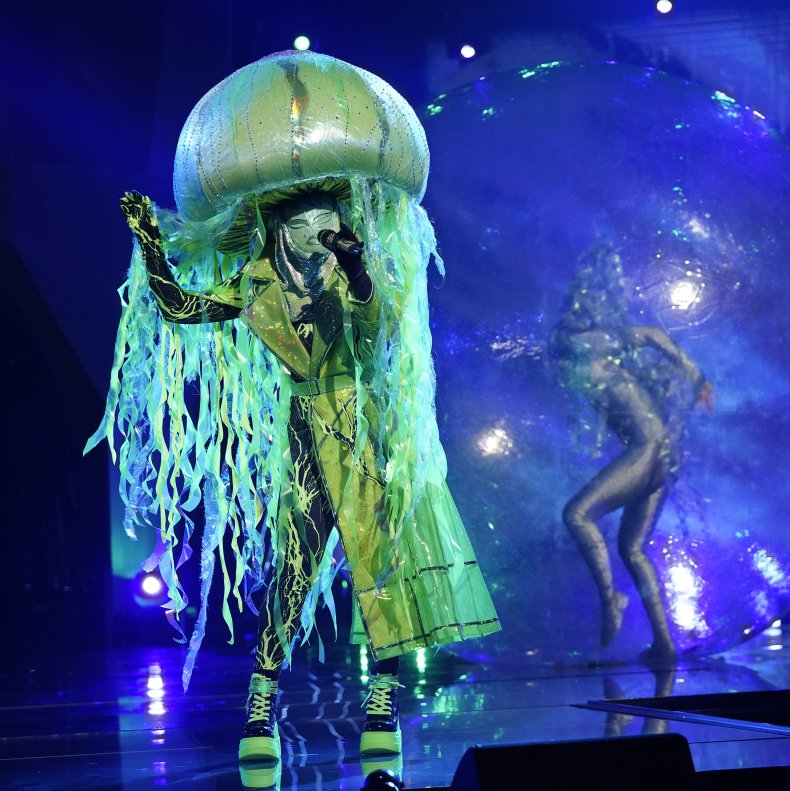 The sultry green singer wowed judges Ken Jeong, Jenny McCarthy, Robin Thicke and Nicole Scherzinger with her debut performance of Fergie's "Big Girls Don't Cry." Thicke said Jellyfish had "such a beautiful vocal tone" while McCarthy thought the contestant would be one of the "shockers" on the show that makes it all the way to the finals.
From the looks of the episode 6 sneak peek (below), it seems as though she'll be seducing the panelists once again with a soulful rendition of "Crazy" by Patsy Cline.
Her vocals leave the judges completely memorized in the clip. Thicke watches in pure amazement while another judge lets out an, "Ooh," once Jellyfish hits a high note.
The performance may not necessarily help the judges get any closer to figuring out who may be hiding behind the glamorous costume though. When she first performed, they all thought Jellyfish maybe a younger star. But with a clue reel displaying images of Japanese fans, angelfish, tiaras and baby powder, they struggled to make confident guesses as to who Jellyfish really was.
Thicke thought Jellyfish may be gymnast Gabby Douglas. Jeong suggests Chloe Grace Moretz or Awkwafina, while McCarthy said she was getting a Sofia Richie vibe.
Speaking of the judges—there will be a surprising addition to the panel during the episode. Before the contestants start belting out songs, the mysterious Mr. TV will arrive. And no, it's not Joel McHale, who has already served as a guest host twice during The Masked Singer's fourth season. However, it may not necessarily be someone new to the show. In fact, the face hiding behind a TV costume may actually be someone who has performed on the show before.
The Masked Singer will air on Fox on Wednesday at 8 p.m. ET.